When planning a trip to any European destination, you'll have many things on your list to see and do. There are iconic monuments, famous museums, and popular shopping districts to visit. For many travelers, a visit to local cafes is always apart of the itinerary. Whether it's your first time to Europe, or you just want to see the best any city has to offer, check out these cafes for both the ambiance and the coffee. These are the five most beautiful cafes Europe has to offer.
1) Caffe Florian, in Venice, Italy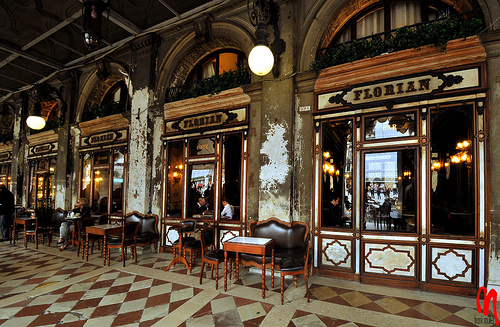 Photo source
This cafe stands as a living museum to 18th century decor, and has an atmosphere of utter luxury. There are frescoes and baroque details, decor that really sets the mood you look for in a cafe. It's so popular, in fact, it is famed as being the hang out of many writers and artists; once you see it for yourself, you'll know why. As with everything in Venice, this cafe offers a romantic, warm atmosphere you're sure to love, even though the prices may be discouraging.
2) Cafe New York, in Budapest, Hungary
This cafe is the total package, it has the design, the atmosphere, the food, and the coffee to keep you coming back for more. It is known for being a favorite among artists in the early twentieth century, and has since been renovated to help preserve and compliment it's long standing beauty. The cafe itself is also a restaurant, with high ceilings, dazzling chandeliers, paintings, and more. It's style has contemporary influence, and features relaxing music and mood. This is a must see in Budapest, which says a lot considering just how beautiful the city itself is.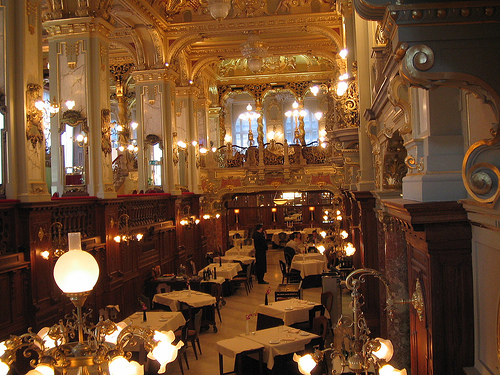 Photo source
3) Cafe Imperial, in Prague, Czech Republic
Art Deco and coffee fans alike will appreciate this gem located in the heart of Prague. Once only one of a larger series of cafes, this particular location has withstood time, with it's iconic beauty that just can't be matched. It's walls are lined with mosaics and intricate tiles, with Art Deco details to be found through out. They offer coffee, tea, breakfast, and several Czech dishes. Make sure you try the traditional poppy seed pastry, and enjoy the ambience the cafe exudes.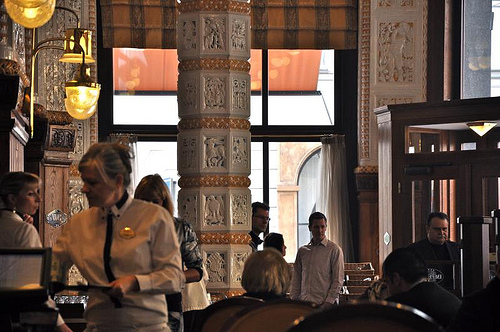 Photo source
4) Cafe de la Paix, in Paris, France
Nothing says Paris like a cozy, lavish cafe where you can sip delicious coffee. France is known for it's many famous cafes, but if you want to appreciate the entire experience, you should visit the Cafe de la Paix. Easily the most ornate and luxurious decor of all Paris cafes, you can enjoy renowned pastry, and the general splendor all at once. Complete with towering pillars, lavish stucco ceiling, gold trim and details, this cafe really sets a specific mood. It's not a surprise it was designed in the same style as the adjacent opera house.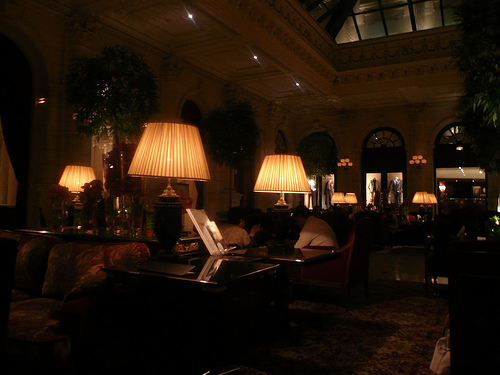 Photo source
5) Cafe Central, in Vienna, Austria
Extravagant is a word commonly used to describe the city of Vienna, and it's cafes are no exception. The Cafe Central is easily the most popular of Vienna's picturesque cafes, complete with vaulted ceilings, marble pillars, and antique styled lamps. Don't miss out on this stylish, and historic cafe in Vienna.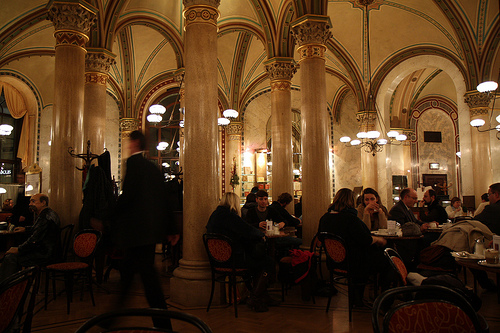 Photo source
About the author
This article was written by Sara Woods from Mega.co.uk. Â Visit for an Expedia discount code before book to visit any of these Cafes.