Indulge in Glasgow's best breakfast spots that the city has to offer for foodie explorers. From gourmet to traditional options, these recommended top breakfast spots will satisfy your hunger and spark your taste buds for the rest of the day.
Sprigg – This hidden breakfast heaven offers unique dishes, including vegan options, in a charming environment. The friendly staff and quality food make it a must-visit spot.
Wilson Street Pantry – For a taste of Australia, head over to Wilson Street Pantry, whose menu offers dishes like Avo smash and Breakfast burritos. The cozy atmosphere and impressive coffee add to its charm.
Potluck – This trendy café offers a wide variety of breakfast dishes, including avocado toast, croissants, and tasty vegan options. The welcoming ambiance and vibrant aesthetic make it a notable spot.
Singl-end Café and Bakehouse – Singl-end offers an array of Scottish-inspired breakfast options with a twist. Fresh ingredients and creative plating showcase their breakfast selection. The unique blend of savory and sweet flavors make it a popular choice.
Embrace Glasgow's traditional and modern breakfast culture. After exploring Glasgow's culinary gems, find a comfort haven in its cozy settings and immerse in the vibrant breakfast culture.
Find out more on how to travel and be fit in our next post!
Best Traditional Scottish Breakfasts
When it comes to exploring traditional Scottish breakfast options in Glasgow, there are a host of delectable choices for foodies. Glasgow's culinary scene is known for its international flair, but visitors won't want to miss out on trying some of the classic Scottish breakfast dishes while in town.
Here are three must-try traditional Scottish breakfasts to add to your list when visiting Glasgow:
Haggis and black pudding: A delicious combination of savory ingredients that is a staple component of any traditional Scottish breakfast.
Fried eggs, bacon and sausage: A hearty plate featuring traditional breakfast elements with a uniquely Scottish twist.
Scottish salmon and scrambled eggs: Another popular breakfast item that provides a light yet satisfying start to the day.
For those who want to experience something truly unique, some lesser-known options include Stornoway black pudding or cullen skink -a creamy smoked haddock soup.
Pro Tip: When ordering a traditional Scottish breakfast, don't forget to ask for tattie scones (potato scones) as they pair perfectly with any dish.
Get your avocado toast fix and Instagram-worthy latte at these hipster-approved brunch spots in Glasgow.
Foodie Explorers Food Blog Travel Blog Glasgow Foodie
When it comes to finding the perfect breakfast spot in Glasgow, foodie explorers are in for a treat. Here are six trendy brunch spots that will satisfy your craving, from classic Scottish breakfast to vegan options:
Wilson Street Pantry
The Hug and Pint
The Hyndland Cafe
Cafe Strange Brew
Ketchup West End
Singl-end Cafe and Bakehouse
For those looking for unique options, Cafe Strange Brew offers delicious dishes such as black pudding hash with mustard hollandaise sauce. In addition, Singl-end Cafe and Bakehouse is known for their extensive selection of baked goods. Don't miss out on their homemade sourdough bread!
Fun fact: Wilson Street Pantry's name was inspired by its location on Wilson Street in the Merchant City area. Who said vegans and vegetarians can't have a good breakfast? These Glasgow cafes prove that plants can taste just as delicious as bacon.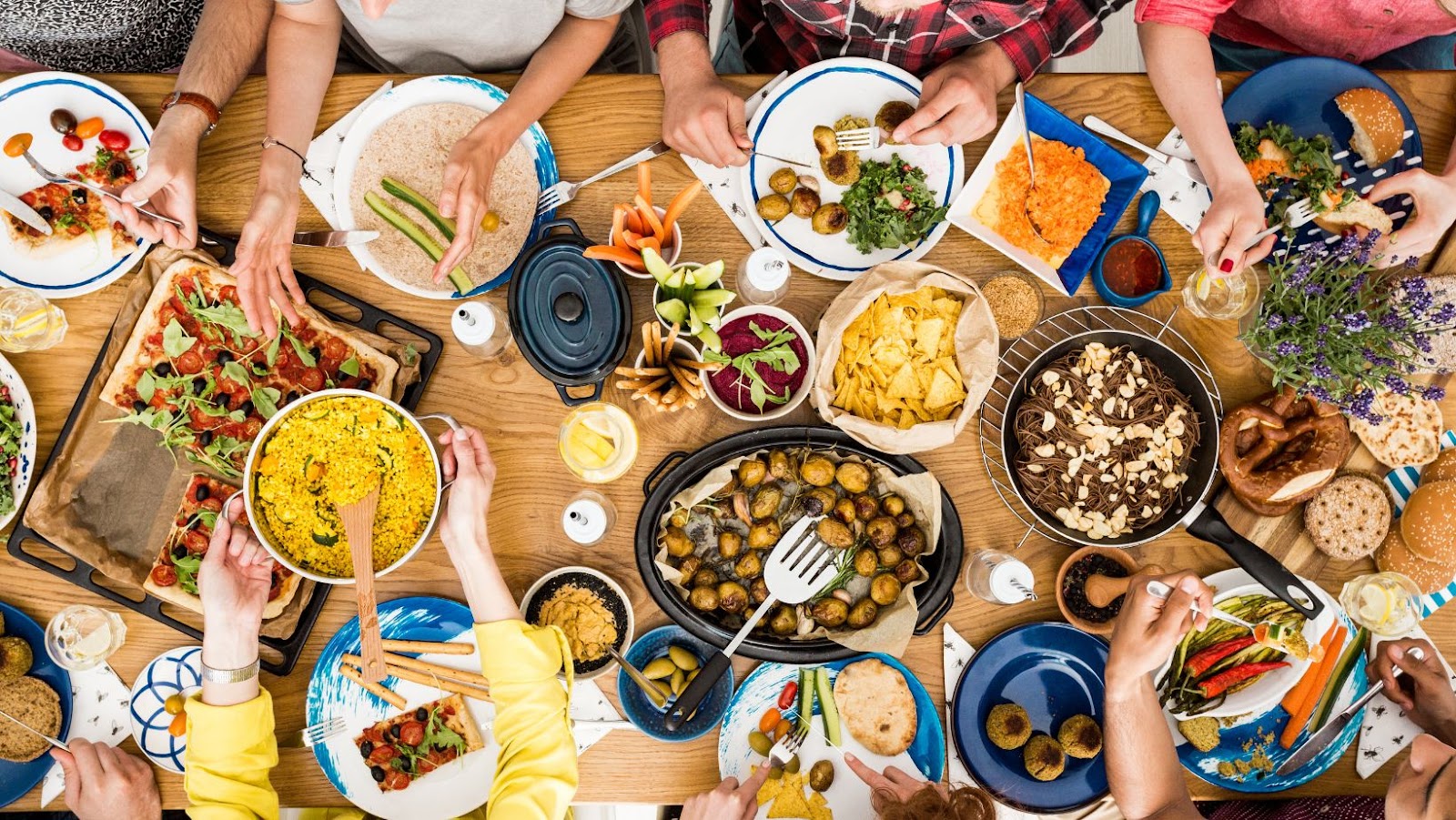 Cafes with Vegan and Vegetarian Options
For the health conscious foodies, there are several cafes in Glasgow which offer plant-based options with an emphasis on nutrition. Here are some top-rated spots for you to explore:
Roots and Fruits
Rawnchy
Smokey Trotters Kitchen
Hug and Pint
The Glad Cafe
Gnom
These cafes have managed to make vegan and vegetarian options a delicious and desirable alternative for everyone.
In addition to the delectable breakfast spread, these cafes are known for their aesthetic interiors, friendly staff, and unique approach towards food. They focus not only on the taste but also on the quality of ingredients used.
A true fact: According to Happy Cow – an online resource for finding vegan restaurants worldwide – Glasgow is one of the top ten vegan-friendly cities in the world.
Skip breakfast and head straight to these lunch spots – your taste buds will thank you later!
Must-Try Lunch Places for Foodies in Glasgow
In this article, we explore some of the top lunch spots in Glasgow for food enthusiasts. Discover the best places for a unique dining experience that will leave your taste buds wanting more.
Six by Nico
The Gannet
Hutchesons City Grill
These are three great options for foodies seeking delicious lunch spots in Glasgow. Each venue offers a unique and enjoyable dining experience, with expertly crafted menus showcasing the best of Scottish cuisine.
Venture to the East End to visit Six by Nico, a trendy establishment renowned for its six-course menus that change every six weeks. For a more traditional Scottish meal, check out The Gannet in the West End. Here, you will find dishes made from locally sourced ingredients, such as Loin of Roe Deer and Venison Haggis. Alternatively, make your way to the City Centre to enjoy the stylish ambiance of Hutchesons City Grill, where you can savor Scottish classics such as Cullen Skink and Haggis Bon Bon.
If you are looking to step out of the ordinary and experience something different, we recommend visiting Six by Nico for their intriguing and ever-changing menus. Interestingly, this restaurant is known for its eye-catching and quirky presentation of dishes, making it a must-visit destination for foodies in Glasgow.
The Gannet, one of Glasgow's most famous restaurants, used to be a tenement building before it was transformed into a trendy eatery. The restaurant's interior design strikes a balance between modern and traditional, and it has been cited as one of the city's most romantic dining settings.
Overall, Glasgow is a foodie's haven, and these lunch spots stand out for their unique offerings, exceptional service, and fantastic ambiance. Get your haggis fix and a pint of local brew at these authentic Scottish pubs, just make sure to leave your kilt at home.
Authentic Scottish Pubs for Lunch
For lunchtime foodies, Glasgow has a range of options when it comes to authentic Scottish pub fare. With many pubs offering unique menus and traditional Scottish favorites, it can be tough to choose just one.
Some must-try options include The Pot Still, known for its extensive whiskey collection and hearty meals such as Cullen Skink and Haggis Neeps & Tatties. Alternatively, The Bon Accord offers a more upscale pub atmosphere while still serving up delicious classics like Balmoral Chicken and Venison Stew.
One lesser-known gem is The Laurieston Bar, which boasts an impressive list of over 200 malt whiskeys alongside satisfying pub grub like Fish & Chips and Steak Pie.
If you're looking for a true taste of Scottish culture, these authentic pubs are the perfect place to start. Talk to locals and soak up the atmosphere while enjoying a meal that will leave you feeling truly satisfied.
A friend once told me about their experience at The Pot Still, where they tried Haggis for the first time. They were skeptical at first but ended up loving the dish so much that they went back for round two. This just goes to show that stepping out of your comfort zone can lead to some amazing culinary discoveries in Glasgow's authentic pubs.
Forget mediocre meal deals, these lunch spots will have you drooling at your desk.
Quick and Delicious Lunchtime Eateries
Looking for lunch places that are both quick and delicious in Glasgow? Here are six must-try eateries to check out:
The Hanoi Bike Shop – Vietnamese cuisine on Ruthven Lane
PotLuck – wholesome bowls of veggies, protein and grains on Nithsdale Road
The Glad Cafe – sandwiches, soups and cakes in Shawlands
Paesano Pizza – fresh Neapolitan pizzas on Miller Street
Singl-end – restaurant offering hearty brunches and lunches in Garnethill
Tuk Tuk Indian Street Food – delicious Indian cuisine with various locations in Glasgow City Centre.
If you're looking for something unique, try the Hug and Pint's vegan offerings or Project Cafe's vegetarian options. Don't forget to grab a cup of Joe at Laboratorio Espresso before heading back to work.
Fun fact: According to TripAdvisor, The Hanoi Bike Shop is ranked #17 out of 1,944 restaurants in Glasgow as of August 2021!
Feeling fancy but can't afford dinner prices? These high-end lunch spots in Glasgow have got you covered.
High-end Dining with Lunch Menus
Experience a delectable lunchtime feast at Glasgow's finest high-end dining restaurants. Their highly sought-after lunch menus are the perfect way to savor sumptuous dishes without burning a hole in your pocket.
Savor tempting Scottish dishes at Blythswood Square with an elegant ambiance.
Relish Mediterranean-inspired cuisine at Cail Bruich and its ever-changing menu.
The Gannet offers delicious seasonal fare that adheres to Scotland's culinary heritage.
The Ubiquitous Chip provides a contemporary take on classic Scottish recipes with fresh ingredients.
Enjoy exceptional hospitality, mouth-watering seafood, and breathtaking panoramic views of the city skyline at Hutchesons City Grill.
Stravaigin is a casual and laid back restaurant known for its international dishes that utilize locally-sourced ingredients.
For those searching for something offbeat yet tantalizing, there are also several hidden gems serving fusion and vegan cuisines.
Do not miss out on these delightful lunch spots while in Glasgow. Come explore what these restaurants have to offer and relish their outstanding flavors.
Glasgow's dinner scene is so good, you'll need a bigger stomach and a bigger wallet.
Dinner Recommendations for Foodie Explorers in Glasgow
Paragraph 1 – Exploring Glasgow's Diverse Cuisine Scene
Glasgow is a hub of culinary creativity, offering diverse cuisine from around the world. For foodie explorers looking to indulge in delectable dishes, Glasgow has a wealth of dinner recommendations in store. Here are some top picks.
Paragraph 2 – Dinner Recommendations for Foodie Explorers in Glasgow
Head to Ox and Finch for a contemporary take on tapas, crafted with fresh local ingredients.
For authentic Japanese cuisine, visit Pickled Ginger, where the sushi and sashimi are not to be missed.
Award-winning Cail Bruich boasts a menu of innovative Scottish cuisine with a twist.
For spice lovers, Mother India's Cafe serves up mouth watering Indian food in a lively atmosphere.
For a cozy Scottish pub with delicious pub grub, The Drugstore Social is the perfect destination.
Paragraph 3 – Hidden Gems for Foodie Explorers in Glasgow
Explore Glasgow's hidden gems and discover new culinary delights. Venture off the beaten path to visit Julie's Kopitiam, a Malaysian cafe serving up authentic flavors, or try The Gannet for a menu of Scottish cuisine made with locally sourced ingredients. Alternatively, head to the bustling Byres Road to sample the fusion cuisine of The Hug and Pint, which offers vegan and gluten-free options.
Paragraph 4 – Glasgow's Award-Winning Restaurants
According to The List's annual guide, The Spark, Cail Bruich is one of the best restaurants in Glasgow, winning the title of Restaurant of the Year in 2019. Who needs a Michelin star when you can have a menu with ingredients you've never even heard of?
Fine Dining in Glasgow with Unique Menus
For the ultimate exploration of Glasgow's culinary scene, consider indulging in fine dining establishments that boast unique menu offerings. These eateries showcase innovative and creative dishes, highlighting local produce and global cuisine.
Opt for Ox and Finch, an award-winning eatery known for its modern European cuisine fused with Asian flavors.
Cail Bruich offers a tasting menu emphasizing Scottish ingredients while incorporating French techniques.
For an experience like no other, dine at The Gannet, where you can enjoy a seven-course tasting menu designed to arouse your senses.
When seeking uniqueness in menu offerings, do not miss The Finnieston's exceptional seafood selection or 111 by Nico's ever-changing set menu. As Glasgow is a diverse city buzzing with cultural flavors, fine dining experiences offer the perfect opportunity to discover new and exciting tastes.
Pro Tip: Book reservations early as these high-end establishments are popular among foodies and diners alike. Get ready for a culinary adventure as we unearth some of Glasgow's best-kept secrets for an unforgettable dinner experience.
Hidden Gems for a Memorable Dinner Experience
For those seeking a unique and unforgettable dinner experience, Glasgow offers a wide array of options. Here are some top picks for those looking to discover hidden culinary gems in the city:
The Gannet – This rustic-chic eatery is known for its locally sourced ingredients and creative dishes that showcase Scottish produce.
A'Challtainn Fish Restaurant & Bar – Seafood lovers will delight in the fresh catches served up at A'Challtainn, including oysters, langoustines, and scallops.
Mother India's Cafe – This casual spot serves up Indian tapas-style plates and has won numerous awards for its bold flavors and innovative approach to traditional dishes.
The Tabac Bar & Brasserie – Located in the heart of the Merchant City, this stylish restaurant offers French-inspired cuisine with a Scottish twist.
Potluck – This cozy vegetarian restaurant serves up delicious plant-based fare, including hearty soups, homemade breads, and creative salads.
Bilson Eleven – With only ten tables in this intimate dining room, Bilson Eleven offers an exclusive culinary experience featuring locally sourced ingredients crafted into modern Scottish cuisine.
For those looking to truly embrace Glasgow's foodie culture and explore new tastes and flavors, these hidden gems offer a memorable dinner experience.
It's worth noting that many of these restaurants require reservations well in advance due to their popularity among locals and tourists alike.
Did you know that Glasgow is home to more than 2,500 pubs, restaurants, cafes, and bars? Source: "Glasgow Food & Drink Guide."
Who needs to choose between Italian or Indian when you can have both in one dish at these fusion restaurants? It's like a delicious game of culinary roulette.
Fusion Restaurants Bringing Together Different Cuisines
These restaurants combine diverse culinary traditions to bring exotic flavors to the plate. Glasgow offers plenty of options for foodies who crave fusion cuisine. Sample the unique offerings at these gastronomic havens that merge different cuisines in a one-of-a-kind dining experience.
From Asian-inspired dishes mixed with Latin American flavors, Indian ingredients combined with Scottish produce, to Mediterranean meals blended with local herbs, these are just some of the fusion cuisines available in the city. Be adventurous and let your taste buds explore!
For an appetizing meal that mixes traditional Scottish ingredients with global inspirations, try out one of Glasgow's gastropubs or eateries serving innovative Scottish cuisine crafted with unusual fusions. Their inventive chefs use international elements such as Japanese miso paste or Mexican cactus to elevate Scotland's national cuisine to new heights. Indulge in eclectic scotch eggs containing lamb or haggis and coated in panko breadcrumbs. Taste unusual combinations like pan-fried monkfish wrapped in Parma ham served with tomato and chorizo sauce. These East-meets-West fusions always result in unforgettable gourmet experiences.
While Glasgow has a wealth of fusion places to choose from, don't miss out on The Gannet restaurant that combines French techniques with Scottish produce or Opium Restaurant's superb menu marrying Far Eastern delights with pastry chef Mena Bourgeois immaculate cake creations for a memorable dining experience.
Pro Tip: When exploring Glasgow's exceptional fusion food scene, opt for sharing plates so you can sample many different dishes and flavors during your visit! Get ready to stuff your face and empty your wallet with these irresistible street food finds in Glasgow.
Street Food and Snacks for Foodie Explorers in Glasgow
For food enthusiasts seeking street food and snacks in Glasgow, there are excellent options available. These culinary delights offer a unique culinary experience that is bound to impress any foodie.
Glasgow offers a wide variety of street food and snack options to satisfy any craving. These include delectable options such as the vibrant Indian Pani Puri, the Brazilian Coxinha, and the Spanish Churros, among others. Foodies can also indulge in classic Scottish treats like haggis and black pudding from reputable roadside stalls.
Indian Pani Puri
Brazilian Coxinha
Spanish Churros
Haggis
Black Pudding
One unique detail about snack stalls in Glasgow is that many of them offer a fusion of flavors, bringing together different cultures to create some truly exceptional dishes. The blends of flavors and ingredients found in these unique snacks are sure to leave a lasting impression.
The source, Foodie Explorers, shares that Scotland's national dish, haggis, is often made with sheep's heart, liver and lungs, though vegetarian options that mimic the flavor are becoming increasingly widespread. If you're avoiding carbs, stay clear of the food markets and festivals in Glasgow – those Scottish bakers know how to make a mean pastry.
Food Markets and Food Festivals in Glasgow
Glasgow boasts of numerous culinary events that cater to food enthusiasts, including those who love street food and snacks. These events feature local produce, spices, herbs, meat cuts, and different cooking techniques from around the world.
Discover tantalizing treats offered at Eat & Drink Festival Scotland.
Join the festive atmosphere at The Big Feed which offers tasty street food delights.
Indulge in unique dishes prepared by top chefs at the West End Festival.
Satisfy your sweet tooth cravings at CakeFest Glasgow with an array of sweet treats in store for you.
Experience hot sauce heaven and other condiments galore at the Scottish Street Food Festival.
Visitors can also enjoy musical performances while tasting snacks from all over the city. Moreover, they can shop for groceries and produce fresh food directly from local vendors present on these occasions.
Pro Tip: Come hungry and with an open mind to get the most out of your Glasgow culinary experience.
Get your taste buds ready and your waistline forgiving, because these street food spots in Glasgow are worth the guilt.
Best Places for Quick and Tasty Street Food
If you're looking for a quick and tasty street food experience in Glasgow, there are plenty of options available. Here are some notable places to try:
Chompsky
Babu Bombay Street Kitchen
Flying Duck
The Dockyard Social
Big Feed Glasgow
These street food spots offer a variety of cuisines and flavors that are sure to satisfy any foodie explorer. From Asian-inspired dishes at Chompsky to Indian street food at Babu Bombay Street Kitchen, the options are endless.
For a unique twist on street food, check out Flying Duck's vegan pub grub or head to The Dockyard Social for a rotating selection of pop-up vendors. And if you're in town on the last weekend of the month, be sure to visit Big Feed Glasgow's indoor market for an array of international foods.
A true fact: According to The Scotsman, Glasgow was ranked the UK's number one destination for vegan-friendly street food in 2018.
Get ready to snack like a true Glaswegian and ditch the boring chips and dip, because these unique snack shops will have you drooling faster than you can say 'deep-fried Mars Bar'.
Unique Snack Shops in Glasgow
These shops located at the heart of Glasgow offer an extensive range of street foods and snacks that promote international flavors. Here are some unique options:
The Heilan Coo serves Scottish cuisine, including haggis, neeps, and tatties.
The Dockyard Social combines live music, popular dishes from all over the world, and a bohemian atmosphere.
Tantrum Doughnuts specializes in handmade doughnuts, with various fillings including pistachio cream and salted caramel.
Artisan Roast Coffee focuses on coffee but also offers unique hot chocolate drinks with psychedelic ingredients.
Babu Bombay Street Kitchen serves authentic Indian street food like chole bhature and vada pav.
For an alternative snack experience in Glasgow, these small food shops also offer delicacies like vegan-friendly options, gluten-free dinner dishes, classic pub snacks as well as sandwiches!
Did you know that Scotland has been sent 82 million rubber ducks in their shipments?
Don't skip dessert in Glasgow, it's the sweetest way to end your foodie adventure.
Dessert and Sweet Treats for Foodie Explorers in Glasgow
For those looking to satisfy their sweet tooth while exploring Glasgow's food scene, there's a variety of delicious dessert and sweet treat options to choose from.
Here are some options to consider:
Pastry treats like croissants and pain au chocolat from Bakery 47
Homemade ice cream at Loop & Scoop
Cakes and cupcakes from the popular bakery chain, Bakery By Zique
Indulgent milkshakes at The Filling Station
Traditional Scottish treats like tablet and fudge at The Scottish Sweet Emporium
Vegan and gluten-free sweet options at Rose & Grants
In addition to the above spots, Glasgow also boasts a variety of unique sweet options like artisanal chocolates at Sugarsnap Chocolate & Confectionery, indulgent hot chocolate at The Chocolate Library, and Turkish desserts at Seph's Shawarma & Desserts.
While visiting Glasgow for the first time, a foodie explorer stumbled upon the charming cafe Sweet Jane's Kitchen. After indulging in their famous Banoffee pie, they were delighted to find out that the recipe was a family secret passed down for generations. The friendly staff shared stories of their grandmother's love for baking and the cafe's commitment to using fresh, locally sourced ingredients. This experience left a lasting impression and is highly recommended for those seeking a cozy and sweet treat in Glasgow.
Get ready to indulge your sweet tooth and warm your soul in Glasgow's best spots for hot drinks and desserts!
Best Places for Hot Drinks and Desserts
For those with a sweet tooth, Glasgow's culinarians have created a plethora of options. Indulge in the city's best spots for luscious desserts and hot drinks.
Enjoy the hot chocolates and cakes at Cafe Strange Brew
Browse through the delicious patisseries at Tantrum Doughnuts
Relish the homemade gelato of Loop & Scoop
Savor the classic ice cream flavours at Fanny Trollopes
Try out the renowned baked goods at Bakery47
If you are looking for an offbeat dessert experience, then head to Cake Bar, which offers boozy cupcakes along with other delectable desserts.
Missing out on Glasgow's café scene is a regret one would not want to have. Head over to these cafes and enjoy their sweet treats while sipping on some fantastic beverages. If you have a sweet tooth, Glasgow has more unique sweet shops and bakeries than you can shake a candy cane at.
Unique Sweet Shops and Bakeries
Indulging in unique confectioneries and bakeries is an experience that no foodie explorer can miss in Glasgow. These establishments offer an array of exclusive sweet treats to savor.
Atypical Donut, a small family-owned bakery, has gained popularity for its quirky and flavorful donuts. They offer over 30 rotating flavors ranging from lavender earl grey to tutti-frutti.
Cottonrake Bakery is well-known for offering cakes and pastries made from fresh local ingredients. Their brownies are a must-try with fudgy textures and gooey caramel fillings.
SugarDaddy's Bakery offers delectable cupcakes with creative decorations such as unicorn horns and mermaid tails. They serve inventive flavors like red velvet Oreo or salted caramel apple.
It's worth mentioning that Reilly's Treats, a mobile van bakery with a retro feel, sells freshly baked cupcakes every weekend at varied locations in Glasgow.
One day, while waiting eagerly at Atypical Donut for the next batch of donuts, I struck up a conversation with a fellow customer. We bonded over our love for unique sweets in the city and swapped recommendations for more hidden gems to uncover. It was fulfilling to realize that indulging in sweet treats also brings people together.
Who said vegans and gluten-free folks can't indulge in sweet treats? Glasgow has got you covered with these guilt-free dessert options.
Vegan and Gluten-Free Dessert Options
For foodie explorers seeking vegan and gluten-free dessert options in Glasgow, there are several delicious choices available:
Indulge in the rich chocolate tart at Bibi's Cantina, which is made from decadent dark chocolate and almond flour crust.
Visit Rose & Grants for their famous vegan fudge brownies that come in classic or salted caramel flavor.
Try the hazelnut praline cheesecake at Mono Café Bar made with a gluten-free oat base and creamy cashew filling.
For a refreshing treat, stop by Black Pine Coffee Co. for their dairy-free gelato that comes in various flavors like raspberry sorbet and dark chocolate.
Satisfy your sweet cravings with fresh fruit skewers dipped in dairy-free dark chocolate from Offshore Cafe.
Notably, KAF Coffee offers vegan and gluten-free pastries baked fresh daily using only organic ingredients. The cafe has become a sought-after destination for those looking to enjoy guilt-free sweets.
You won't want to miss out on these delectable vegan and gluten-free dessert options during your foodie exploration of Glasgow. Treat yourself to the perfect ending of any meal with these satisfying treats!
Get ready to raise a glass and lower your inhibitions, because Glasgow's drinks and nightlife scene will make you forget all about those dessert calories.
Drinks and Nightlife for Foodie Explorers in Glasgow
Glasgow is a vibrant city with a thriving food and drink scene. As a foodie explorer, it's essential to explore the city's bustling nightlife and experience the unique drinks that the city has to offer.
Here are some must-visit spots for foodie explorers looking to indulge in Glasgow's drinks and nightlife scene:
Head to The Pot Still, a traditional Scottish pub, and choose from an extensive selection of more than 700 whiskies available.
BrewDog Glasgow is a popular choice for craft beer lovers, with more than 20 taps serving up unique flavors.
The Barrowland Ballroom is a legendary music venue, featuring live music performances most nights of the week, and a great place to grab a drink and enjoy some tunes.
For those looking for a more sophisticated experience, Eusebi Deli is the perfect spot for a cocktail and fine wine.
Beyond the popular spots, there are plenty of hidden gems to discover. Glasgow's Merchant City has a plethora of trendy bars and restaurants, perfect for foodies looking to explore the city's vibrant nightlife. Lastly, don't miss out on Glasgow's famous "sub-crawl" experience, which involves exploring the city's underground bars and pubs along the subway line.
Don't miss out on Glasgow's rich and diverse drinks and nightlife scene as a foodie explorer. Venture out and explore new experiences, and you won't be disappointed. These cocktail bars will have you sipping on unusual flavors and wondering if you're in a bar or a chemistry lab.
Cocktail Bars with Unique Flavors
There are bars in Glasgow that serve uniquely flavored cocktails, perfect for those looking to explore their taste buds. Here are three such bars worth checking out:
At The Kelvingrove Café, guests can indulge in quirky drinks like the Breakfast Club with cardamom syrup and orange marmalade.
The Spiritualist serves drinks inspired by tarot cards, such as The Devil with smoked caramel and cayenne pepper.
For gin lovers, the Gin71 bar offers over 70 varieties of the spirit and has expert mixologists who concoct inventive cocktails like Beetroot and Rosemary Gimlet.
If you're a fan of whiskey, some of these venues also have extensive whiskey menus featuring rare blends. Keep an eye out for special events that showcase other unique cocktail recipes.
A notable detail about these bars is their chic decor and ambiance, which elevate the overall experience. From plush seating to dim lighting, each venue exudes its own character without overshadowing its signature drinks.
Interestingly enough, some of these bars were once historical landmarks before being reinvented as modern spaces for cocktail enthusiasts. For instance, The Kelvingrove Café was originally a bank while Gin71 used to be a historic railway station. Delve deeper into the city's nightlife scene to uncover more eclectic drinking spots!
Get ready to hop on a beer-filled adventure in Glasgow, where the craft beer scene and local breweries are bubbling with excitement.
Best Places for Craft Beer and Local Breweries
Glasgow is a hub for beer enthusiasts and experts, and there are plenty of places to explore for excellent craft beer and local breweries. Here are some top picks:
Drygate Brewing Co.: This popular brewery offers great craft beers made from locally sourced ingredients.
Inn Deep: A hidden gem where you can try out different beers while enjoying the waterfront views.
West Brewery: This traditional brewery offers some unique twists on classic beers. Try out their wheat beer – it's highly recommended!
Shilling Brewing Co.: They pride themselves on crafting small-batch brews that pack a flavorful punch.
If you're looking for something extra special, check out the specialized tours and tastings that some of these establishments offer.
To experience Glasgow's beer culture in full swing, make sure to head down during one of its annual beer festivals. These celebrations showcase the best in Scottish brewing, with pop-up bars offering hundreds of unique beers.
Get ready to savor some of Scotland's finest brews at these fantastic locations!
Skip the greasy takeaway and indulge in some gourmet late-night bites at these Glasgow nightlife spots.
Nightlife Spots with Delicious Late-Night Bites
When exploring the vibrant nightlife scene of Glasgow, foodie enthusiasts would be delighted to find a plethora of options for delicious late-night bites. Here are some noteworthy spots to check out:
The Buck's Bar offers mouth-watering fried chicken dishes that are perfect for satisfying late-night cravings.
For those in search of comfort food, Bread Meats Bread serves up juicy burgers and loaded fries until the wee hours.
The Cathouse is a beloved club that also boasts an extensive selection of pizzas, nachos and other indulgent treats at its upstairs cafe.
Revolution is known for its inventive cocktails, but foodies will appreciate their tasty small plates menu that includes dishes like Korean BBQ beef tacos and buttermilk fried chicken sliders.
Fans of Mexican cuisine can head to Pinto on Sauchiehall Street, where they'll find tasty burritos, quesadillas and more until 3am on weekends.
At Max's Bar & Grill on Queen Street, patrons can enjoy classic pub grub – such as fish and chips and haggis fritters – along with live music until late.
It's worth noting that many popular restaurants and bars in Glasgow offer extended hours on weekends or special events, so keep an eye out for unique offerings from your favorite spots.
Don't miss out on the chance to indulge in Glasgow's incredible nightlife and culinary scenes! Plan ahead by researching venues' opening hours and menus to make sure you don't have any regrets about leaving early or missing out on a must-try dish.
Frequently Asked Questions
1. What kind of food can I expect to find in Glasgow?
Glasgow is a diverse city with a thriving foodie scene. You can expect to find a range of cuisine, including traditional Scottish dishes, modern European fare, and international cuisine.
2. Where are the best places to eat in Glasgow?
There are plenty of great places to eat in Glasgow, from high-end restaurants to trendy street food markets. Some of our top picks include The Gannet, Ox and Finch, and The Fish People Café.
3. Is Glasgow a good destination for foodies?
Absolutely! Glasgow has a fantastic food scene, with lots of exciting new eateries opening up all the time. Whether you're interested in fine dining or street food, you'll find plenty to satisfy your cravings in Glasgow.
4. What are some of the must-try dishes in Glasgow?
Some of the most popular Scottish dishes include haggis, neeps and tatties (turnips and potatoes), Cullen skink (a creamy smoked fish soup), and Cranachan (a dessert made with cream, oats, honey, and raspberries).
5. How can I find out about food events in Glasgow?
There are always lots of food events happening in Glasgow, from pop-up restaurants to food festivals. You can find out about upcoming events by checking out websites like VisitScotland, The Skinny, and Glasgowist.
6. Can you recommend any foodie tours in Glasgow?
Yes, there are several companies offering foodie tours of Glasgow, including Glasgow Food Walks and Eat Walk Glasgow. These tours are a great way to experience the city's food scene and learn more about its history and culture.