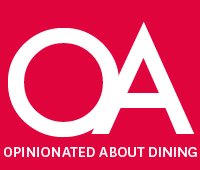 Search no more if you want to try the best food in the best restaurants in the USA, as Steve Plotnicki and Opinionated About Dining (OAD) have just released this year's Top 100 Restaurants in America.
The French Laundry, a French restaurant located in Yountville, California, in the Napa Valley whose chef and owner is famous Thomas Keller, came in first — and managed to stay on top in five of the six yearly editions of this list. Per Se inNew York, Alinea in Chicago, Urasawa fromBeverly Hills and Saison inSan Francisco completed the top 5U.S. restaurants of 2013.
The top 10 restaurants also included Manresa from Los Gatos, CA, Jean George from New York, Masa also in New York, McCrady's from Charleston, SC and Mini Bar/e by Jose Andres in Washington, D.C./Las Vegas.
[adsense]
Top 100 U.S. Restaurants of 2013 has 24 new entries, including Atera fromNew York, Willows Inn fromLummi Island,WA, Sushi Zo in Los Angles and Catbird Seat inNashville,TN, and, for the first time, features three restaurants fromTexas.
"I found this year's list interesting in that while it is filled with restaurants that feature progressive cooking, a number of 'traditional' restaurants, like Babbo (New York), and Addison (Del Mar) appeared for the first time," says Plotnicki. Geographic diversity is another aspect Plotnicki highlighted: "Five years ago the idea that you could find important meals in places like Houston orPeoria was unimaginable."
The top includes restaurants for a wide variety of tastes. In fact, 40% of the restaurants listed feature cuisine originating from Europe or Asia, led by 18 Japanese restaurants, 12 French restaurants; 8 Italian and 2 Asian Fusion.
Another premier for this year's top is the fact it has German, French, Spanish, Japanese and Italian versions. For those who don't know him, Steve Plotnicki is the author of OAD blog, and Opinionated About U.S. Restaurants 2011.