Rajputana (now known as Rajasthan) is famous across the globe for its heritage and royalty. In addition to the grand palaces and forts, the mighty kings have also left behind few of the most mouth-watering recipes that will bring your taste buds alive. From hot beverages and regional veggies to non-vegetarian main course and desserts,  Rajasthani Cuisine has got it all covered for you.
Most of the traditional Rajasthani recipes are prepared in Ghee or Milk, which provides them with a rich flavor. Another thing that might grab your attention, if you are a foodie, is the variety of spices used in the cuisine. To get an experience like never before, you must try the delightful dishes of Rajasthan. We have jotted down 10 of the most famous delicacies that should not be missed, and would surely make your trip to the royal state worth remembering –
1) Dal Baati Churma
If you have not had Dal Bati Churma during your trip to Rajasthan, take our word, you have not reveled in the wonders of this place. The most popular and common dish, which defines the cuisine of Rajasthan, is this mesmerizing combination of Dal, Baati, and Churma. The ghee-dipped Baati (a type of bread prepared with wheat flour, and oven baked in ghee) tastes brilliant with the Dal (lentils,) and the Churma (crushed wheat mixture cooked with ghee and sugar) adds a cherry to the cake, completing the meal for you.
2) Ker Sangri
It is a type of preparation or pickle, which is very famous in the desert area of Rajasthan. Ker Sangri is generally served with Bajra Roti (a type of Indian bread.) Ker (a wild peppery berry) is mixed with Sangri (a type of long bean found in the desert area of Barmer and Jaisalmer,) and cooked in water or buttermilk with added spices to give it a unique taste. Many restaurants in Rajasthan serve Ker Sangri as a regional food preparation.
3) Kachori & Mirchi Vada
We all need quick snacks that we can consume on the go. Pyaaz (Onion) Kachori is one of those regional snacks, which is nowadays available all over India but has its roots in Rajasthan. Made of plain flour with onion and tomato stuffing along with some spices, the Pyaaz Kachoris are deep-fried to make them crispy and are served with sweet-&-sour tamarind chutney for added flavor. Another type of Kachori popular in Rajasthan is Mawa Kachori. Sweet in taste, it has the stuffing of Khoya (condensed milk) and dry fruits and is dipped in sugar syrup after deep frying.
Just like Kachoris, Mirchi Vada is another fried snack (famous in Jodhpur) that is served hot. Beware, as the ingredients in it (green chilly and other hot spices, mixed with potato filling) make this snack super spicy.
4) Shahi Badaam Halwa
Straight from the royal kitchens, this is a type of dessert which is relished fondly all over Rajasthan. Rich flavors and the goodness of almonds make this sweet dish an indispensable preparation during winters as well as on auspicious occasions, such as weddings and festivals. The Badam fudge is easy to cook, and if you are a sweet lover, you can't afford to miss it.
5) Lehsun Ki Chutney
The intense flavors and delectable spices used in this fiery-red garlic chutney (spicy garlic sauce) will tickle your taste buds and leave you craving for more. This add-on recipe to your Rajasthani platter is a must have for the main course. The delicacy is one of the essentials in Marwari households and is generally served with snacks, Dal, Baati, Chapatis, and Parathas (Indian bread.) Rajasthani cuisine is incomplete without it. Try it once, and you will be hooked to its taste in no time.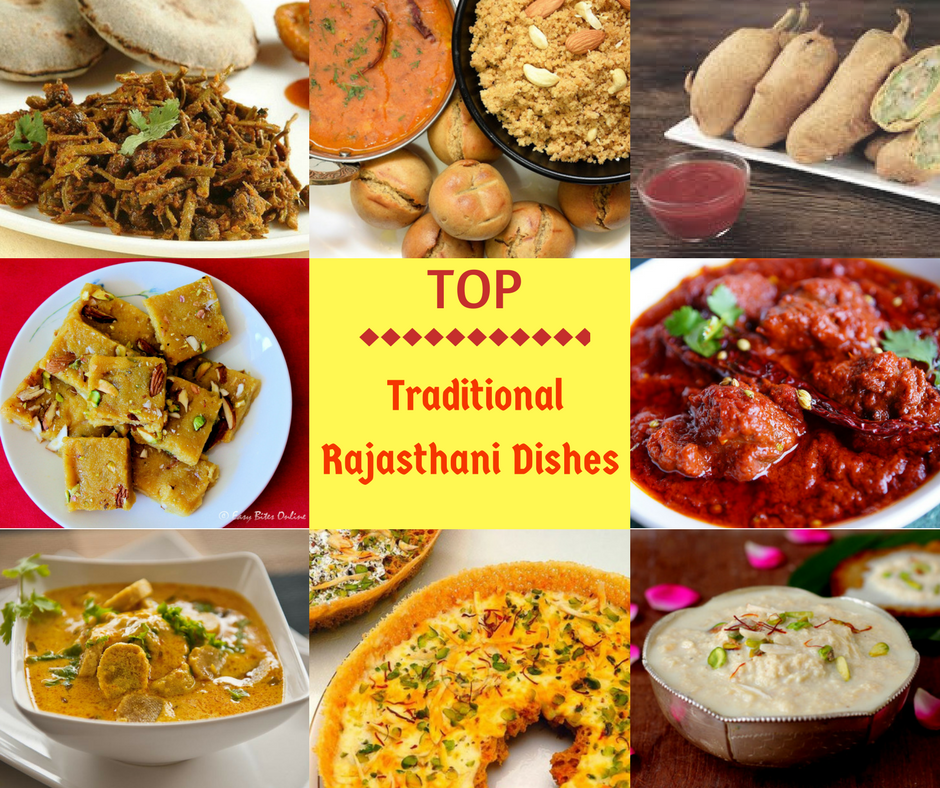 6) Rajasthani Kadi and Gatte ki Sabzi
Served with rice and Chapatis, Kadi and Gatte Ki Sabzi are made of Besan (gram flour) mixed with buttermilk and spices. Where the Kadi's gravy is not so thick, Gatta, on the other hand, has a comparatively thick gravy and gram flour balls mixed in it. These delicious creations are unique in their own way, as you do not need fresh vegetables to make them. Kadi has its own variety in different regions, but its Rajasthani version is certainly one of the best you will ever have.
7) Ghevar
Your trip to the land of royals will be amiss if you fail to get your hands on this traditional sweet. The saucer-shaped, sugar syrup-dipped delicacy is affiliated with Teej, Gangaur, and Raksha Bandhan festivals. Cooked in pure ghee and filled with loads of calories, this sinfully scrumptious dessert comes in a variety of flavors (plain, malai, and mawa) that are hard to resist for any food lover.
8) Raabdi
This nutritious drink is another 'not-to-miss' treat from the authentic Rajputana cuisine, which is made of millet/barley and butter milk, and served hot during winters. Unlike the other Rajasthani dishes, this recipe is non-spicy and full of healthy ingredients. The drink is quite popular among the natives during cold weather and helps with the digestion of the food.
9) Panchkuta
The dish was originated during the times of prolonged drought in Rajasthan, as the ingredients used in it are grown with little water and have a long shelf life. Panchkuta is primarily made up of five ingredients found across the Thar Desert – Ker, Sangri, dry red chilies, Kumat (seeds from a tree) and Gunda (a type of wild berry.) It is generally served with Pooris and Rotis.
10) Laal Maas
Here is a dish for all the non-vegetarian readers. A majority of Rajasthani dishes are vegetarian, and that is why Laal Maas (Red Meat) is the most popular non-vegetarian dish of the region. Its dark red gravy gets the color from the liberal use of red chilies. This marinated mutton curry is a conventional dish of Rajputana cuisine, and, in traditional times was cooked using the meat of a deer or wild boar. Other ingredients of the spicy gravy include curd, onion, and garlic paste, which enhances the smell and taste of this dish. It is generally served with Bajra Roti (millet bread) and rice.
Along with the history and heritage lovers, Rajasthan is a paradise for the foodies as well. The question that arises now is that for how long can you resist?
More information about the Rajasthan tourism can be gathered from travelrajputana.com.