No tour of South Africa would be complete without a trip to Table Mountain. Towering above the skyline of the city of Cape Town this imposing geological landmark has become synonymous with the country in which it stands, and leaves a lasting impression on all who see it.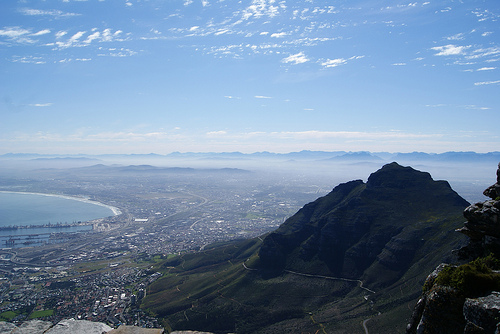 Photo source
The stunning sandstone structure cuts a memorable silhouette into the skies above South Africa and a trip to its 3 kilometre long plateaued summit offers amazing 360 views over the city and surrounding region.
Getting to Table Mountain
One of the best ways to ensure that you don't miss this stunning spectacle is to begin your South African adventure in the immediate area. With flights to Cape Town offered at affordable prices, this cosmopolitan city makes a great jumping off point for any South African stay.
Ways to See Table Mountain
While the amazing outline of Table Mountain is hard to miss, most people find that once they have glimpsed its majesty they are drawn to investigate this icon up close. With amazing scenery on offer up top, as well as a restaurant and souvenir shop, and an exciting display of wildlife on offer in the Table Mountain National Park, this is a trip that simply should not be missed.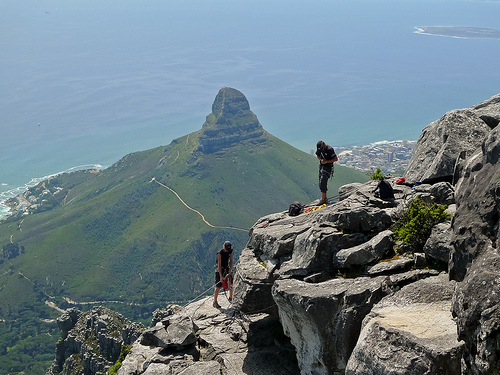 Photo source
There is a wide range of ways in which to visit Table Mountain, with something to suit all styles and abilities, such as:
Cable Car — For those who simply want to experience the amazing panoramas from Table Mountain's plateau top, the cable car is the simplest and easiest route up. The ride takes about six minutes and has been ferrying visitors up the mountain since the late 1920s
Hiking — Tour operators in the area offer a range of guided hiking tours to Table Mountain, while experienced walkers may wish to tackle the Table alone. There are a collection of established trails allowing exploration of the mountain itself as well as offering and opportunity to inspect the areas unique flora and fauna.
Climbing — For those who want to really conquer this well loved landmark, there are ample opportunities to climb — with a wide array of cliffs and crags offering routes for climbers of various levels. Climbers are advised to seek out the guidance of a local guide in order to get the best out of their experience and ensure that they do not cause any damage to the local environment by straying away from accepted areas.
Mountain biking — this method of exploration remains a little controversial in the area as many of the MTB trails have crossovers with traditional hiking routes causing friction between the two groups. While local guides can help mountain bikers to discover the area, the activity is not as well catered for in the area as might be expected. MTB visitors should be very aware of the fragility of the local eco system and respect the environment when visiting.
Helicopter — For those looking for something a little out of the ordinary there are a range of operators in the Cape Town area offering aerial tours to take in Table Mountain. Take to the skies in a hired helicopter to witness the South African sun setting over this unforgettable scene.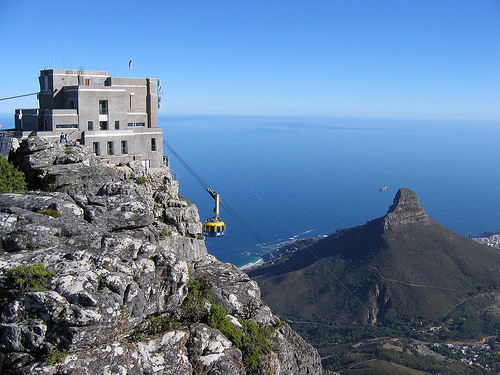 Photo source
About the author
Anna Dewinter grew up in England with a desire to see the world. After many travels she found herself able to speak several European languages and at university in Norwich in England. She is currently working as a manager of freelance journalists at purecontent.com which sources quality content for great websites.