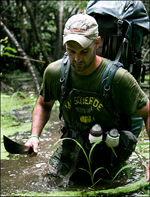 This is a story about dedication, endurance and love for hiking and the wild outdoors. It took Ed Stafford a little over two years to complete the 4,000 mile hike along the Amazon River, from its source to its mouth,making him the first man in the entire world to succeed in such a challenging travel plan. He started his hike in Peru, back in April 2008 and finished it yesterday at Maruda Beach, Brazil.
Stafford  hiked alone for the first four months and he was then joined by a Peruvian forestry worker, Gadiel "Cho" Sanchez Rivera. Sanchez was only supposed to guide Stafford through a difficult and dangerous part of his trip down the Amazon River, but decided to stay until the expedition was completed.
"I'm more tired and more elated than I've ever been in my life," Stafford said in a release. "We've lived through some very serious situations and there have been times when we genuinely feared for our lives, but we never ever thought of giving up. The fact that everyone told us it was impossible spurred us on.
"At first it was terrifying but it's changed in our eyes during the expedition and a place that was once mysterious and dangerous to us is now a place where we feel safe. We've never had more relaxed evenings than when we sit in the middle of the jungle alone around the campfire. It's not a scary place for us now; it's beautiful; we've fallen in love with it and it feels like home."
This hike down the Amazon, the largest river in the world according to some measures (or the second largest after the Nile, we'll let experts argue over it), is not in the least easy, safe, or even sane for some people. We are talking about a couple of years spent hiking, mostly through the Amazon Rain-forest with its both impressive and dangerous display of wildlife, along a river known for being the home of the Piranha, the anaconda and other 3,000 recognized species of fish, more being discovered every day! We know for sure that the epic trek brought pit vipers, electric eels, anaconda, mosquitoes and scorpions in the two men's path.
Ed Stafford managed to gather the core fortitude and endurance of humankind in his attempt to complete the hike for a noble purpose: raise international attention about rain-forest destruction and help raise funds to combat it.
In what setbacks are concerned, Ed Stafford, a former British army captain and his companion had to face quite a few on their hike along the Amazon: Stafford contracted cutaneous leishmaniasis, a skin disease, and had to have a botfly removed from his skull, while Sanchez suffered a nasty machete cut.
"It's been the mundane that had really challenged me," said Stafford. "The weight of the rucksack, the basic food, the constant mosquito bites, the constant thorns. The little things that in a two-day expedition wouldn't bother you have been the things that have actually been challenging."
I cannot even begin to tell you how utterly impressed I am with this amazing accomplishment. It will forever stand proof for the human ability to achieve everything and anything we ever set our minds on. Ed Stafford and his amazing hike down the Amazon River will be a constant source of inspiration to all those thinking of taking on the impossible.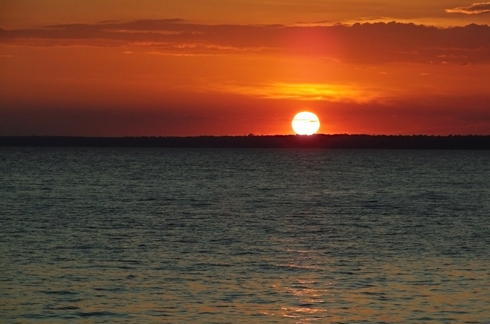 Photo by Hudson
Ed Stafford image credit