The ski season may be over for another year but the French Alps remain a fantastic place to visit during summer months. The scenery is spectacular with the carpet of snow replaced by green fields and while weather in the mountains is always unpredictable, the south east of France is often hot and sunny. Alpe d'Huez in particular is a great location for holiday makers in search of high altitude sun, it's colloquially referred to as "the island in the sunshine". Aside from the spectacular vistas and generally good weather, Alpe d'Huez offers the opportunity to escape for those looking to relax as well as a huge range of activities for even the most hardened adrenaline junkie.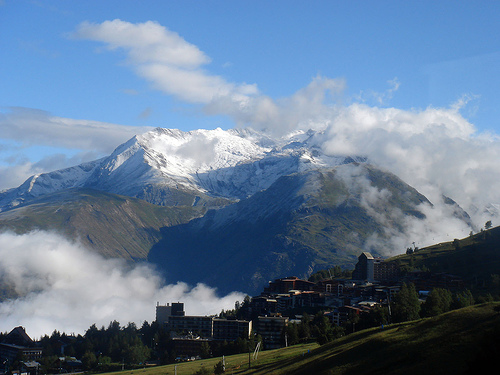 Photo source
Cyclists and fans of cycling are spoilt for choice as Alpe d'Huez can lay claim to having one of the most famous stretches of tarmac in the world, with its 21 hairpin road that climbs from Bourg d'Oisans to the resort.  It has been a regular feature on the Tour de France since 1952 and acts as a Mecca for keen cyclists who want to test themselves on its gradient and turns. In July the "Etape de Tour" – a day of the Tour that allows amateurs to ride a leg of the race – will pass through Alpe d'Huez, providing a perfect opportunity for people to tackle the climb. Later in the month, the pros will come to town and the travelling supporters who line the course make for one of the best spectacles in world sport, with the atmosphere surrounding the race reaching one of its peaks on this leg.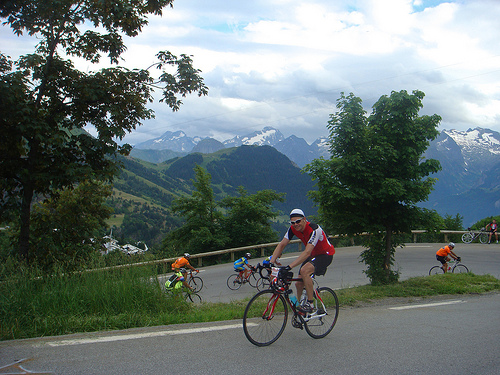 Photo source
Of course, not everyone is interested in competitive road cycling and for those who prefer mountain biking, the resort's ski lifts can whisk cyclists up the mountain to open up miles and miles of amazing mountain biking terrain. Â One of the top freeriding mountain biking events of the year is the Megavalanche – where professional and amateurs compete over a testing downhill course above Alpe d'Huez. While the race is definitely one for thrill seekers – the start is at 3300 meters on a glacier! – the event lasts for a week and makes the resort a very buzzing place during that time. Accommodation can be hard to find at peak times like this, however some of the luxury ski chalets in Alpe d'Huez can be a great option if there's a few people looking to share.
[adsense]
Walkers and hikers are also well catered for with 250 miles of marked routes – many of which are family friendly – and several lakes within easy distance of the resort . One well known route is the GR54 or Tour de l'Oisans, which is a circular 123 mile track that can be tackled in part and will take 8 to 10 days for an experienced walker to complete in its entirety. This hike will take walkers through the Ecrins National Park, where it's possible to stay overnight in a refuge or gite – a French holiday home – located off the beaten track for walkers. Climbers with some experience can also take advantage of the 150 climbing routes located above Lac Besson, all of which are graded and bolted with anchor points to optimise safety on an ascent.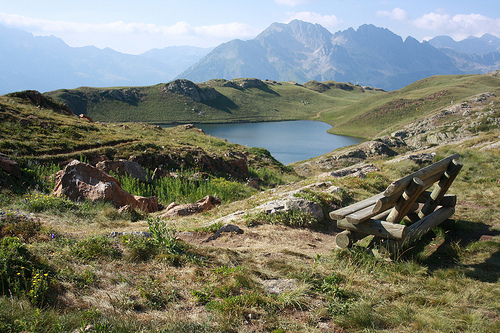 Photo source
With so much going on over the summer months, Alpe d'Huez is sure to be an exciting place and it is an ideal choice for a fantastic summer holiday.
About the author
Jonathan is a freelance writer who enjoys escaping to the mountains in the summer.