Guest article by Tom Browne
There are many wonderful things to do on the island on your Mauritius holidays. This island nation is located off Africa, approximately 900 km east of Madagascar. The island covers an area of more than 2000 sq. km. Port Louis is the capital city. Britain claimed the island from the French during the war with Napoleon. The islands received independence from Britain in 1968.
Three languages are spoken on the island – Mauritian Creole, French and English. English may be the official language, but French can also be seen on many street signs. Whichever one you can speak, you'll do just fine! The island is a tropical paradise and when planning your vacation in Mauritius you'll have to choose from many island activities for everyone to enjoy.
Land Activities
The main sport to be enjoyed in Mauritius is golf. Stunning golf courses offer grand views of the island and the Indian Ocean beyond. Those who enjoy a leisurely round of golf will enjoy any of the island's courses. These lush green golf courses offer impressive challenges for serious, experienced and beginner golfers. Many hotels often have golf courses attached to them. For those who want to visit a championship golf course or if your hotel does not have its own course, you can book a day on the 18 or 9 hole courses via your hotel. The golf courses usually have a golf club nearby with lockers and equipment shops.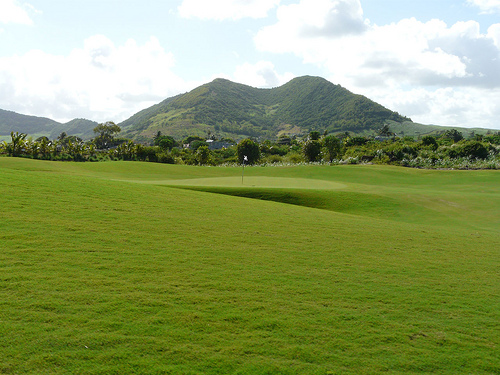 Other Land Leisure Sports
If you're not a golf players, don't worry, vacationing in Mauritius means you'll just have to choose you land activity from all of the following:
Rock climbing and Abseiling
Zip lining
Trekking
Mountain biking
Horse riding
Shopping
Sun bathing
All you have to do is decide between a power workout, a money spending-spree and a lazy afternoon.
Water Sports
Deep sea fishing can be an exciting part of Mauritius holidays. Fishing tours and boats are conveniently available for booking from most of the hotels on the island. An afternoon excursion can be very successful with giant marlins, tuna and other plentiful fish. The ocean drops more than 60 m just 1 km off the shoreline. In December, the La Pirogue Hotel holds a deep sea fishing competition called the Marlin World Cup. Winning or just taking part in this competition could be a crowning achievement for your holidays to Mauritius.
Other Mauritius Water Sports
There are many other water sports to enjoy around the island region like these fine examples:
– Surfing
– Water skiing
– Yacht cruising
– Submarine touring
– Wind surfing
– Deep sea diving
– Swimming
– Snorkelling
– Exploring the coral reefs
No matter what activities you enjoy, your all inclusive Mauritius holidays will be one to remember.
About the author
Tom Browne is an experienced and enthusiastic round the world travel photographer.  He enjoys travelling to various tropical locations around the world and sharing his insights with others. A picture tells a thousand words, and Tom loves sharing them with others. Check out his website here.