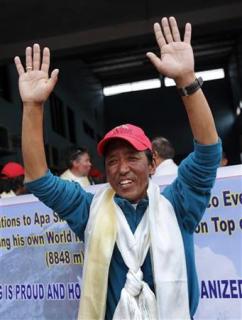 If you're a fan of the outdoors and your idea of a great vacation involves hiking or climbing to the peaks of as many mountains as possible, here's a little inspiration. A Nepali mountaineer who lives in the USA, aged 51, known by the well deserved nickname "Super Sherpa", has completed his 21st ascent of Mount Everest today. He thus broke his own record for the most summits of the world's highest mountain. His first climb to the top of the world dates back to 1990 and he kept returning ever since.
Apa Sherpa's personal summit collection now includes a new climb on top of the 8,850-meter peak of Everest that he performed along the Southeast Ridge route. 
"It takes a lot of will power to do something as difficult and needing a lot of strength at very high altitude over and over and over again," climbing historian Elizabeth Hawley told Reuters. "It is really a remarkable achievement."
According to a statement released by Ang Tshering Sherpa, chief of the Asian Trekking Agency, Apa dedicated his most recent ascent to the impact of climate changed and took the difficult hike up the Everest along with Chris Shumate (USA), Bruno Gremior (Switzerland) and four Sherpa climbers. Apa and his Eco Everest Expedition made an environmental statement, supporting activists who warn the Himalayan glaciers are shrinking at a rapid rate, endangering the lives of millions of people for whom they are the main water source.
The Eco Everest Expedition decided not only to climb Everest, but also clear about five tonnes of garbage amassed here over the decades, including oxygen cylinders, gas canisters, torn tents, ropes and plastic containers.
"This expedition is focused on climbing in an eco-sensitive manner to keep Everest clean and collect garbage, debris and waste left by past expedition groups," team leader Dawa Steven Sherpa said.
The top of Mount Everest was first reached by Sir Edmund Hillary of New Zealand and Sherpa Tenzing Norgay, the first two people to literally stand on the top of the world in 1953. The season for mount Everest climbing of March-May attracts hundreds of climbers every year, each of them trying to reach the top, either from the mountain's Nepali or the Tibetan sides. Since 1953, there have been 5,100 successful attempts by 3,100 climbers.