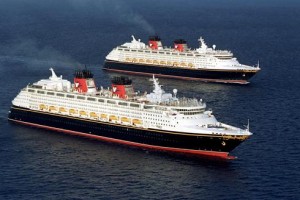 Disney Cruise Lines has announced new voyages from three US ports starting in 2012. The three new departure points are New York, Seattle and Galveston, Texas. According to the cruise division of the Disney theme park group, the Disney Magic will be the cruise ship that will take US travelers on the soon to be introduced cruises.
The 1,754-passenger vessel that is now operating cruises between ports in Florida and Spain, will travel to York in May 2012 for a series of 20 cruises and continue to  Galveston in September for another 12 cruises. The 1,754-passenger Disney Wonder, after a summer of voyages to Alaska from Vancouver, B.C., will be repositioned in Seattle in the summer of 2012 and continue its Alaska cruises from there.
The Disney Cruise Line is preparing to launch new cruise destinations in the US while on an ascending trend. The company is also getting ready to unveil new ships, which will lead to a double capacity and more varied voyage itineraries. The much expected Disney Dream, a 2500-passenger vessel, has already made its debut and now the star of Port Canaveral, operating three-, four- and five-day sailings. A similar ship named Disney Fantasy will join the Dream boat in 2012.
Photo courtesy Disney Cruise Line and USA Today