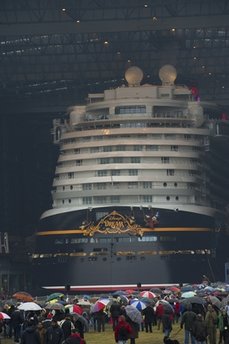 When it comes to Disney cruise ships, the hype builds up long before they start off on their first cruise. Their latest ship, Disney Dream, has made the news for merely making it out of the German shipyard in Papenburg and into a harbor where the final stages of construction and testing will take place. Why so much hype about the Disney Dream? It is the largest ever built in Germany!
Disney Dream is 1,115 feet long, it has 14 decks and hold 4,000 passengers. The cruise ships also features the AquaDuck, a water coaster wrapped around the perimeter of its top deck, virtual portholes offering live views of the sea and sky from video cameras mounted around the ship and a series of lounges for all ages. Quite enough room to meet new people on a Disney cruise, wouldn't you say?
After the testing is completed and the cruise ship is deemed safe for… floating and not becoming a new Titanic or something, it will start is journey along the River Ems and head to a port in Holland. The ship will get there sometime in November, but the official launch will only take place early next year, on January 26th, in Port Canaveral, Florida. After the launch, passengers of the Disney Dream will indulge in cruises between Florida and the Bahamas.
Disney Dream is only the first of two ships being built n Germany for US-based Disney Cruise Line. The second one, called the Fantasy, is still far from being launched, as it's scheduled to debut in 2012. The two ships will be added to the existing 2-ship fleet operated by Disney which already includes Disney Magic and Disney Wonder.
Photo courtesy of Disney (via AP and Yahoo News)