The best trips are the ones you go on the spur of the moment. That is something I strongly believe in. That is why when my good friend Alexandra came from the UK to visit her parents and asked me to take my mom and join her on a short getaway, I was more then thrilled. After debating the choices we had, we settled for a three night stay on the Bulgarian seaside, choosing the now quite popular Golden Sands resort.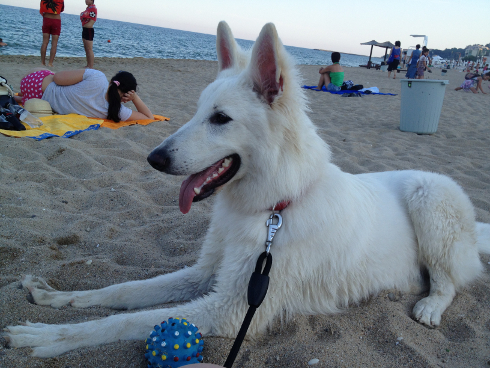 Golden Sands is easy to get to, quite affordable, and the services are rarely disappointing. The food is great, you can choose anything for very common pizza and pasta to Bulgarian specials and sea food. We started our search where I always start it – Booking.com, selected pet friendly hotels and we finally came up with Detelina Hotel (review will be posted in the following few days).
As some of you know, my dog is still a puppy. Or adolescent, to stay true the teachings of Cesar Milan 😀 He's 8 months old and… rather big (about 36 kilos). He had recently gotten his chip, but I hadn't had it inserted, nor had I taken care of his passport.
I called the vet to get it done, it could be taken care of right away, but I also needed a health check, and a nice little stamp and passport number for the Animal Health Office. I was warned it cannot be done in a day, which was a complete bummer.
The other option was to find a pet hotel for Ares, who had never been left with strangers in his whole life. I found a decent enough option offered by the same vet clinic we go to, but this got my mom into mourning (yes, she cried because we were leaving him alone and almost got me crying). I tried to calm us down and failed… So I did the next best thing, I called the breeder that I had gotten him from. Canisa de Lupi Albi was as friendly as it had always been and Cristi helped me get the stamp from the Bucharest Office. It's of course just a minor thing, I still don't get why the office in my town makes such a big fuss out of it.
After seeing how many stamps and checks were needed in his passport, I honestly expected quite a big fuss at the Bulgarian border. They looked at the passport, glanced at the dog, told us to go… They didn't check anything, of course! If one of those stamps was missing, I'm sure they would have inspected each and every page. Long live Murphy and his laws!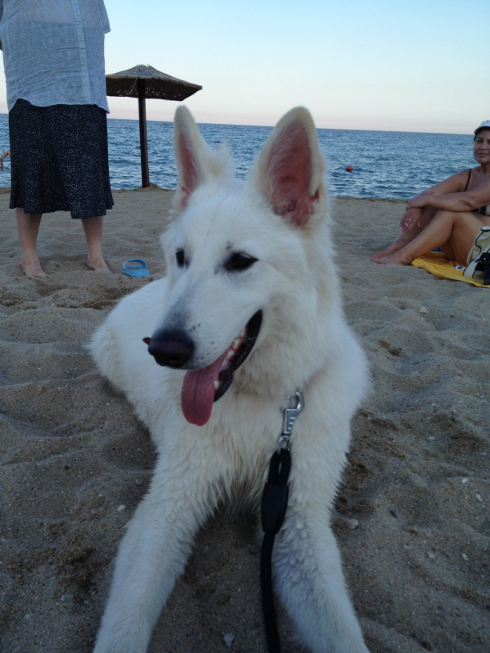 It took a little running around like crazy, but we managed to keep to our tight schedule and made it to the Golden Sands resort where we stayed for three nights – four ladies chilling out, talking, reading, writing (yours truly), and enjoying delicious food.
But, while pet friendly accommodation is not impossible to find, most of the beach in our region of Golden Sands was a different story. There was a small section where I could take him, but the sea was quite restless and Ares has found his passion for salty water – he wants to bathe in it, drink it, and make sure he drags me along for the ride. As we could go very early or very late, there were no lifeguards to speak of, so I was to scared of letting him play in the water for too long. Digging holes in the sand was a different story! He couldn't get enough of it.
Ares was also the main attraction as a photo subject, shrieks of delight, and oh, so much patting. It would have probably been a lot more fun if I had time to do my research on pet friendly beaches in the area, but we managed to make the best out of it.
What I've learned, in short, after my first trip with my dog?
It is a lot more complicated for pets to travel than it is for humans

when booking your hotel and checking if they allow pets, what you see is not always what you get – more on that topic in my future hotel review
pets are a lot calmer and well behaved when they feel they're not at home
Ares gets a lot of attention wherever we go. I finally realized just how rare White Swiss Shepherds really are
It is fun but also a bit stressful to bring your dog along, yet it's a lot better than leaving them somewhere and constantly worry about how they're doing
Less can be settled on the go when it comes to a pet
Conclusion? It was tons of fun, easier than I feared, harder than I thought, and I'm definitely taking him on my next trip if I don't have a better dog-sitting option at home!