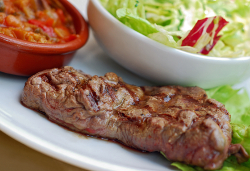 Now at its third edition, the "Tous au Restaurant" or "Everyone to the Restaurant" week-long celebration is just around the corner. From September 17 to the 23rd of the same month, over 1,200 restaurants, bistros, café and other types of eateries across France will be offering fixed price three-course meal to both local cuisine enthusiast and foodie lovers visiting the country.
"It's about democratizing gastronomy, which is thought of as expensive," Jean-Bernard Bros, deputy mayor of Paris in charge of tourism, told Reuters. "It attracts clients who aren't necessarily in the habit of going to new restaurants."
Those considering themselves gourmands will sample the culinary delights of Michelin-starred restaurants or the gastronomic surprises of less pretentious venues. And this week-long treat does not happen just anywhere, but in France, the top destination for food lovers, the country that turned food into art and further into a historic institution. Let's not forget, the traditional "gastronomic meal" has been added to UNESCO's cultural heritage list back in 2010.
If you're planning to have a taste of the "Tous au Restaurant" food fest, make sure you arrange it on time. Online bookings will be open starting September 5th. Â According to the event organizers, the event's target it not to make eateries that are part of it tons of money. In reality, the results are at a break-even point, but every year, the fest achieves its main purpose — to encourage those with a new found taste for culinary delights.