Social networking has been a global phenomenon in 2011, with amazing statistics that show that, in some countries, over 98% of the web population was involved in some type of social networking activity. Of all the social networks, Facebook is by far the most popular, Â by virtually any metric.
Many companies are following the trend, engaging Facebook audiences in different, innovative ways. One of them is DIY travel guide planner Stay.com, which recently added experience-changing features to its UI. From now on, registered Stay.com users can ask suggestions from friends, family and the public, to improve their destination guides with the best attractions, hotels and restaurants.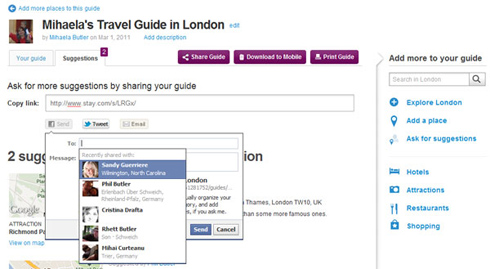 The main advantage is that Stay.com only connects to confirmed friends on Facebook, avoiding broadcasting and eliminating privacy issues and spam. Although users can ask any Facebook friend for suggestions, only a registered Stay.com user can offer them. To broaden the experience, Stay.com allows users to ask for suggestions via Twitter and email too.
But the most exciting feature is the way these suggestions are provided by friends: the map becomes a social experience on its own, where friends can recommend attractions, restaurants and hotels, and even add addresses not listed in the Stay.com database .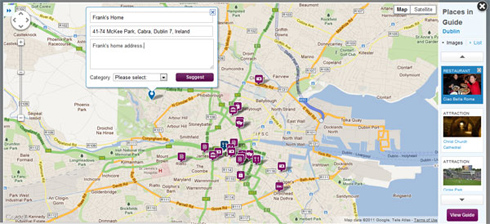 Stay.com's proprietary search engine gathers data from both Stay.com own database, as well as Google Places. Users can find any business registered in the city on the map, and even personal places can be suggested (like home addresses) – simply by dragging-and-dropping a marker onto the map. In the end, the owner of the guide can accept the best suggestions, and discard those less interesting.
When the guide is complete, it can be downloaded as *.pdf, printed on paper, or downloaded on a smartphone, with Stay.com's proprietary apps for Android and iPhone. The apps enhance experiences on-the-go, as they allow users to find their way at the destination, without having to go online, or pay extra charges for roaming.
About the author
Mihaela Lica Butler is the senior partner at Pamil Visions PR which represents Stay.com as PR agency for specific campaigns. She is also the editor at Everything PR News. She is also editor of Argophilia Travel News, and COO of the Argophilia startup development. She is a widely cited authority on search engine optimization, public relations issues (BBC News, Force for Good, Reuters, Al Jazeera and others), as well as a widely traveled journalist and fusion cuisine aficionado.