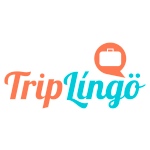 Learning foreign languages just enough to get around on a trip is not the easiest task to achieve. If you learn any language in school, the first lessons are just extremely tricky to squeeze in an actual conversation. Phrases that make little sense to the world we actually live in, but which help you learn some basic grammar and some useless vocabulary. The best example of this nonsense is this small part of an Eddie Izzard stand-up comedy show, focusing on how hard it is to integrate a cat, a mouse and a monkey (spread out through the house and yard) into an actual conversation.
While better at conversations, foreign languages guides especially made for travelers are also limited. If you want to discuss anything else apart from accommodation, meal orders and shopping, you might be at a loss. This is where Atlanta based TirpLingo takes the stage by just launching four new apps through the iTunes App store which will help you customize your learning experience to better fit the scope of your trip, be it business and pleasure.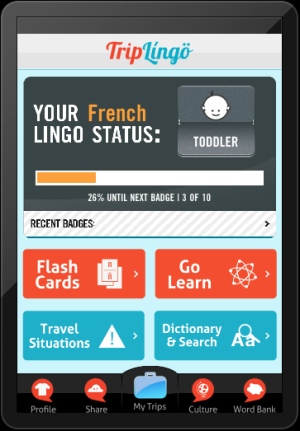 Currently available for Mexican Spanish, French, German and Brazilian Portuguese, the TripLingo iOS app lets you set a custom phrase list based on interests, planned activities and any other special circumstances. The app determines what you need to know buy waking you through a list of questions that help you rate the importance of different subjects when learning a foreign language – are you interested in sports conversations, do you want to go out and meet people and flirt while at it, or maybe you have a special medical condition that requires special amenities? After completing the survey, the app will generate a list of Flash Cards that contain useful phrases for you to learn. Each phrase comes in 4 versions – formal, casual, slang and crazy, which you can adjust depending on your needs through the Slang Slider feature.
Hearing how a certain phrase is pronounced is extremely important when learning a foreign language, that is why the app contains audio recordings of each phrase. It also features a 2000 word dictionary, a Word Bank where words are grouped by category as well as relevant cultural details.
The app will be available later today in the iTunes store. The price announced is of  USD 4.99 per each language. You can keep an eye on the TripLingo site or on the Facebook page and Twitter account to find out when they are actually up and running (read available for purchase here)
What do you think? Would something like this