Most pet owners want to travel with their pets, but they avoid it due to potential problems. Pet owners prefer leaving their pets at a pet care center or home with a pet sitter. However, it is possible to travel with your pet if you have proper knowledge of how to prepare it for the trip.
With the right planning, you can take your cat with you and let it enjoy the trip. Cats are very conscious about the comfort of your home, and you need to ensure their safety and comfort on your trip. Moreover, cats are prone to get sick on vacation trips due to a change in diet, air, water, and climatic conditions.
As a pet parent, you need to take care of all these things while traveling with your pet. Let us explore some effective tips to take care of your cat while traveling to any destination.
Talk to Your Vet
Whether your cat is in good health or suffers from any problem, you should take her to a vet for a health checkup. Tell your veterinarian that it will be a vacation trip. Also, mention the location and mode of travel.
Your vet will tell you the tips and things to take care of your cat while traveling. If you are flying overseas, tell your veterinarian about it, as your cat may need some medications while traveling on a plane.
Your vet already knows about the medical history of your cat, but if you are visiting a new vet, you should inform him about any specific illness or condition.
Check the Airline Policies
Although airlines don't allow you to buy a seat for your cat, you will need to make a reservation for your pet. Pet reservations on airlines are limited. Therefore, it's better to make a reservation early.
Also, the pet policies such as age, weight, size, and breed vary from airline to airline. Check the pet policy section of the airline website to choose the best airline that allows you to travel with your cat. Don't forget to consider the luggage of your pet while checking the pet policy.
Book a Hotel That Accepts Pets
You are going to stay in one or more hotels during your vacation. Make sure you book the hotels that allow pets and their belongings. Some hotels may charge you extra for pets, and you need to confirm the charges to avoid getting surprised later. Book a hotel that accepts pets and offers some services for their convenience.
Buy a Pet Carrier
You will need a cat carrier to make your cat travel safely in the airplane. You need to contact the airline company to know the weight and dimensions of the pet carrier they allow on their flights.
For example, Airlines in the US specify pet carriers of dimensions 19 x 13 x 9 inches. You can check the permissible carrier dimensions on the airline company's website.
Let Your Cat Get Comfy
Once you know and buy the right pet carrier, you need to make your cat comfortable with it. If your cat is uncomfortable or anxious in its carrier while taking it to the veterinarian, it will be uncomfortable in the airplane too.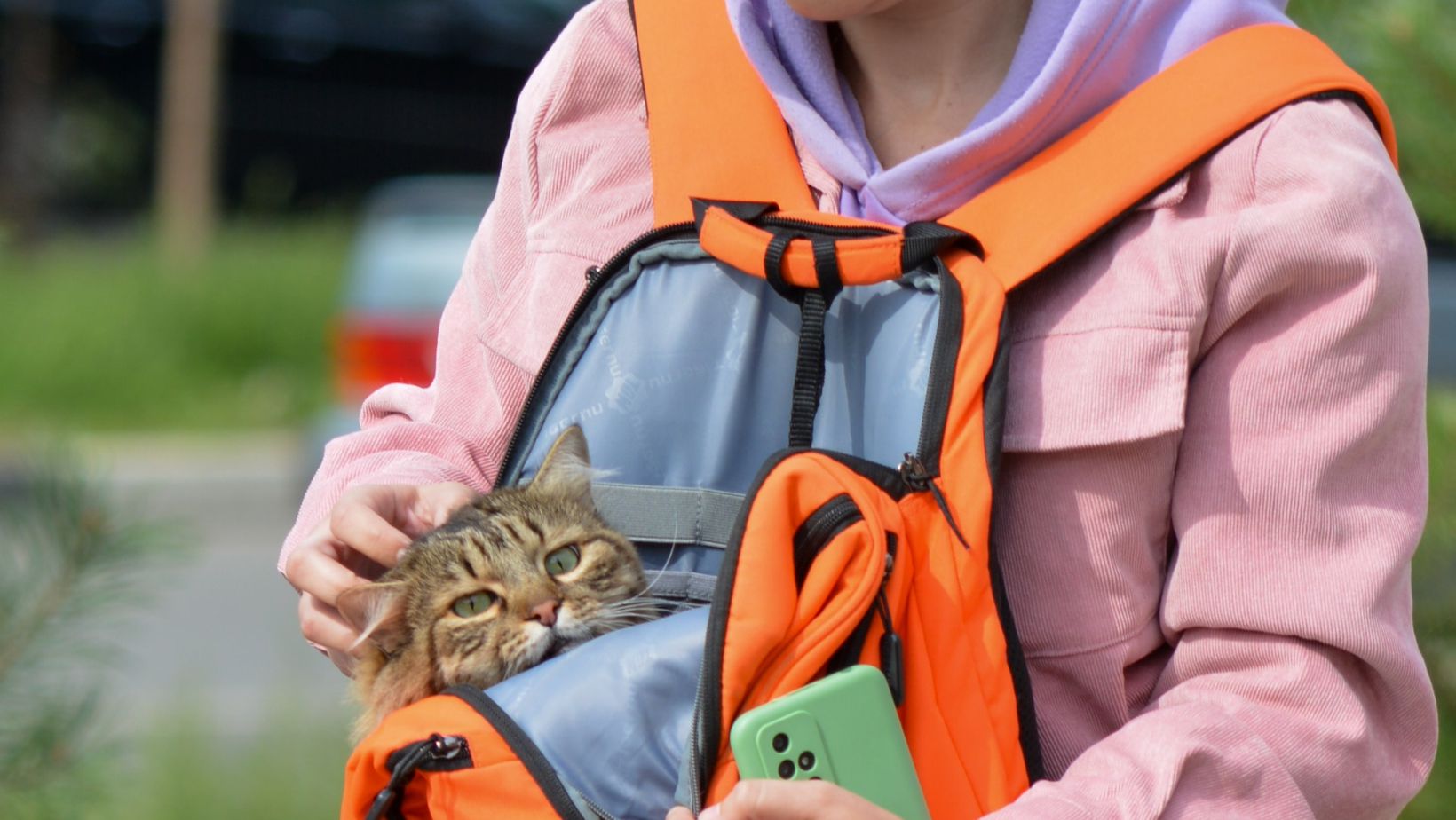 Therefore, you need to practice making it comfortable in the carrier at your home. You can put your cat's favorite food in the carrier to make it comfortable and reward it for sitting in it for a few minutes.
Take Care of Your Cat's Diet
The foods you serve your cat at your home may not be available at the location where you are planning to visit. Cats usually suffer from dehydration while traveling. Make sure you offer water at regular intervals to keep it hydrated throughout the trip. It is best to include fiber in your cat's diet to maintain its digestive health during your vacation.
Take Their Favorite Treats
As we humans prefer our favorite snacks while traveling, the same goes for pets too. In addition to food, and water, you should pack your cat's favorite treats. Serving their favorite treats to pets while traveling makes the trip less boring for them.
However, don't choose any such food that makes your cat feel travel sickness or issues like vomiting. Choose foods that are tasty but light on their stomach and digestive system.
Never Leave Your Cat Alone in a Vehicle
Never transport cats in a carrier outside, exposed to the elements like wind and weather. Keep the cat in the carrier inside the truck cab if you're moving and renting a moving truck.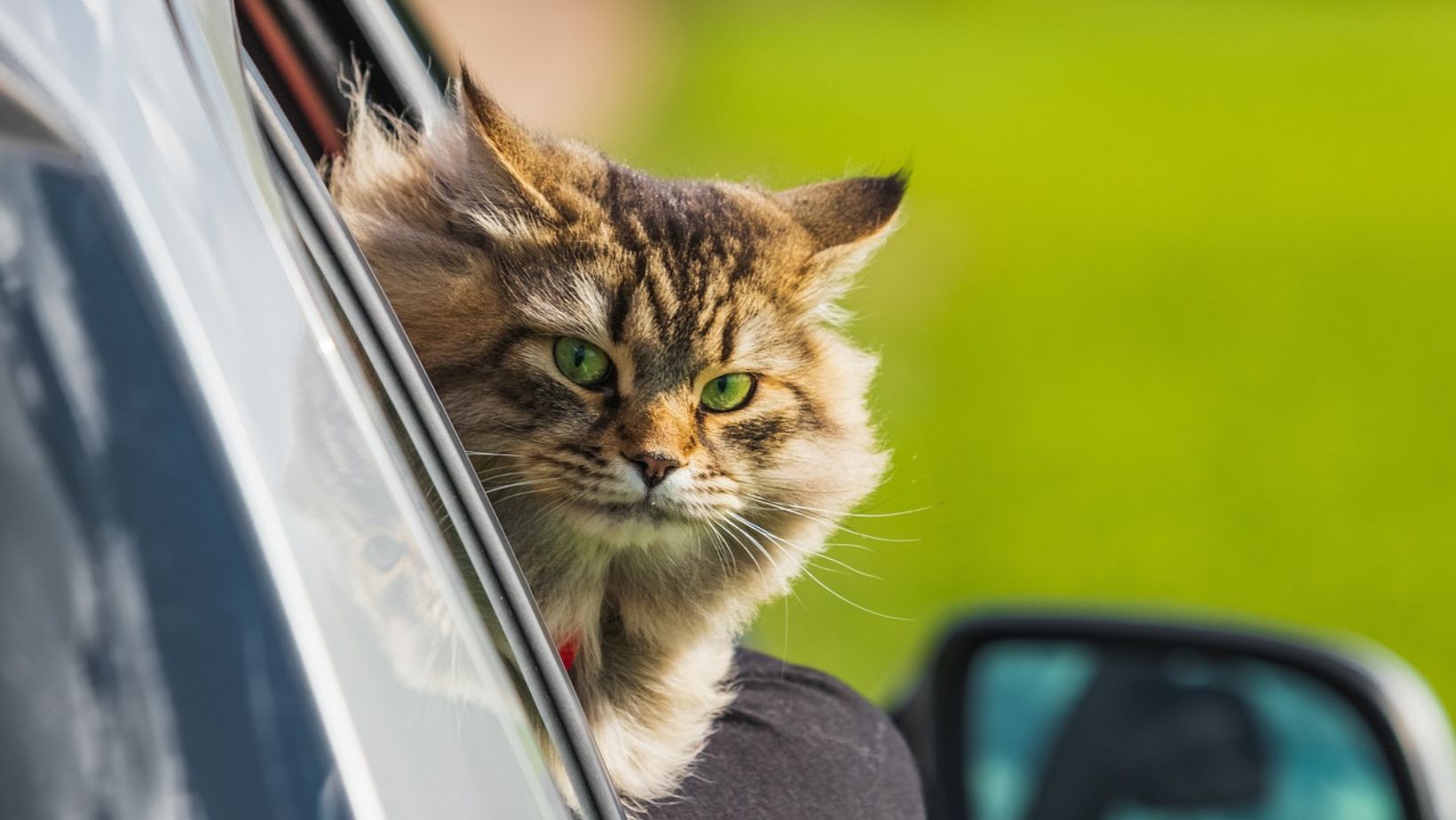 Never put a cat in the back of a vehicle or moving van that is already loaded. As your possessions shift, the carrier and your cat could get crushed, endangering your pet's life.
Pack Some Cleaning Supplies
Before leaving for a trip, don't forget to pack some rags, napkins, odor-neutralizers, and cleaning solutions. These supplies will come in handy when your cat urinates or vomits during the trip. So, make sure you pack a box of cleaning supplies for such emergencies to maintain hygiene during the trip.
Bring the Litter Box Along
If you can, bring your pet's regular litter box with you because your furry buddy will need a place to use the restroom unless you've miraculously taught them to do so. Your cat will relieve themselves in this container because they can smell if it is their own.
Don't Forget the Medications
Your vet may prescribe some medications to prevent travel sickness for your cat. Moreover, if your pet is already under some treatment, you may be offering her some medicines. Make sure you take those medicines along while packing for your trip.
Summing Up
Traveling with your cat on vacation can make your trip more enjoyable than traveling alone. As a pet owner, you need to take care of its diet, health, and safety during the trip. Following the tips in this post can ensure your feline friend enjoys the vacation as much as other members of your family.