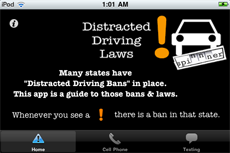 Yesterday we introduced you to Distracted Driving Laws, an iPhone travel app providing information on state bans and regulations regarding handheld, cell phone, and texting usage while driving. Sugar Coded Apps, the developer of Distracted Driving Laws, is offering 25 iTunes promo codes for TravelTweaks.com readers with a passion for road trips!
How to get your Distracted Driving Laws promo code
The 25 promo codes will be given on a first come, first served basis. All you have to do is leave a comment on this giveaway announcement telling us where you're headed on your US road trip. No spam comments will be taken into consideration for the giveaway. 
We will use the email address posted when commenting to send you your code. The email addresses you provide will not be used for any other type of emailing, it will be a one time deal where we send you your promo code.
How to use the Distracted Driving Laws promo code
You can redeem your Distracted Driving Laws code either through the App Store Home Screen on your iPhone's iDevice or through the iTunes Store on your computer.