Business travelers are very social while on the road, enjoying friendly activities with colleagues or business partners as often as they can, according to a recent carried out by Four Points by Sheraton, a Starwood Hotels and Resorts Worldwide, Inc brand. Respondents indicated that enjoying the hotel bar or restaurant with colleagues or business partners as their top activity when traveling, outranking working out in the gym, relaxing in the spa, shopping of catching up with local acquaintances.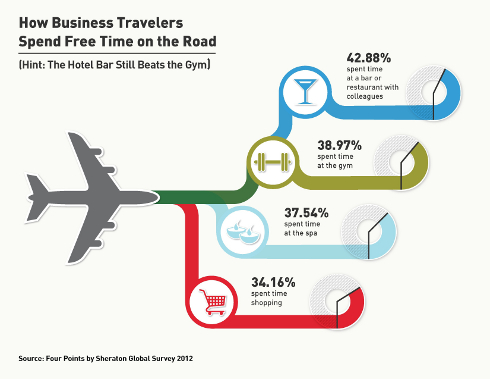 The survey also found that business travelers are proficient networkers, as almost two-thirds keep in contact people they meet on the plane or at the hotel during their business trips.While hanging out with colleagues and business partners at their destinations is considered fun, flying with people they work with back home is quite a nuisance to 60% of respondents who say they prefer flying alone. This 2012 survey queried 6,000 business traveler from 6 different countries, a 1000 from each: the United States, the United Kingdom, China, India, Germany and Brazil.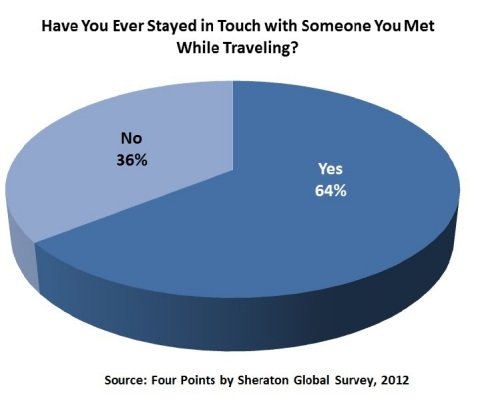 "Business travelers have a real need to connect on the road — both virtually and in person," said Brian McGuinness, Starwood's senior vice president, specialty select brands. "Our survey results reveal that road warriors are social, preferring to network or to relax in the company of colleagues rather than just enjoying solitary pursuits." McGuinness continued, "Four Points provides everything our guests need to be productive and comfortable on the road and that includes creating opportunities to connect socially through brand-wide programs like Best Brews â"¢, which invites guests to gather over a great local craft beer when the work day ends."
Americans are the heavy travelers of the business world, with almost 40% taking over 10 trips a year. At the other end are Chinese travelers who are the least likely to travel as much – only a little over 7% go on more than 10 annual trips. Yet, along with Indian travelers, they compensate by socializing the most.