Guest post by Cristina Banu
Last year was the first in which I did not see any snow in the period around New Year's Eve. Why? Because I spent that special time of the year on a cruise in the Caribbeans.
It was a very nice experience, being on such a big ship – Mein Schiff, on a tour provided by TUI. The best thing about cruises is that you sleep at night relaxed in your bed while the ship is heading to the next island. In the morning the ship arrives in the harbor and you have the entire day to go sunbathing, sightseeing, shopping, sailing, diving, basically whatever you want to do on the islands.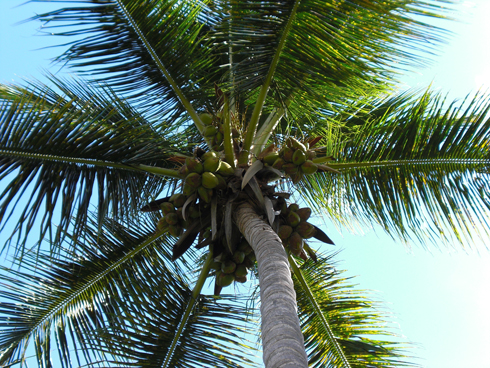 The ship had very good food and lots of it! When you go on such a cruise, you need to be careful not to eat too much. It isn't easy though, if you enjoy eating as much as I do :). I went to the gym everyday to make sure I stay in shape.
New Year's Eve was celebrated with lots of food, drinks, deserts, all arranged in shapes of castles, the Eiffel tower and other such architectural landmarks. I could hardly decide which one to try first. At midnight all passengers and crew gathered on the deck to watch the beautiful fireworks.
I was impressed by a particular a la carte restaurant which took several levels of the cruise boat and its elegance reminded me of the movie Titanic. Good thing that this ship did not sink though 🙂 !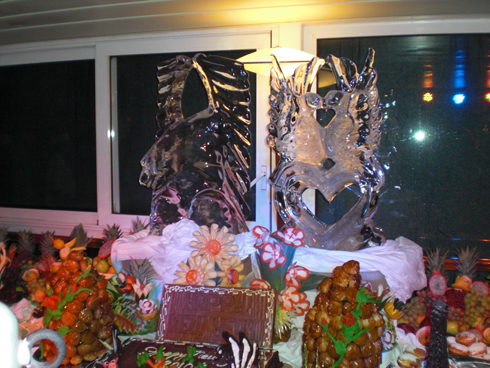 Almost every day you see a different island and experience its specific cuisine, drinks and customs. On this particular cruise, I've been to the Dominican Republic, Grenada, St Lucia and Barbados.
White, sandy beaches and sparkling and extremely clean water, perfect for scuba diving or snorkeling which require a certain level of visibility, were part of the cruise experience.
My favorite beach was one in Antigua where due to the concave shape of the beach, the waves were going in both directions. To get to this breathtaking beach, we first took a trip through the rainforest, and saw beautiful mountains and lakes on our way there, to then arrive at this amazing location. It was the perfect destination for our hike!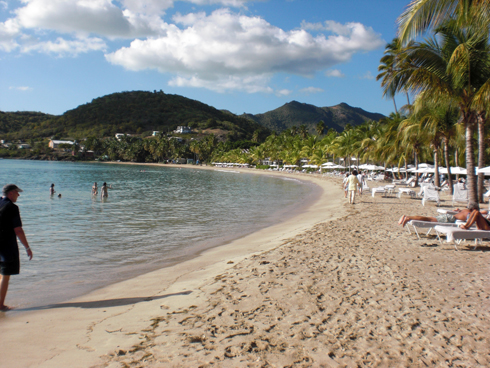 I took a jeep tour to visit St Lucia and we ended up on a very nice wild beach, uninhabited. The waves were so big and strong they made it quite fun to go in the ocean and try to stand on your feet.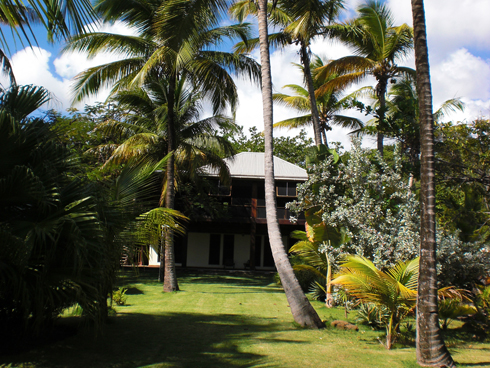 The Barbados beach was quite crowded with lots of people enjoying the sun after work. I was wondering what it would be like to do that every day after coming from the office. It must be nice, but I'm sure those who actually do it give it less credit than I did.
In Grenada we took a taxi and headed towards a very nice wild beach which was surrounded by rainforest and private villas. There was a small bar/restaurant and a terrace placed in a tree! Hidden villas to rent were conveniently spread through the rainfores, perfect for those looking to enjoy the wilderness for a longer period.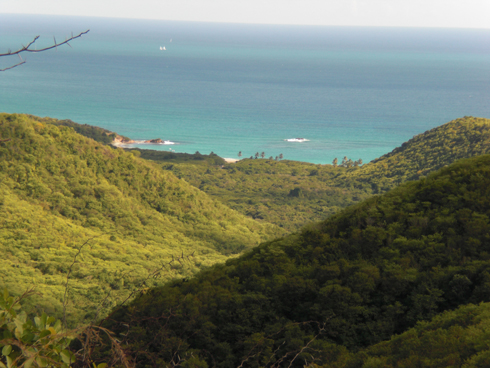 If you don't want to leave the ship, there are plenty of activities for you to enjoy on board. You can swim in the outdoor pool, go to the sauna, spa, massages, take aerobic classes on the deck, play golf, jog and even do some shopping.
At night you can relax on the deck drinking cocktails, you can go to a club, watch a theatre or opera show. So plenty of activities for all ages and genders and definitely no time to get bored.
Even if you are an Internet addict, there's a fix for you on the ship. Everyday I spent a few minutes in the VIP lounge where they offered free satellite Internet access. I was lucky because my cabin was on the executive floor so the lounge access was one of the perks. If you don't want to pay too much for the executive floor cabin, you can buy minutes of Internet access. But be warned, this might be quite expensive!