Greece is one of the countries every world traveler should visit in their lifetime. However, thanks to its ancient language and significantly different alphabet, it can pose a unique challenge to travelers. That is why taking a cruise around the Greek islands is quite possibly the best way to travel. See all the iconic destinations, enjoy luxurious accommodation, and never find yourself on a train heading in the wrong direction! Here are some of the top tips to remember when planning your Greek vacation:
How Long Will You Travel?
Greek cruises can last anywhere from a 4-day weekend to a 2 week tour. Decide how much time you have to spend, and considered "bookending" your cruise with stays in the ports before and after. For example, if you start from Santorini, spend a few days there first, and then when you end your cruise in Kythnos, extend your trip there by a couple of days as well. Be flexible with your itinerary for the best vacation.
Who Are Your Fellow Passengers?
Make sure you research who will be traveling with you on the ship before you commit to the vacation. If you are looking for a relaxing atmosphere as a newlywed couple, make sure it isn't the kids week promotion on the cruise you're interested in. Go ahead and call the cruise company just to confirm there will be unexpected surprises.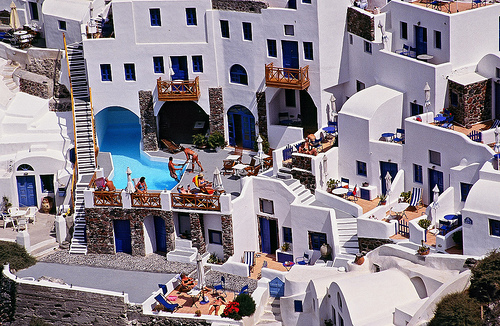 Photo credit
What's Included?
One of the perks of a cruise vacation is that the price is relatively inclusive. Be sure to read the fine print on what will be included in the overall price. Common add-ons are tips, docking fees, housekeeping costs, or even alcohol purchases. Know in advance what is paid for so you aren't shocked at the total price when you're ready to disembark.
[adsense]
Where Are You Going?
Not every destination in Greece is the same. There is a wide variety in the types of atmospheres various destinations have along the cruise. Don't expect a sandy white beach and then come face to face with a rocky shoreline and ruins atop a cliff. Choose Mykonos on your itinerary for shopping, culture, cafes, and nightclubs, Santorini for hiking and breathtaking views, Piraeus (Athens) for the birthplaces of Western Civilization, and Patmos for religious landmarks.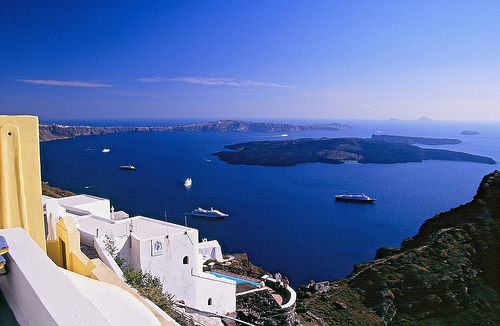 Photo credit
Can You Go Solo?
Find out exactly what time the boat arrives and departs from each destination on your route. There are usually plenty of guided tours or scheduled activities planned for the day on shore, but sometimes the most fun can be had exploring on your own. Find out what the policy is on travelers left behind (will the boat wait for you?). Can you travel to the next port of call and then join the ship there? Don't be left unprepared onshore.
About the author
Heather Johnson writes for one of the best online honeymoon planning websites. Discover the very best honeymoon destinations today!