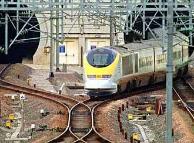 A 24-hour strike started by one of Belgium's main rail unions has forced the cancellation of nearly all high-speed rail service in and out of the country and severely disrupted the national network.
The strike, which began affecting the international trains linking Belgium to France, Germany the United Kingdom and the Netherlands on Sunday evening, has shut down the country and led to massive traffic jams, and severely disturbed international traffic in Northwestern Europe.
The largest union in the Belgian rail company, the CGSP, has called an impromptu strike to protest a deadlock concerning job losses and working conditions. As this strike coincides with ongoing protests in France, the result was blocked rail transport in most of the northern Europe.
"Not one train is rolling in [the Southern province of] Wallonia or in Brussels. In [the Northern province of] Flanders, only a handful of trains are moving," a spokesperson for Belgian rail network operator Infrabel told the Belgia news agency.
Eurostar has canceled all of it's trains between Lille (northern France) and Brussels until 10 p.m but says that the route between Paris and London will not be affected. However, trains coming from London to Brussels will stop at Lille and buses will be used for the rest of they way.
The strike was scheduled to end today, normal rail service being expected to start immediately after, although disturbances are expected until Tuesday morning.