Some festivals get unfairly overlooked just because they're set in cities that rarely pop up on traveler's guides. Unfortunately, that leads to missing out on some fun events. The solution to this is to step away from the top destinations and check out the lesser known cities, like these American Deep South destinations rounded up by Eat Sleep Breathe Travel. 
The United States is a prime road trip destination, and although it's great to hit the big cities, it's also fun to see the smaller ones as well. Plenty of these lesser-known towns have some unique draws and fun festivals that, should your timing work out, are definitely worth being in town for.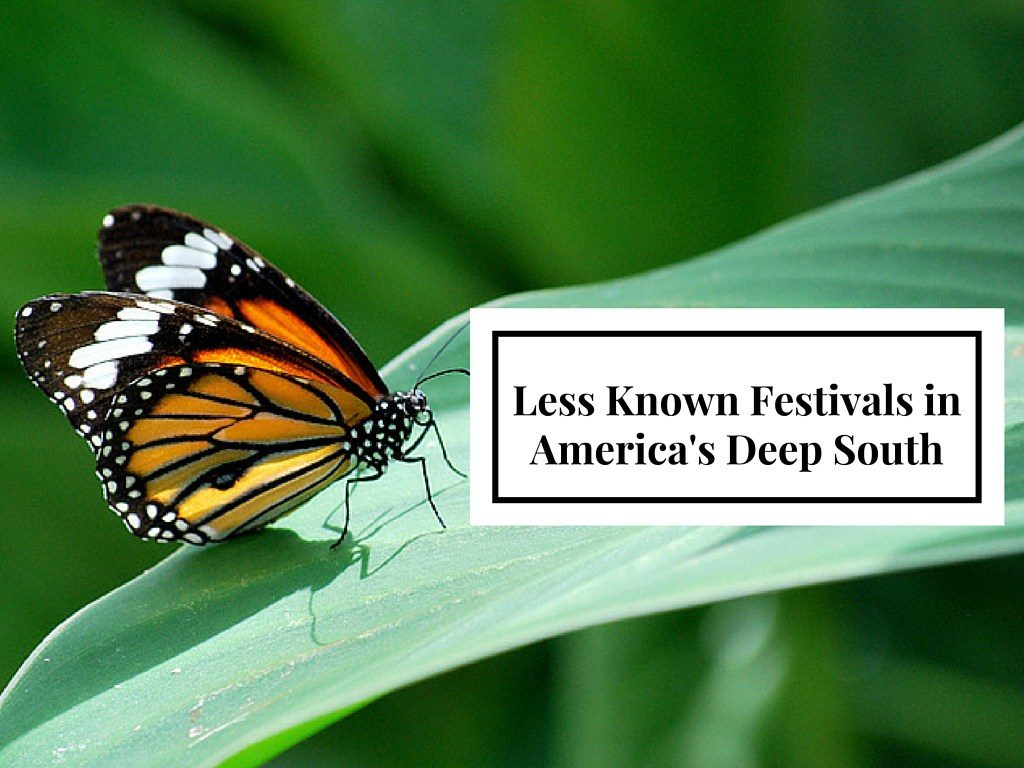 The Butterfly Festival in Dunwoody, Georgia
An annual event that takes place every year towards the end of summer, the Dunwoody Butterfly Festival is a unique, one of a kind opportunity to explore and learn more about these beautiful insects. After a quick safety and education brief, visitors are allowed to explore the magic in two massive tents filled with free-roaming butterflies. Travellers planning to be in the area during this time should book their Dunwoody hotel in advance to be as close as possible.
The National Folk Festival in Greensboro, North Carolina
The National Folk Festival is one of the USA's largest and most prestigious festival celebrating culture, arts, and heritage. This year, the popular three-day event takes place in September in Greensboro, North Carolina. The National Folk Festival is free and showcases over 300 musicians, dancers, and tradespeople. It's bound to be tons of fun so be sure to stop by. To get the most of your experience make sure to book a Greensboro hotel that is close to the festival, such as the Greensboro Marriott Downtown which is beside the Center City Park stage.
The Wine, Dine, and Art Crawl in Gatlinburg, Tennessee
Every April, Gatlinburg offers locals and visitors the chance to experience the historic Great Smokey Arts and Crafts community. The event consists of a private tour of the participating galleries allowing you the opportunity to meet and talk to local artisans while sampling the fares and wines from local restaurants. The following day the Wine Festival takes place, showcasing wineries from across Tennessee. Check with your Gatlinburg hotel to see which restaurants and bars are participating in this year's event.
Fiesta de la Flor in Corpus Christi, Texas
Every year, Corpus Christi holds the Fiesta de la Flor in honor of the famous singer Selena Quintanilla Perez who grew up in the city. The festival celebrates Selena's life, and part of the downtown core shuts down to make room and transform into a pedestrian-only mall, street festival, and other family-friendly events. Get a Corpus Christi hotel close to the Bayfront such as the Best Western Corpus Christi Hotel.
City Center Oyster Roast in Newport News, Virginia
Foodies will love Newport News' annual City Center Oyster Roast in Newport News. The festival takes place in the picturesque five acre fountain plaza and offers plenty of delicious seafood dishes and oysters to try. Adults can take part in the beer-tasting while little ones will love the oyster shell scavenger hunt. It's a family-friendly event with live entertainment and free parking. Or, ditch the car and walk from one of the hotels in Newport News' city centre.
Do you know of any other fun, lesser-known festivals in America's deep South?