From amazing scenery to exciting adventures, the Lake District offers something for everyone. As one of England's most popular tourist destinations, it's easy to see why this enchanting part of the country continues to attract so many visitors.
As well as being one of Britain's most popular tourist hotspots, the Lake District also has a rather unique and interesting title: the region is also one of the rainiest regions in Britain, boasting annual rainfall that vastly exceeds any major British city.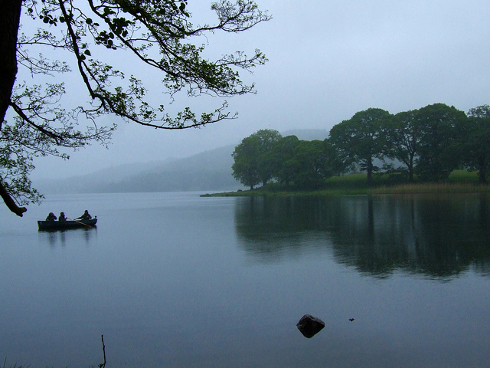 England's Lake District is known for its great scenery and wet weather. Image
Because of this, no visit to the Lake District – especially no winter visit – is complete without rainfall. Whether it's light, atmospheric rain or a torrential storm, the Lake District's rainy day weather it a part of it's charm that's there to be appreciated. 
Thankfully, it's very easy to keep yourself entertained during a rainy day the Lake District. From exciting indoor activities to walking trails that get even better when the weather gets worse, these four activities are ideal for a rainy Lake District day.
1.    Walk the scenic trail to Aira Force
Aira Force is one of the Lake District's most impressive waterfalls – a 20-metre fall that's easy to view from the nearby walking trail. Easy to reach via a four-mile walk from Ullswater, the waterfall is far more impressive in wet, rainy weather.
The short walk to Aira Force departs from the convenient Aira Force car park. On the way to the waterfall, you'll cover some of the Lake District's most impressive forest countryside and enjoy excellent panoramic views of Ullswater.
2.    Learn at the Lakes Aquarium
Conveniently located in Windermere, the Lakes Aquarium lets visitors take an in-depth look at the life beneath the surface of England's biggest lakes. The aquarium houses several exhibits showcasing both local aquatic life and exotic sea life.
As well as local and international sea life, visitors to the Lakes Aquarium can look at sea otters and seals, African tortoises, ferocious red-bellied piranha, and even local diving ducks and bird life.
3.    Watch a blockbuster film or local production
The Lake District is home to several cinemas showing both big budget international flicks and engaging local cinema. The Royalty Cinema in Bowness-on-Windermere is the region's top cinema, while Ambleside's Zeffirellis plays amazing art house films.
If recorded media isn't your scene, give the Theatre by the Lake a visit. This amazing local cinema, located in Keswick, puts on a variety of local and international comedy, drama, and musical performances throughout the year.
4.    Enter the World of Beatrix Potter
Travelling with the kids? The World of Beatrix Potter is an incredible exhibit located in the centre of Bowness-on-Windermere. Built for young children and adults raised on the iconic Peter Rabbit books, the museum is a shrine to all things Beatrix Potter.
Step into the Peter Rabbit Garden and enter the world of Mr McGregor. Spend time in Miss Tiggy-winkle's Kitchen. The World of Beatrix Potter covers every aspect of the famous author's children's books, and is a true must-see for fans of her work.
Whether it's raining or shining, the Lake District always has something to offer. Visit www.SLHolidays.co.uk to learn more about the Lake District's best attractions.