London is a vibrant city, but don't assume your kid is going to share your enthusiasm for discounts at famous shops or for long strolls in the museums. I took my son to London for his 8th birthday and I tried to find things that he would find enjoyable. Kids love toys, no surprise there, so naturally Hamleys and Harrods (4th floor for the toy section) proved very successful destinations. I also wanted to take the pressure off as soon as possible so that we could focus on the rest of the journey, so we started with toy shopping soon after making it to London and checking in at the hotel. If your kid is anything like mine (and something tells me chances are 99% so), it might be a good idea to talk to him/her in advance about the maximum sum you're willing to spend there, or the number of toys you're willing to pay for. It makes them think, analyze and choose rather than run amok among shelves and throw tantrums when you refuse to pay for the entire store. You have been warned… A couple of hours later (and a hundred pounds lighter), we hid the stash in the hotel room and went out to see the city.
London has many great parks, and feeding the birds or the squirrels is always a major hit with children. Make sure you have bread for the ducks and pidgeons and nuts for squirrels and arm yourselves with patience and nicotine. You're going to be there a while. On a second thought, forget the nicotine and take your shoes off.
If you are fond of nature, Kew Gardens is a great destination. It opens at 10 am and kids get in free. Adults pay 13 pounds, but there's a lot to see and do inside. There's the Kew Explorer, a 40-minute tour with commentary, the Treetop Walkway, the Climbers and Creepers and so much more.
If you want to visit the London Zoo and you can't avoid the weekend, do yourselves a favour and buy the tickets online in advance. You'll avoid spending a couple of hours waiting in queue, while people with tickets get in…
Don't take the poor kid to Madame Tussauds unless he/she takes unexplainable pleasure in staring at still, unknown people. Try the Science Museum instead, where you can admire a wide range of machinery from steam engines to space shuttles, plus many exhibitions. Entrance is free. Also free and cool to visit: The British Museum. I took my son to the Egypt section to see the mummies and cut short the entire visit. Kids have short attention spans and would rather spend time outside than staring at "interesting stuff" inside.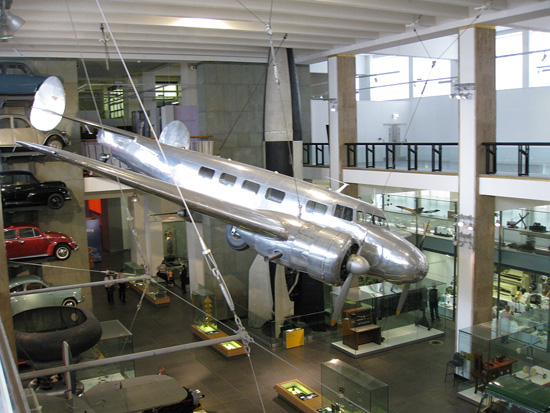 London Eye is a great thing if the kids (or the parents) are not afraid of heights. Price may vary according to the packages bought (discounts with complementary boat rides, tickets for museums or for musicals etc). The ride itself lasts 40 minutes, but be there early if you want to wait decent time in queue. Or buy the tickets online.
Now if you really want to make your kid love you, plan a day trip to Legoland. Legoland opens at 10 am and I recommend leaving London with the 9 am coach. Green Line 701 (or 702) leave from Victoria Station (Collonades) and drop you right outside the park (Main Entrance) in about 90 minutes' time. If you are coming back the same day buy return tickets.
Week days Legoland closes at 5 pm, weekends at 6. From my experience, a whole day is not enough to see it all. On our first day we tried almost every amusement ride (from merry-go-rounds to train rides). Everything is free once inside, but the tickets are quite stingy: 38 pounds for an adult and 28 pounds for kids. You can upgrade those tickets for year long passes with only a couple of pounds more. On our second trip we spent the entire day in Lego City, looking at miniature lego trains going back and forth. My son learned the whole schedule while I almost hit my head against the pavement for not bringing a book along. There are restaurants, cafeterias and vending carts, so don't bring any food unless the kids have special diets. Trust me, you don't want to run around with a heavy bag.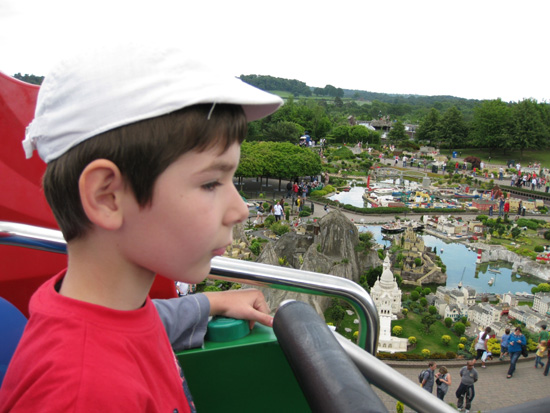 Back to London, kids travel free of charge up to 11 years old but they need to be accompanied by an adult. If you travel by tube, use the gates for people with large luggage or for wheelchairs. It gives both of you enough time to go through the doors without getting trapped by closing doors.
These are just a couple of things I came to do with my kid in a short period of time. For more ideas try this, this, and this.
Ummm, that's all. Now go get some fun! 🙂