Groupon, an online business offering coupons and deals, has partnered with online travel agency Expedia and introduced travel deals through their new service – Groupon Getaways. The new travel deal service will follow in Groupon's existing business model, meaning that Getaway customers will have a limited time frame to take advantage of each deal. The two companies say that the discounts offered within their travel deals will be "typically around 50% off retail rates found at other online travel sites."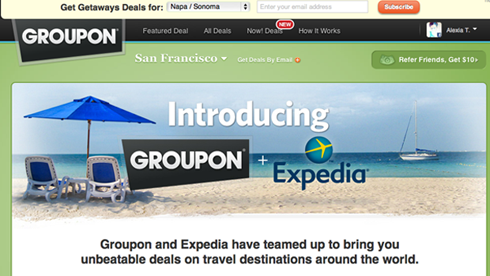 The soon to be launched Groupon Getaways will feature deals selected from the about 135,000 hotels worldwide that currently work with Expedia. In a first phase, scheduled for late June, the Groupon Getaways service will be available in the United States and Canada, and later expand to other countries. Expedia and Groupon will also include package deals, airline tickets, car rentals, cruises and destination activities in the Getaways service.
[adsense]
According to TechCrunch, Groupon had also been negotiating with Priceline and Travelocity, but apparently Expedia made an offer they could not say no to. Expedia has also been interested in offering travel deals and even discussed the possibility with Daily Deals. The online travel agency has also provided daily deals with Groupon in the UK.
At this time the Groupon and Expedia powered Groupon Getaways service has a live web page and those interested in being the first to receive the travel deals can already sign up.