Spain has been a popular destination for British holidaymakers and travellers for centuries. However, the package holiday saw a huge rise in its popularity from the 60s onwards, with a particular rise after the death of Franco in the 70s.  Since then, the rest is history, and the British of every background have found the allure of sunny Spain too much to resist, despite the fact that Spain has some of the weirdest traditions and festivals in Europe. You think Morris dancing is odd? Take a look at these.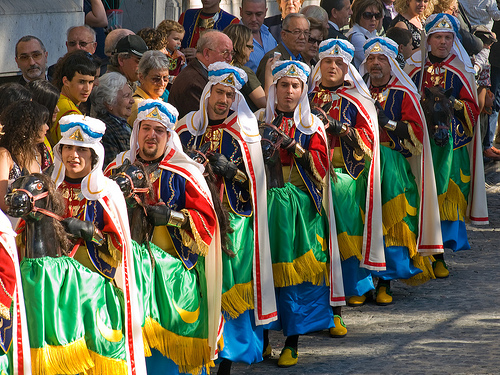 Do you mean flower festival?
At the end of December in the small town of Ibi in Alicante, the locals celebrate the "Dia de los Innocentes" (day of the innocents), which is equivalent to April Fool's Day in more sensible countries.  Here the whole town goes a bit crazy with bags of flour and has a massive fight, showering each other with the white stuff.  The object of the battle is to take over the town from the authorities, in a sort of lunatics/asylum approach.  The authorities don't seem to mind and join in enthusiastically with the general floury mayhem.  The attitude here seems to be it's not the winning that matters, just the getting covered in flour.
Not another flour festival?
No, not at all; the Valencians also have a flower throwing festival, but obviously in this case they use flowers.  This is a far more sedate, civilised approach to celebrating, which can't help but leave you wondering if the 18th century originators of the Ibi festival were maybe a teensy bit dyslexic – or possibly vice versa, given the Spanish obsession with throwing good food about.  Whatever the origins of the Valencian get-together, this festival is quite literally a riot of colour.  Starting with a procession of incredibly beautiful florally decorated floats and ending with an explosion of harmless fun.  One not to miss if you're in the area, but take a tennis racket with you (don't ask; just take one).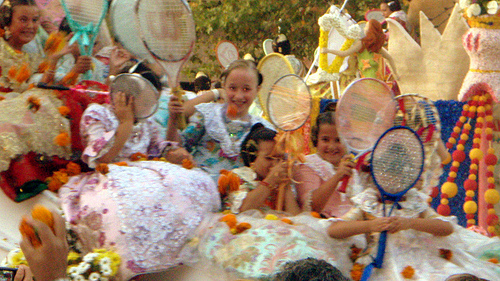 We've tried the water cannon but they liked it
Crowd control in Spain is probably something of a dilemma for the authorities.  In most sane countries, a water cannon means "run away and hide for a bit"; but no, not in Spain.  The festival-goers in Lanjaron loosely base their own celebration on the same principles as the water cannon.  The festival is a celebration of John the Baptist, and the water fight includes slightly more than a ceremonial dunking.  Power hoses and water guns are turned on the happy participants by everyone who can find a tap; which appears to be everyone.  This one is wet, daft and not intrinsically dangerous, goggles are recommended though.
[adsense]
I thought this was a one way arggh
A list of Spanish Festivals would not be complete without a good old, potentially fatal, bull running hoe-down.  For one of the biggest and the best visit Pamplona, around the first two weeks in July.  Visit from a safe distance though, as this really is one of the big ones in terms of bull running; injuries are common and deaths not unheard of.  Perhaps not "fun for all the family", but for the adventure junkie it's a sight not to be missed.  During the two weeks of celebrations it's advisable to avoid interesting little narrow streets; believe me.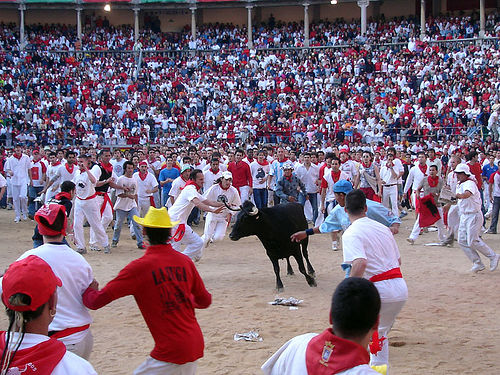 A bit of a blur
Back in good old Blighty, the summer solstice is not a hugely celebrated festival; the odd damp druid and a couple of old rocks are about as far as our British reserve will stretch on this occasion.  Scroll down the latitudes a bit and you get far more for you money; in Alicante the solstice is celebrated as part of the "Las Hogueras de San Jaun".  Floats, drinking, massive elaborate structures and huge bonfires to burn them at the end of the festival and some more drinking, or something like that – it's all a bit of a blur.  There's nothing particularly pagan about this festival, just a fairly sensible attitude to long warm nights mixed together with a devil may care attitude.  You don't need to take any particular precautions to attend this one but have a hangover cure at the ready.
About the author
La Manga Club offers a perfect retreat for British tourists intent on visiting the exciting, exotic and slightly weird festivals celebrated across Spain.  Most require some precautions, from a tennis racket to a healthy sense of self-preservation, but they're worth attending if you want to immerse yourself in Spanish culture.  Or just immerse yourself!