Starting Saturday, May 4, and only for a limited time, The Franklin Institute Opens a really interesting exhibition: SPY: The Secret World of Espionage. All the espionage fans or simply curious people wishing to see some rare objects and even some for the first time exhibited from famous agencies such as the CIA, the FBI, the National Reconnaissance Office (NRO), as well as the impressive private collection of intelligence historian H. Keith Melton, are invited until October 6 at the Mandell Center at The Franklin Institute. Visitors will discover over 200 historical artifacts and authentic espionage-related gadgets from CIA, including the scripts and studio documents from the real life mission that inspired the Academy Award winning film, Argo.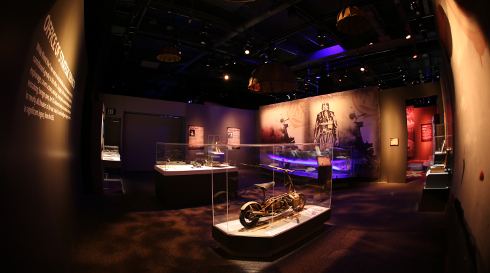 Melton has just published Spy Sites of Philadelphia, a book that allows readers to find out more from two and a half centuries about this fascinating world of espionage.
"Philadelphia has long been a hotbed of spy activity over the years, and even today our fascination with the mysterious world of espionage continues," said Dennis M. Wint , President  & CEO of The Franklin Institute. "The extensive collection of artifacts, documents, tools and interactive displays in SPY so vividly tell the intriguing and important tales of espionage that have shaped our world today."
[adsense]
Featured in this exhibition will be the Insectothopter, the world's first insect-sized unmanned aerial vehicle used to gather intelligence-from the air, Cockpit of the A-12 Oxcart Spy Plane, one of only nine remaining in the world, An original Presidential Daily Brief Binder and others from the CIA Museum. From the collection of H. Keith Melton will be included in the exhibition articles such as the "Sleeping Beauty" motorized semi-submersible from WWII, the Enigma Machine, a cipher machine used to develop nearly unbreakable codes by the German Army during WWII which led to the development of the world's first super computer, the Dead Drop Rat, used during the Cold War to hold a wad of money or roll of film and others.
SPY: The Secret World of Espionage at The Franklin Institute will be open from May 4, 2013 to October 6, 2013, from Sunday to Wednesday from 9:30 a.m. to 5:00 p.m.
with last admission 3:30 p.m. and from Thursday to Saturday from 9:30 a.m. to 8:30 p.m. with last admission 7:00 p.m.
Adult: $28.00; Children ages 3-11: $19.00
Daytime tickets also include museum general admission.
Evening Admissions
Thursday – Saturday only | 5:00 p.m. – 8:30 p.m.
Adult: $18.00; Children ages 3-11: $13.00
Evening tickets include admission to SPY only.
Tickets are timed and dated, and advance ticket purchase is strongly recommended.  For more information on purchasing individual or discounted group tickets please call 215-448-1200 or visit www.fi.edu.