Whilst Dublin is undoubtedly the place for rolling countryside and picturesque views, it's also a well known destination for those looking for some of the best pubs and bars around. Famed for its love of Guinness and its world renowned Guinness Storehouse, this City has attracted many visitors and sight see-ers keen to experience a quality pint of the 'black stuff', mainly due to the fact that flights only take around 45 minutes from the UK.
Of course, there's more to Dublin that Guinness and with a little knowhow, you can find some of the top secret and sought after pubs and bars in the City. Not always the easiest trip to plan and get right, here are five of the best to get you started. 
City Wonders
1. For something warm and friendly, try the Sackville Lounge on Sackville Place. Here you'll find the perfect place for a pint and a chilled out session catching up with friends. With a cozy and homely feel, this is an understated yet friendly venue that will make you feel like a regular in no time.
2. Over on Exchequer Street, through the hotel lobby, at the Central Hotel Library Bar you'll find a completely different type of venue. Couches, armchairs and a range of old books dotted around the place add a sense of charm, sophistication and other worldliness that makes this a must for those on a tour of the area. Informal as it is, the lavish style with which this bar has been furnished is bound to be a draw for visitors looking for a touch of dressed down glamour.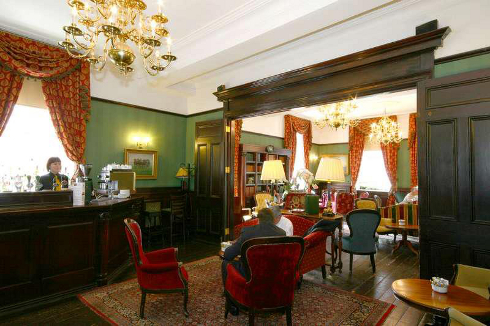 Photo via the Central Hotel Library Bar Facebook page
Something a bit different
3. A more rough and ready option for a drink can be found at the Dice Bar on Queen Street, Smithfield. A gritty, sexy and grounded venue, stylishly kitted out in black and red, this is a place in which to kick back, relax and enjoy a good old fashioned pint of local beer. Attracting a range of different clients, this is a fun and easy option where everyone fits in.
4. Historic venues are always a good punt and this is certainly the case with The Ferryman. Found on the ground floor of two elegant Georgian buildings based in Sir John Rogersons Quay, this is a modern bar with a difference. Keeping things real, The Ferryman dresses down the glamour of times gone by with a more lived in feel and no mess attitude to boot. 
5. Lastly, but by no means least, is Crawdaddy in Harcourt Street. Here, the bare bones of the building, combined with retro and contemporary furnishings, make for a head turning venue. Designed by Andrew Martin, this is one of Dublin's most beautiful bars and boasts an elegant courtyard for enjoying a drink under the stars. With the next door music venue and nightclub both joining the party on special occasions, there's often a little extra on offer, making this is a great place to head for a big night out. 
Whilst you may never get around to trying all five of the above bars and pubs, it's certainly worth heading off the beaten track to find something secret and special. Just don't tell everyone all at once!