Some trips are decided on the spot, or nearly so, with a few days to prepare and dream of what you'll see and do. This particular city getaway to Prague was the exact opposite. The planning started back in June and by the end of the month the reservations were already made. Which pretty much gave anything and everything that could change a chance to happen.
So yesterday at 11 am, I embarked on a trip that turned out to be nothing I had dreamed of or planned for. Nevertheless, as those of us who love drinking lemonade may attest, I knew getting lemons is not the worst case scenario. So I opened my heart to the possibility of having fun even if nothing would be as I wanted it to.
After long hours driving from Ploiesti to Sibiu and then to Cluj-Napoca, we met up with the rest of the group coming from Iasi and we all started our journey to Prague. It took hours of driving and lots of gas station pit stops to get there, but it was still something fun to try… once! I much prefer the comfort of my own car, even if I spend most of the journey driving..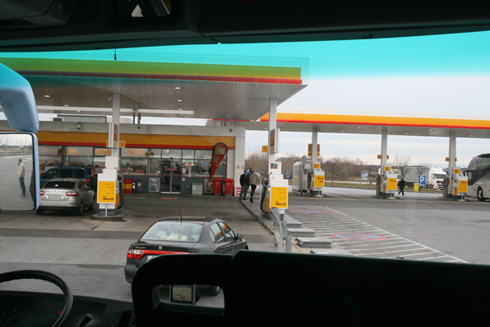 What I am extremely thankful for, in no particular order:
Anti motion sickness pills. They made this a pleasant journey and I was able to eat despite the long drive in a bus
my MP3 player – other than offering me the possibility of my own choice of music, it was a real gem in helping me avoid conversations or downright nagging I wasn't really feeling up to. Also it works great to help ignore children going wild! Don't leave home without it
My cool camera that allowed me to take some decent nice shots
My Kindle! Finished A game of thrones and started A clash of kings on this road trip. At a point, there's enough highway to stop keeping you entertained. I have to stop here and again say thanks for the above mentioned pills. I couldn't dream of reading while in a car before them!

We checked in at the Juno Hotel which I will write more about in the next few days and after an hour and a half went out to go greet the city center. We headed to the Old Town Square, to catch the 8 o'clock show of the Prague Astronomical Clock or Prague Oroloj, along with the Christmas lights, the lively crowd and the beautiful surroundings.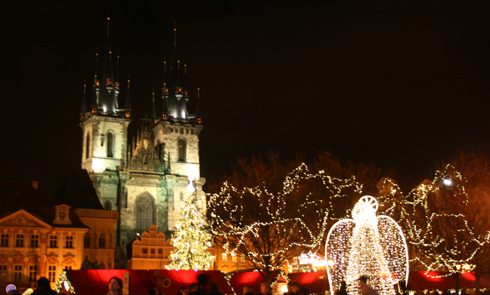 There was a sort of a Christmas Fair going on in the square, which meant waffles, huge pancakes, steamy sausages, grog, cider and hot wine, among other delicious goodies that made my mouth water. The hot wine turned out to be the biggest attraction and I enjoyed the warmth of a cup.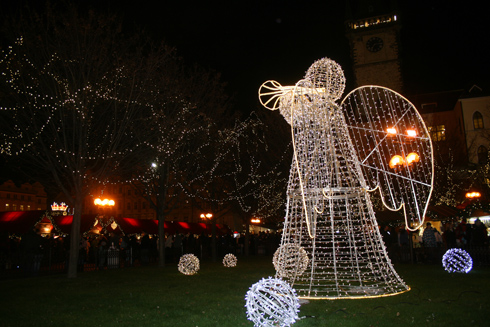 We walked around for a bit, then started searching for the best place to watch the Clock at work from. We did not want to miss the 12 Apostles going round at the windows suddenly opened, or the skeleton ringing the bell, or any of the other animated figures.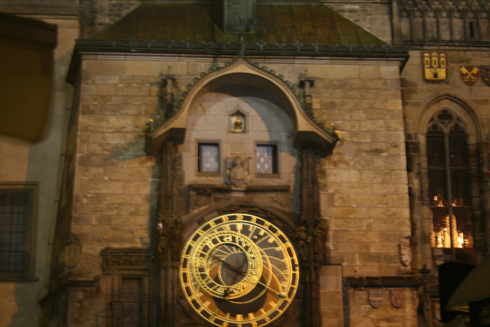 As it was already raining heavily by then, once the 8 o'clock show was over, we took a quick peek inside the baroque St. Nicholas church and made haste to catch the first subway train taking us back home.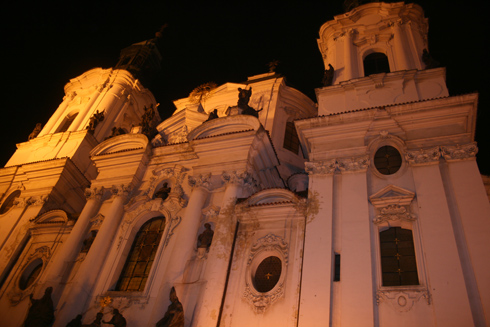 Of course it has stopped raining by the time we got there… But while I didn't get more time in the Old Center, I had plenty to sort my photos of the day and write this post which I hope you enjoyed. Check out more photos of this first part of my adventure in Prague on our Facebook page!
A big caveat for those traveling to Prague! Buying subway tickets might turn out tricky. The are some machines where you can get them at any time, but they only accept coins. If you have bills, you're busted. Some hotels do sell short term passes (available for 30 minutes after being validated), so make sure to ask.