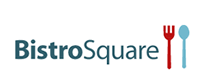 Building a website requires either time to get someone trained to do it or money to pay a web design and development agency to do it. And when you're a small restaurant or some other type of small food business, the funds and time are in no way overwhelming. New startup BistroSquare, founded by Richie Ward and Andrew Kurz, aims to help small restaurants, bakeries, caterers and other small players in the food services industry get online easily and fast. They currently target US small businesses in this market segment, which are estimated at over 300,000.
"I'm sure that there are some out there who have a background in web development and just kind of landed in the restaurant industry that could build a website themselves and never need our service," co-founder Richie Ward told Mashable. Â "But by and large there seem to be restaurateurs out there who are excellent at running restaurants but don't really know where to start when it comes to building a website. That's who our product is geared toward."
BistroSquare helps restaurant staffers with limited technical backgrounds build functional websites fast and easy, offering tools to build menus, create coupons or get reservations from customers. The extra services, such as the reservations system, email accounts, multiple user management tools and a shopping cart, are actually what separate BistroSquare from other site builders that target the small food services companies.
"We're not really just a web builder. We're kind of the complete package for managing a website," explained Ward.
The fact that Ward's family has been in the restaurant business for over three generations is also a solid advantage, giving BistroSquare a clear understanding of the market they target and the problems they need to solve.
Depending on the needs of each business, they can opt for either a limited, ad-supported free plan or for one of the monthly plans, of which the most expensive costs 49.99 US dollars. The cheapest web plan of 29.99 USD is actually perfect for a startup restaurant, as the only features not included are multiple users, a blog and a shopping cart. Other than that, it is a fully functional system that will get you online and communicating with your clients, as all BistroSquare plans integrate social networks. The next two levels of service that come at 10 extra dollars each are perfect for larger businesses with more than one location and more employees handling their online promotion.