If you haven't traveled in a while, you may be surprised at how modern hotels have been expanding their dining options to better cater to the needs of leisure and business travelers. With the addition of varied cuisines available at hotel restaurants, travelers are enjoying better, tastier and healthier fare than ever before. From quick eats to casual dining to upscale bars, more and more hotel restaurants are bending over backwards to cater to their customers.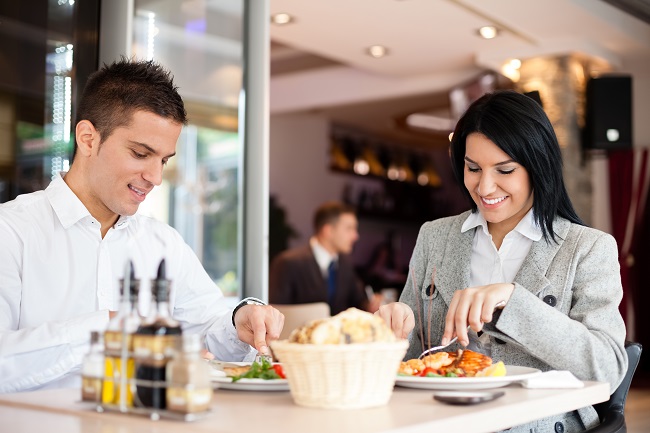 Variety
Whether you're in town on a layover or here on a week's vacation, food—and good quality food at that—is a big part of your stay in Austin, TX. Gone are the days of limited menus and unhealthy airport food. Now travelers are welcomed with world-class cuisine by leading chefs who ensure weary travelers are treated to fresh, locally sourced ingredients. Many modern hotels offer more than one eating establishment to suit the tastes of their customers. The Hilton Austin Airport, for example, features three different choices: Creeks Lounge in the atrium lobby, which serves a full menu, local draft beer, cocktails and wine; Creeks Restaurant for a more formal dining experience within the four-story hotel atrium, serving up American cuisine with a hint of Texas specialties using local, sustainable ingredients for breakfast, lunch and dinner; and Starbucks Coffee for a quick snack and java break. Each one provides travelers with plenty of options based on the time of day (lounges tend to stay open until the wee hours of the morning and the coffee bars typically open very early in the morning but close in late evening), desired meal, budget and atmosphere.
Improved Dining Options
In order to satisfy the ever-increasing convenience needs of all types of travelers, many modern hotels are making it easier than ever to find everything you need within the building. From fitness centers and pools to conference rooms and spa services, travelers don't even have to leave the hotel if they don't want to. Nowhere is that more evident than in the quality and service of on-site restaurants and eateries.
Some of the food served at many forward-thinking hotels is harvested by their own organic gardens, producing locally-grown, organic foods that appeal to a range of health-conscious travelers. The chefs themselves are trained in the culinary arts, many times with pretty impressive resumes under their belts. Hotel restaurants are often backed by teams of chefs and food consultants who ensure the dishes they serve are in line with the goals of consumers, which translates to healthier fare made with fresher ingredients. The variety is key here, too, with many upscale hotels offering several different eating venues that cater to the immediate needs of their customers, from quick bites to eat at the cafe to sit-down meals at the high-end on-site restaurant—not to mention increased availability of in-room service catering to the busy business people and families of the world.
It's not just the food that's improved—it's the convenience as well. Nearly half of all chain hotels in this country have high-speed Internet access, with 15 percent of hotels offering wi-fi not only in guest rooms but in lounges, restaurants and meeting rooms, too, according to Travel and Leisure. With improved dining options and more varied cuisine to reflect the local culture of the region, look to modern hotels to provide you with the options you crave.