Barcelona is the capital city of Catalonia. It has one foot in the blue Mediterranean Sea and its other foot amidst the mountain range if Collserola. It is typically a busy port and has been since the ancient Roman times. Barcelona is quite famous for its Catalonian beaches and its accompanying pulsating night life but, for those who are keen in history, Barcelona is a city seeped in history, culture and arts.
Barcelona Cathedral
Few know that Barcelona was the center of European Gothic architecture. The city has various examples of this era between the late medieval and Renaissance period. A fine example of this period is the Barcelona Cathedral of Sta. Eulalia or La Seu which is situated in the old district of the city called Ciutat Vella. The church is typically Gothic with its high spires and pointed arches, ornate sculptures, gargoyles and more.
Roman City Ruins
This famous Barcelona attraction is located underneath the Museu d'Historia de la Cuitat. An underground tour will show you an insight of the city's beginnings as a Roman city. Household artifacts and sculptures dating back to that more than a thousand year ago are preserved.
Palau Reial Major
Situated in Plaza del Rei and home to Spanish royalties starting in the 11th century, the Palau is a great place to start off a historical sightseeing tour. Though the architecture is Romanesque, the structure is still quite magnificent to view.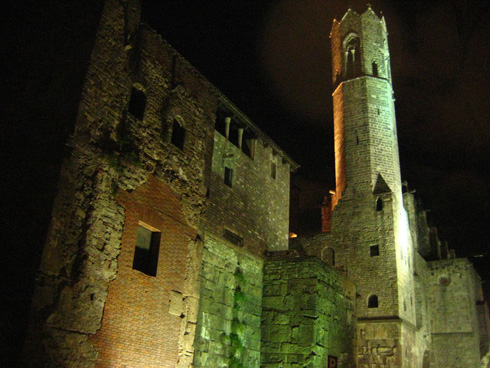 Photo source
Sagrada Familia Church
Aside from its being the center of Catalan Gothic Architecture, the city of Barcelona was also home to one the most famous Modernist architect, Antonio Gaudi. His genius is best exemplified in the unfinished Sagrada Familia Church. It has been under construction since 1884. The architecture is rippling, undulating, whimsical and "awesome" as only Gaudi can design. Someday, the church might actually be finished as Gaudi left complete floor plans and working drawings for construction.
Parc Güell and I'Eixample
The venue is Antonio Gaudi's fantasy park. It is here where Gaudi merged Expressionism, Surrealism and Modernism. I'Eixample is a district in the city where Modernist buildings abound. Cas Batllo and La Pedrera are fine examples of Gaudi's vision of a "moving" building as the structures seem to move with their asymmetrical, wavy and undulating parts.

Photo source