We all love the sights and the food and the shopping that comes with travel, we have to have our healthy doze (read hundreds) of photos taken in each destination. But taking in the culture of a place you're traveling to should also be a key point of your travel plan. While museums and art galleries and getting to meet the locals will help you find what you are looking for, sometimes art, especially what's happening right on the streets, can take you by surprise. So you need to know where to look for it.
One of my favorite activities when traveling is to set aside a few hours or even a full day when I have no plan. I just wander around my destination and let the places and people surprise me. What I am always careful to be hunting for is graffiti, paintings, tags and whatever else people adorn the walls of a city with. Some choose to call it vandalism, I call it art and I've loved everything I've ever discovered.
My absolute favorites are the pieces that somehow embed existing landscape or objects, like this stunning painting of a girl I ran across while walking around Dusseldorf with my friend Cristina: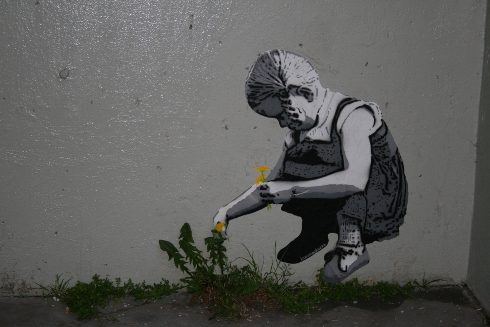 There are destinations, such as Veliko Turnovo, where I just know the walls have amazing art on display and what I do is hunt for the new pieces. My latest find was this one, discovered on a beautiful autumn day in 2012:
Here are a few more photos of street art from Greece, all discovered on the same lovely afternoon.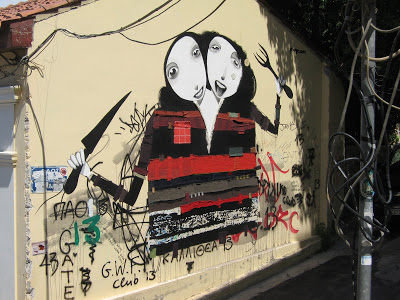 Some dark, others uplifting, some tentative and others painted by expert hands, I just love finding such little gems. Where they are hidden, how everything around them looks, how people react to them, all these little things provide such great insight.
Do you happen to indulge in such local art hunting activities? If so do you have photos to share? Feel free to paste the links in the comment section.