It's the first day of winter, at least according to the calendar, and we're ready with recommendations for you! Here's a list of amazing places to enjoy during this season, all with high chances of winter delights and snowy magic!
Top Winter Wonderlands of 2017 According to Travel Bloggers
We've gathered ideas for winter wonderlands from bloggers traveling the world, and we hope you join us and add to our list in the comments. North America and Europe are dominating this list of winter wonderlands, which is not exactly surprising. You'll find enough options for winter sports, chasing Northern lights, cityscapes, and generally having loads of fun. I do hope you enjoy these winter wonderlands ideas and maybe visit a few of them this year!
Finland – Ayngelina Brogan, Bacon is Magic
People thought I was crazy to visit Finland during the winter but it is so beautiful. Finns are known for their saunas but they step it up a notch in winter and go straight from the sauna to jumping in a frozen lake! It's not for the faint of heart but you have to try it once!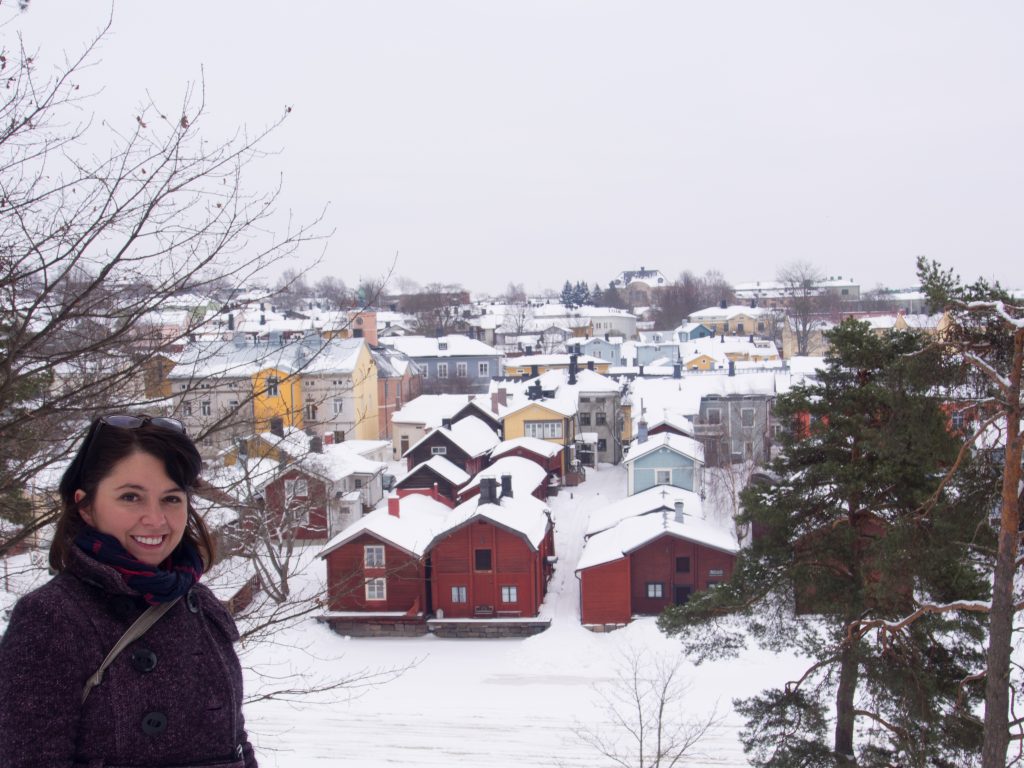 Read more about her foodie adventures in Finland here. Connect with Ayngelina on Instagram and YouTube.
Grabovnica, Croatia – Maja, Mexatia
Salaj Family Winter Fairy Tale
A small village of Grabovnica in central Croatia every Christmas turns into a real winter fairy tale and becomes one of the top tourist destinations in the country. For past 14 years, Salaj family decorates their estate with Christmas lights in the most creative ways. Almost 2 millions of lights illuminated the trees, houses, and bushes and varied from "only" decorated trees to the entire Smurf village!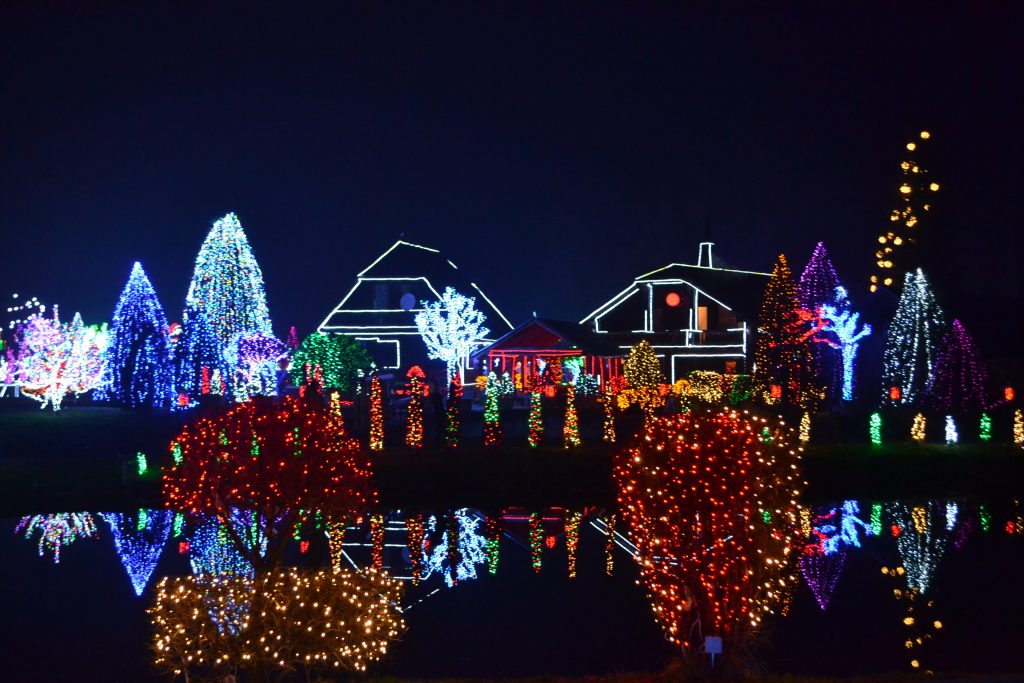 The entrance ticket costs 30 kunas (around 4€) and you can walk down the illuminated paths, admire their creativity and discover new shapes and decorations, buy local souvenirs and even try winter comfort food and hot mulled wine. If you are lucky enough to visit when it snows, you will hardly ever forget how magical this place is.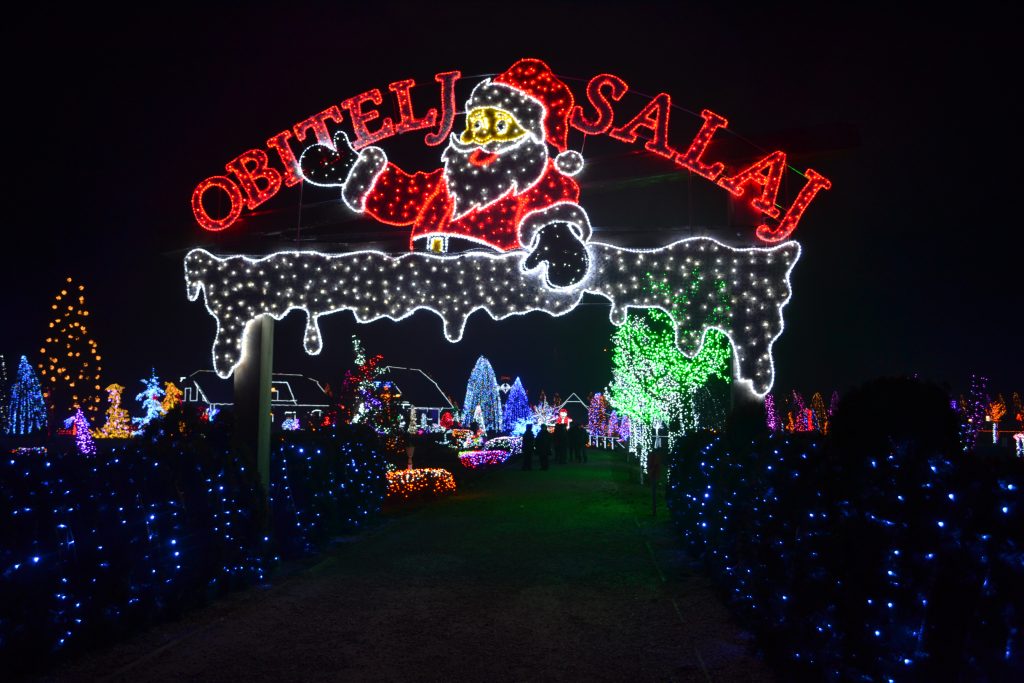 More about Salaj's wonderland here. Connect with Maja on Facebook and Pinterest.
Lapland – Denise, Travel and Lipsticks
Finnish Lapland is a true winter paradise. There is just so much snow and so many activities you can do outside, like cuddling with huskies on a husky farm. You get so see and learn how they live and work. And, of course, go on a safari with them. The dogs are so excited to go for a run.  You find a lot of farms around the Levi area.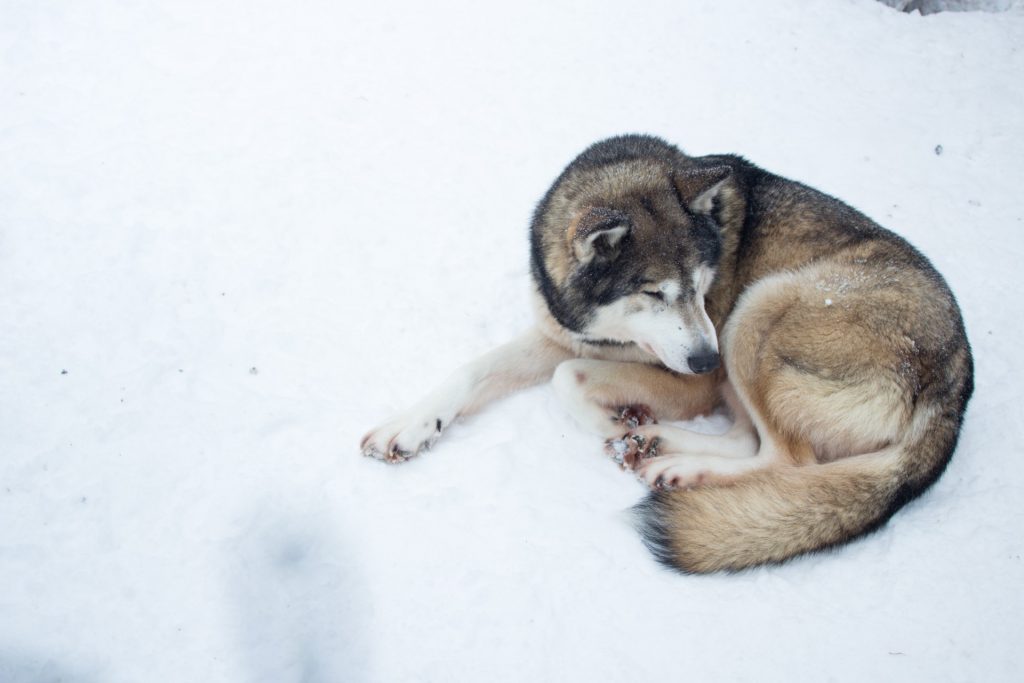 I almost forgot there is also a very high chance of Northern Lights. It is just beautiful to see the light dancing in the sky.
Check out Denise's blog, Travel and Lipsticks, and connect with her on Facebook and Instagram!
Moscow, Russia – Liza, Tripsget
For me, my winter wonderland is Moscow, Russia. I can't imagine a proper winter without snow, but in Moscow, it's hardly possible, that's why you could almost always encounter the capital of Russia with tons of snow. Last year I've been there just a couple of days after the New Year and the city was still decorated (Russian celebrate Christmas is on the 7th of January). In general,  Russians invest a lot of money in the city decoration, especially in Moscow and thus, you can encounter awesome light tunnels like this one: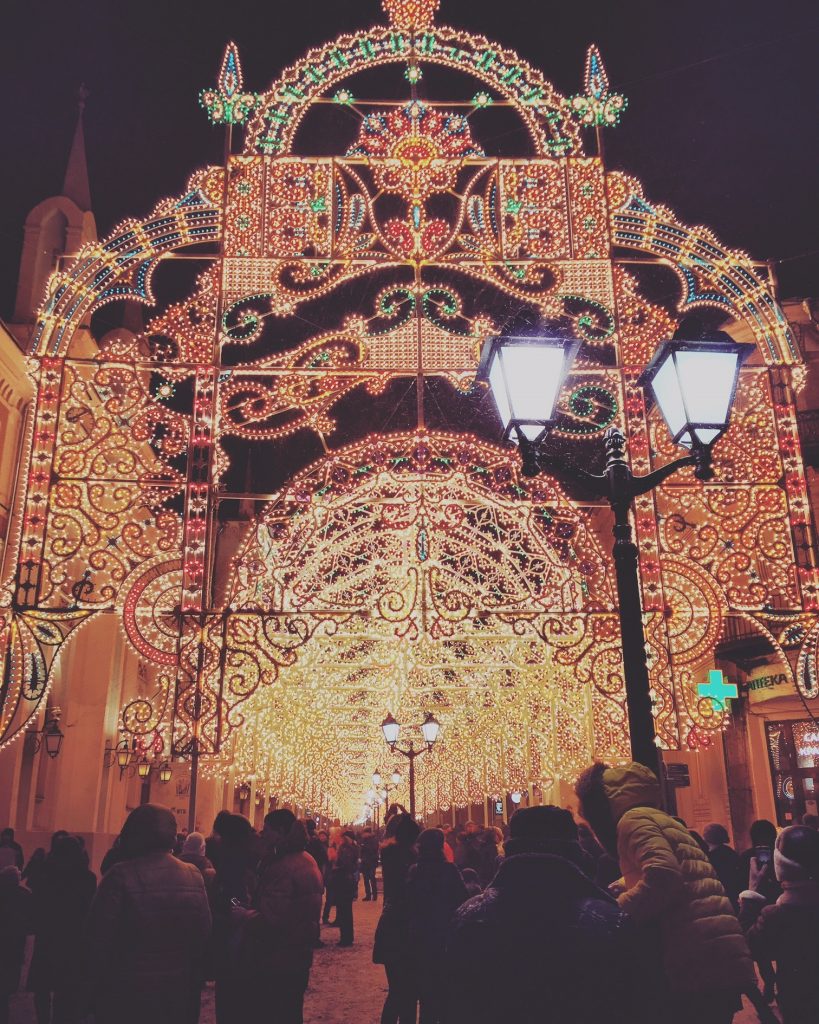 Also, the Red Square transforms into a huge Ice rink and a Christmas Market and everything looks like from a proper fairytale about winter. Just like in this photo: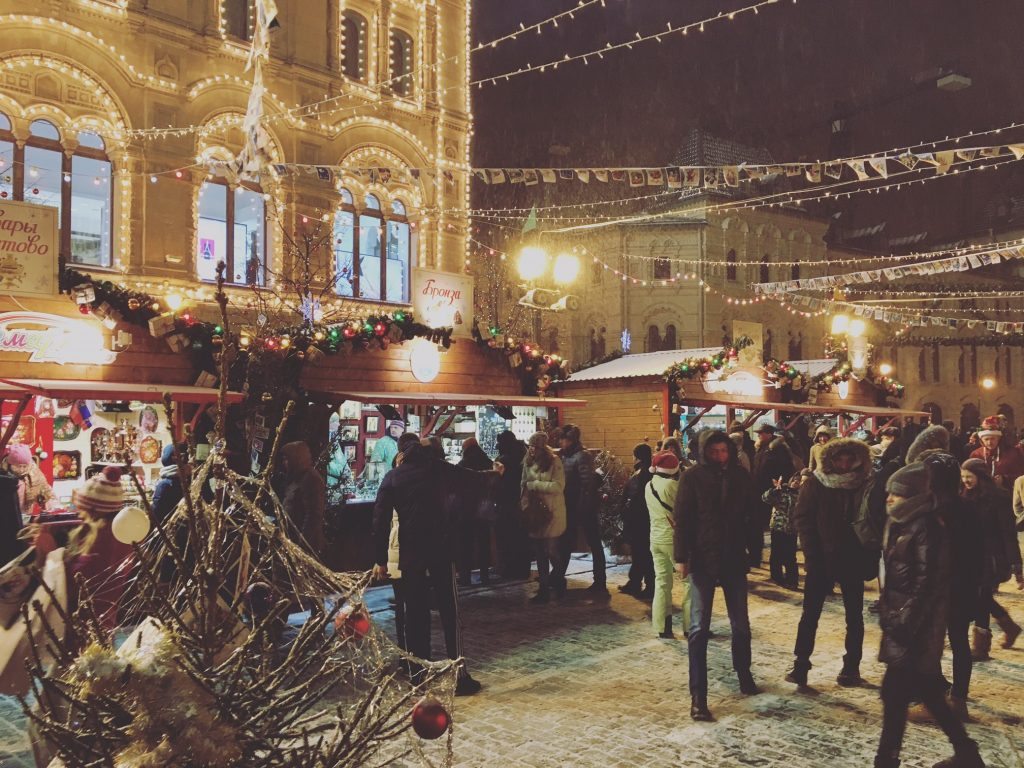 Visit Liza's blog, Tripsget, or connect with her on Instagram and Twitter!
Iceland – Jurga, Full Suitcase
There are few places in the world that are as magical in winter as Iceland. The moment you arrive in Iceland, you think that you landed on another planet. Surreal volcanic landscapes and beautiful rough nature is like no other place on Earth. And winter just makes the whole experience more unique!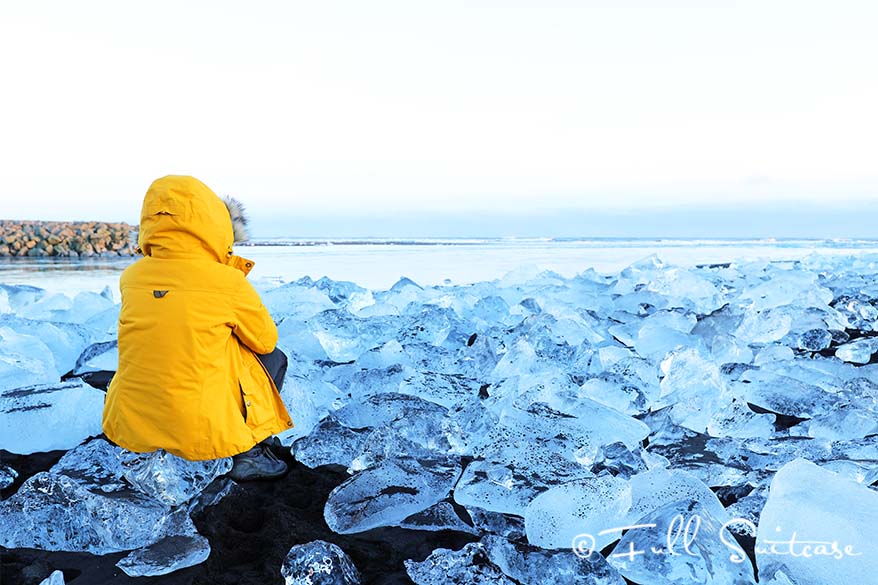 Visit famous Icelandic waterfalls, watch the Northern Lights, discover ice caves, go glacier hiking…Whatever you choose to do, your winter trip to Iceland will be unforgettable. Here you can read more about the bucket list worthy winter experiences in Iceland.
Connect with Jurga on Instagram and Facebook.
Montana, USA – Jen and Ryan, Passion and Places
Our home state of Montana is known for mountains and skiing, so it's probably no surprise we love it as a winter destination. The state's main college towns, Bozeman and Missoula, make ideal bases for winter trips, with easy access to nearby ski resorts and other outdoors activities, plus great local restaurants, spas, yoga studios, and craft breweries. Big Sky (near Bozeman) is the nation's second largest ski resort, and by far the most popular destination in Montana. But there are less pricey options too, including Bridger Bowl right next door and the Snow Bowl near Missoula. Or if you're up for the challenge and thrill of night skiing, head to Great Divide.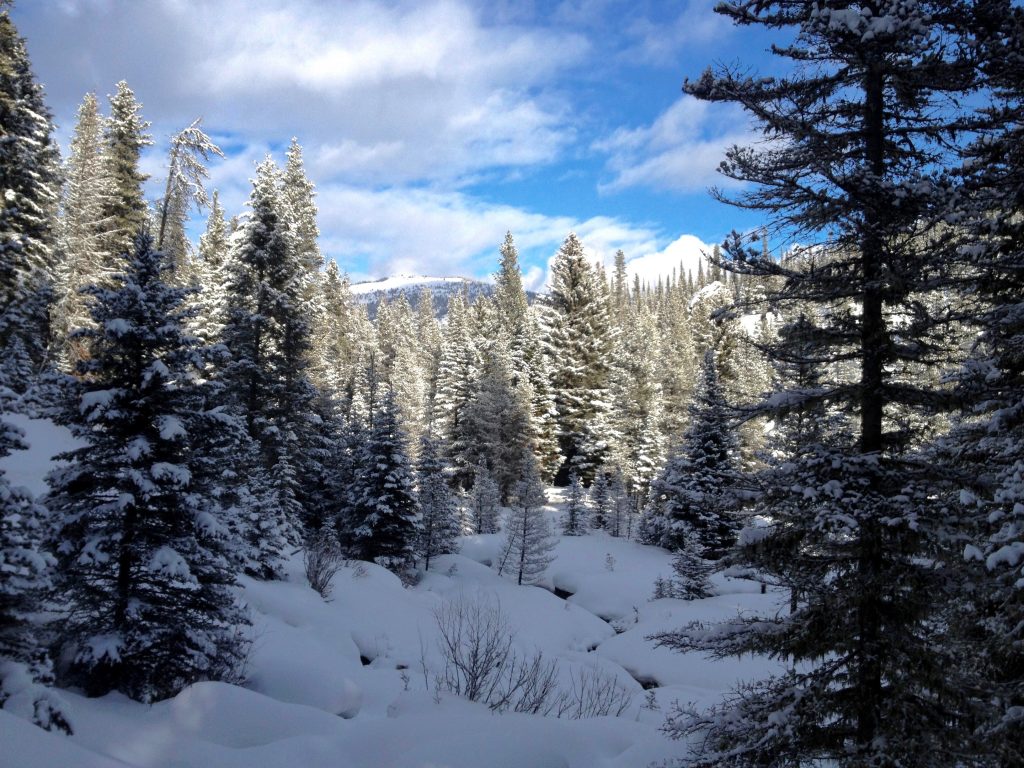 You don't have to hit the slopes for winter fun in Montana, though. Some of our favorite memories are snowshoeing and cross-country skiing in Yellowstone National Park, where the snow was untouched and we had nature nearly all to ourselves. Snowmobiling and dogsledding are also popular, but they raise a lot of environmental and ethical concerns, so we recommend skipping them in favor of the many other options.
Read more about Jen and Ryan's adventures on their blog, Passion and Places, and connect with them on Facebook and Instagram.
Revelstoke, Canada – Deni, The Full-Time Tourist
The Canadian Rocky Mountains are quite possibly the epitome of a winter wonderland. I mean, if snow-starved Australians are calling the Rockies home, an entire nation surely can't be wrong! Although many turn to top ski resorts like Banff, Jasper or Whistler for their winter vacations, I would recommend driving further into the snow-capped mountains for the powdery ski piste of Revelstoke Ski Resort in British Columbia. Known for the longest vertical descent in North America (15 kilometres!), the affectionately named Revvie is one of the most underrated resorts in the Rockies. I have been three times to Revvie now, and the snow has yet to disappoint me- and I've only been during the 'early season' in December! Advanced skiers can explore the bowls and the trees off the top of the mountain and experts can hike to the nearly untouched peak of the mountain for some incredible back country. Although Revelstoke is known as an adventurers paradise, there are also some blue and green runs mid-mountain that are significantly less busy than the more popular ski resorts nearby.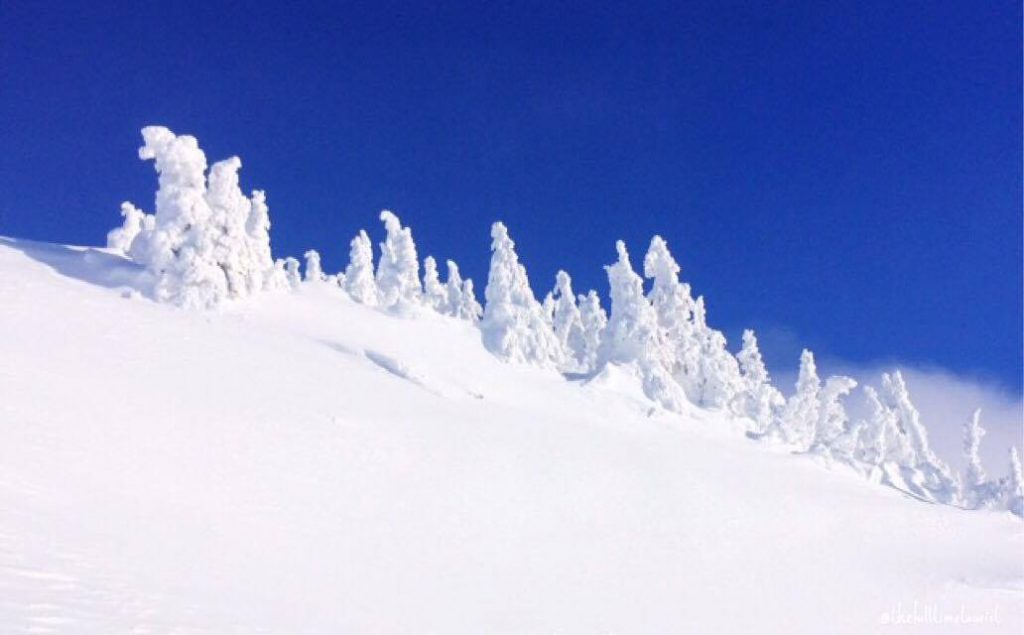 If skiing isn't your thing, there is also the Giant Cedars Boardwalk Trail just east of the town featuring some of the old growth forest in the area. There is also the nearby Enchanted Forest, which is perfect for kids or really anyone who just loves fairytales! And once you're done with your snowy, winter wonderland activities, there's always a warm cup of locally-sourced coffee from Stoke Roasted Coffee Co. to warm you up at the end of the day! Spoiler: It may be the best cup of coffee you'll find in the Rockies!
Visit Deni's blog, The Full-Time Tourist, and follow on Twitter and Instagram.
Frankenmuth, Michigan – Danielle, The Witty Wife
Frankenmuth is one the most magical Winter Wonderlands in Central Michigan. The streets are lined with the cutest carriages, extravagant Christmas lights, and tons of joy and laughter. This little German town in the middle of Michigan has been on my "to do" list every holiday season for the past five years. This Winter Wonderland comes not only with the best fudge but the most unique little shops. It is super easy to find a little something for literally everyone on your Christmas list.
To add just a little more perfection to this holiday must-see, Michigan is frequently frosted with light snow and sparkling icicles. While in Frankenmuth, be sure to eat a scrumptious feast at The Bavarian Inn or Zenders, take a romantic carriage ride through the town, and visit Bronner's Christmas Wonderland!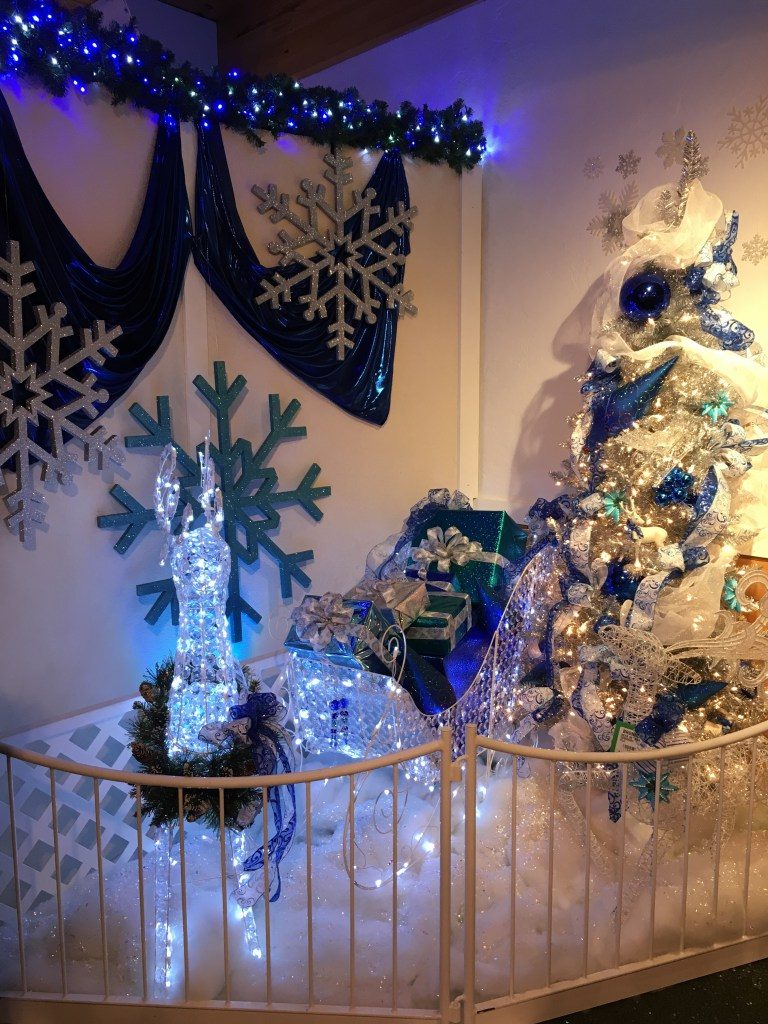 You can read more about this amazing holiday destination on The Witty Wife blog. Connect with Danielle on Instagram and Facebook.
Tallinn, Estonia – Tamara, Girls Wanderlust

My favourite Winter Wonderland is Tallinn, the capital of Estonia. I visited the city almost a month ago and at that time, it was already  snowing! The snow makes Tallinn even cosier and more beautiful. There are many viewpoints in Old Town that gives a breath taking view over the winter wonderland. The Russian Orthodox church Alexander Nevsky and its beautiful architecture is also a pretty picture in the snow.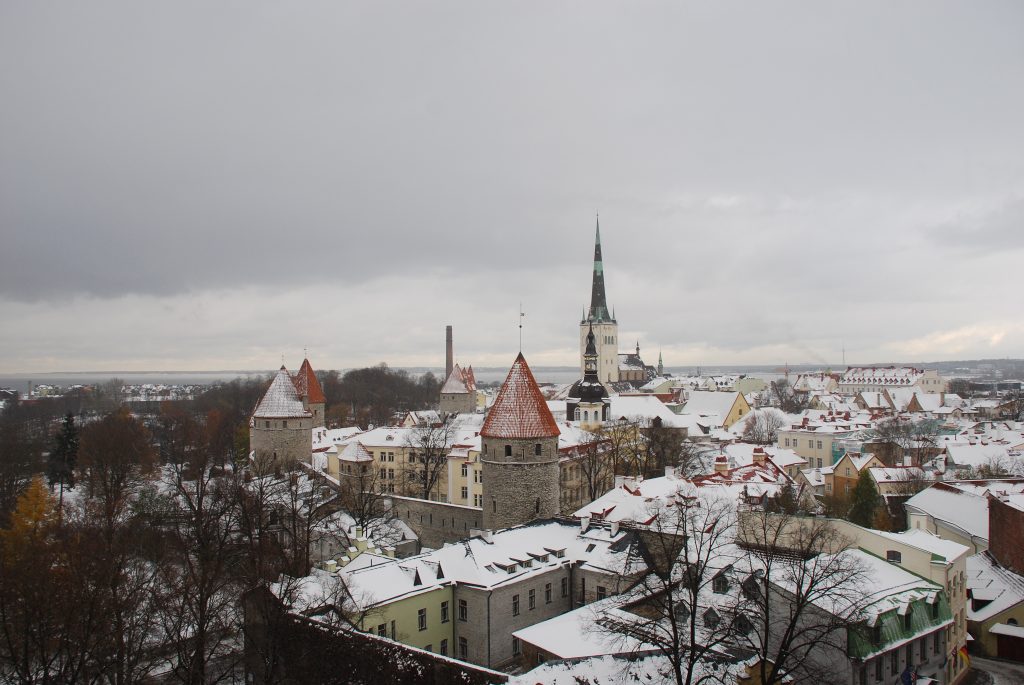 A place you should definitely visit during your trip to Tallinn, is the district Telliskivi, also known as the Creative City. It is a district just outside the city centre of Tallinn, in a former industrial complex. It features ateliers, studios, creative companies and offices of artists. You can find many shops which offer products such as interior design and clothes. Also, there are many unique cafés and restaurants which you can find in the area. What can also blow you away, is the street art in Telliskivi. You can spot a lot of beautiful creations on the walls around the district.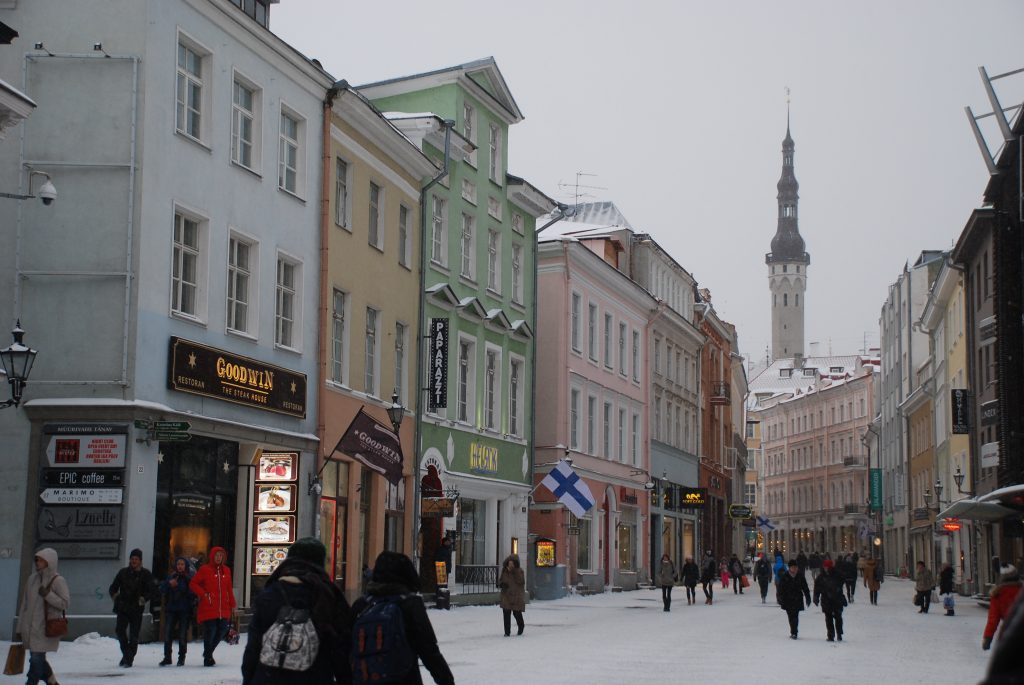 What definitely makes a trip to this Winter Wonderland destination complete around this time of the year, is visiting the Christmas market at the Raekoja Plats (Old Town). The Christmas market will take place until the 7th of January. You can visit the market each day from 10 a.m. until 7 p.m. in the evening.
Check out Tamara's blog, Girls Wanderlust, and connect with her on Facebook and Instagram.
Vaasa, Finland – Evan, Pretty Wild World
Located in Ostrobothnia or West Finland, Vaasa is a student city where you'll find most of the Swedish-Finnish minorities and as well where you'll find several Swedish influences within the city. The city itself is small, but it doesn't mean there's anything to do in here! I've lived in Vaasa for four years and apart from studying there, I also had the opportunity to enjoy what the city can offer. In winter, the whole country becomes a winter wonderland and Vaasa, and the surround coastal area becomes a destination where you'll find vast forests to ski, small hills to practice your snowboarding skills, and lake houses where you'll find traditional wooden saunas to warm up. It is also a custom to make a hole on the lake where you'll find Finns running to jump to after a relaxing sauna session. You know, because Finns be Finns.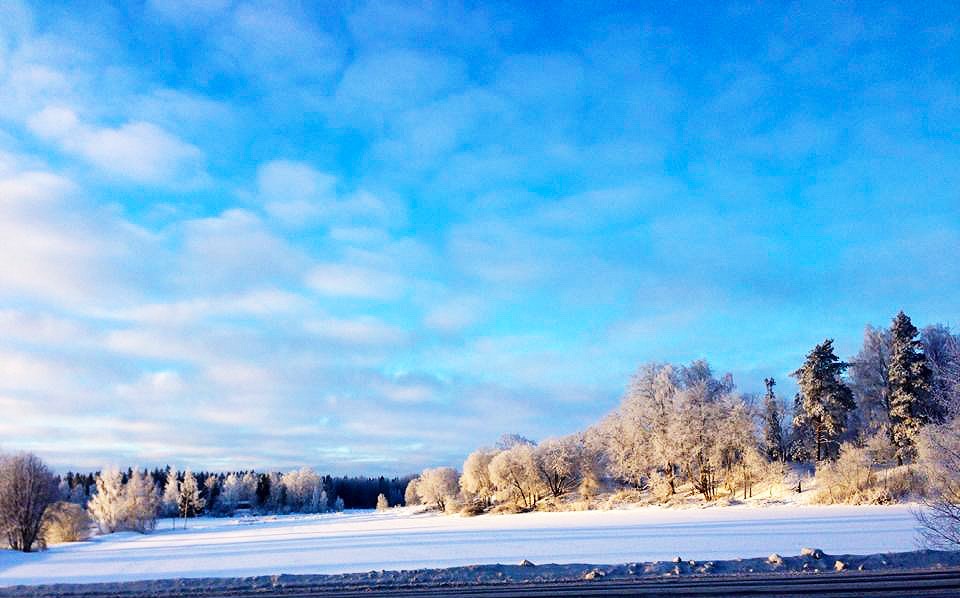 Read more about Finland and its traditional food on the Pretty Wild World blog, and connect with Evan on Instagram and Pinterest.
Sinaia, Romania – Alina's Pick for Travel Tweaks
Sinaia is one of the many mountain resorts adorning the Prahova Valley. Like all the others in the area, it's perfect for hiking, skiing, snowboarding, and all the winter activities you might think of. What sets it apart for me is the rich history surrounding it. Just visit the Peles Castle, and enjoy its Neo-Renaissance style (and my favorite ever, the armory). It took about forty years for Romania's first king, Carol, to complete it, and was he ever successful in creating a gem! I love visiting Sinaia and Peles in winter, just in time to enjoy a hot chocolate or, even better, a mug of steaming-hot spiced wine.
The castle grounds are free to visit and quite beautiful on their own, but the paid tours of the interior are well worth it. For the December and early January schedule, go here (although you'll have to use Google translate, the page is in Romanian only).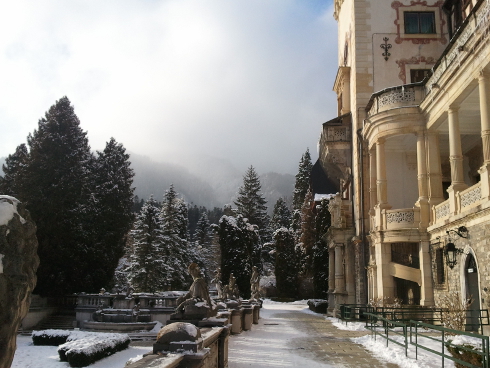 Where Would You Travel to This Winter?
We hope you've enjoyed our list and I'd like to thank all the bloggers who've shared their ideas in this post. Which was your favorite? Which winter wonderland did we miss? Let us know in the comments and, if you liked this roundup of winter destinations, please share it!
All photos in this post are copyrighted – all rights are reserved to the bloggers who graciously allowed to use them and to Travel Tweaks (for our own photos). 
Choose the Pin you like most!