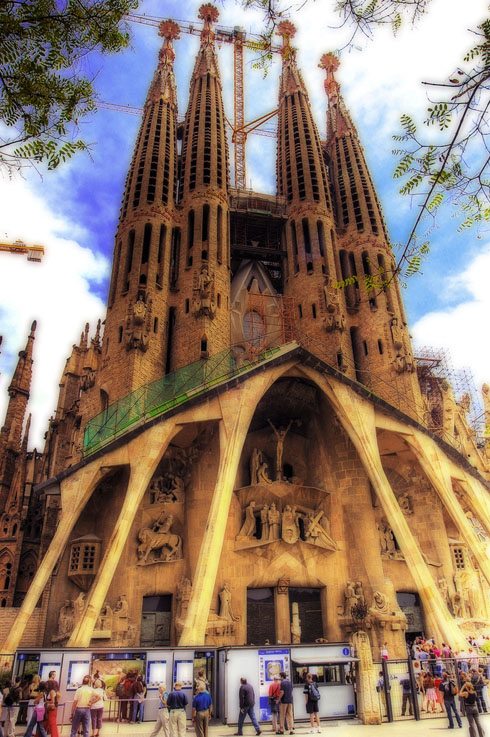 Barcelona's iconic cathedral, Sagrada Familia, designed by world renowned architect Antoni Gaudi has been the scene of an arson attack earlier today, causing local authorities to hurriedly evacuate all tourists visiting the popular religious sight. Reports indicate that a local man set the fire by walking right into the sacristy, spraying flammable liquid and used the priest robes stored there to start the fire.
The fire was soon noticed by tourists visiting the cathedral, who then alerted the police and fire department. Emergency services quickly got to Sagrada Familia and evacuated about 1,500 people. Luckily only four persons needed treatment after inhaling smoke from the fire.
The sacristy was completely destroyed by the arsonist, along with all the robes and the furniture. The crypt, a part of the cathedral actually completed before Gaudi's death, was also severely damaged.
The man who set the fire was ceased by a group of tourists and turned over to the police. Joan Rigol, president of the society overseeing the building of the unfinished Catholic cathedral, claimed the arsonist had mental health issues.
Sagrada Familia has not just experienced its first fire-setting attack. Back in 1936, an anarchist broke into the unfinished building and burned several of Gaudi's original plans and models, making it hard for future developers to pen down the actual construction plan for the cathedral.
Being in the works for the past 128 years, Sagrada Familia hosted its first mass back in November 2010, a service celebrated by Pope Benedict XVI who also give his official blessing, consecrating the cathedral. Spanish authorities plan to make sure scheduled service over Easter is not disrupted by the fire.