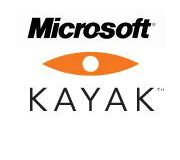 In case you've missed it, the Bing and Kayak search result pages have recently started to use the same layout. And not without reason! According to the official Bing Community blog, Microsoft has just integrated Kayak into its own Bing's travel search result pages.
It seems all search companies are aware of the huge potential the travel industry holds, and while Google is trying to refine its own deal to buy ITA and got fire from major companies industries, Microsoft went ahead and cooked up its own deal to tab into travel search.
Hence, Kayak will be supporting Microsoft in offering a more comprehensive travel search experience, such as flight search results, through Bing.
Bing Travel will be collaborating with Kayak to provide flexible search tools, rate indicators, Price Predictor and Flight Answers, thus helping Internet users with their travel planning and booking.
This new partnership may be just what Microsoft needs after the ones with Wolfram Alpha, Facebook and Twitter for actually having half a chance against search giant Google.
That is of course if Google does not decide to turn its duplicate content policies against many famous travel sites that were against the ITA deal and just drop them from their search results… The truth is quite simple – Google is the market leader in search by far, Internet users do book plenty of flights, hotels, trips, tours and travel gear online, what would happen if all the giants offering them would disappear suddenly one day because they scrap content for their attractions, hotels, restaurants and airline descriptions?