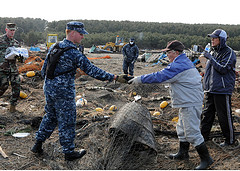 The Transport Ministry has set
a 30 km no-fly zone in Japan
, around the Fukushima 1 Nuclear Plant, according to the Kyodo news agency. Airplanes and helicopters involved in the rescue operations are still allowed through the blockade.
As relief operations prior to a devastating earthquake continue in Japan, fears of large-scale nuclear disaster remain high. 6,000 people have been accounted as deceased and many thousand more are missing.
The Fukishima disaster occurred due to the failing of cooling systems immediately after the earthquake. Early on Tuesday the 4'th reactor started to leak radioactive isotopes as a result of being hit by a blast.
According to Reuters, which was citing the International Atomic Energy Agency, a spent fuel storage pond caught on fire and radiation leaked directly into the atmosphere. Doses to 400 millisievert / hour have been recorded in the area.
The US State Department has issued a warning against traveling to Japan unless stringent. It is likely that other such advisories will be issued by other countries as well.