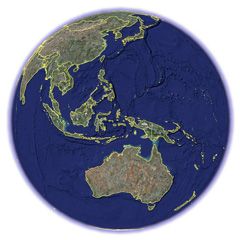 Travel agents promoting Asia Pacific trips are definitely rejoicing as recently released Abacus Asia Travel Sentiment Survey shows 62% of travel agents anticipate a promising industry outlook for the next half year. The upswing is based on pure fact, which makes it closer to solid than to wishful thinking: there has been significant growth in travel bookings for Asia Pacific vacations in the recent months, which has subsequently generated increased optimism for 2011 forecasts.
Abacus International president and CEO, Robert Bailey, says the Singapore-based company has also experienced 11% year on year growth in total booking volumes to August, backed by a 15% increase in the number of travellers.
"This has been a better than expected result from our earlier forecast of 3 — 5 percent in the first half. The growth spurt has been fuelled in part by the pent up demand for leisure travel as well as the return of corporate travel," said Bailey.
He also explained the growing Asian travel traffic is powered by a new Asia Pacific travel landscape welcoming travelers leaving the recession behind and setting a `new norm' in travel expectations.
The International Air Transport Association (IATA) seems to be backing Abacus data for Asia Pacific tourism: their latest Premium Traffic Monitor released in September shows that international premium air traffic growth remained strong in July (13.8% year-on-year increase for the month in question) "despite rising uncertainties about some economies." Premium routes to and from Asia also report year-over-year high-end demand growth of 23.9%, demand which is strongly supported by business travelers.
One key trend in Asia Pacific's travel industry that powers the demand increase is the impressive growth of mobile platforms, giving access to mobile Internet access to hundreds of millions of travelers. Juniper Research stated the mobile payment market will be worth some US$630 billion by 2014 in terms of gross travel transaction values.
"Over the next few years, contactless, mobile and prepaid products have the greatest payment potential in Asia," Bailey said. "85 percent of travellers taking their phones with them when they travel and it is the number one accessory that travellers have with them. The possibilities for mobile bookings and payments are enormous — from payment for value-added services such as food and beverages, pillows, insurance, on-board entertainment, etc."
Another key factor for those traveling to Asia Pacific is the rich choice of payment options. As Abacus found, 55% of consumers said that they would choose the travel agency offering them the payment method they wanted to use. 54% also ranked keeping financial information secure as important to them.
"The key to increasing the likelihood of closing a sale is to make it as easy and convenient for consumers to finalise their travel decisions. One such way is to offer several mobile-based payment choices," said Bailey