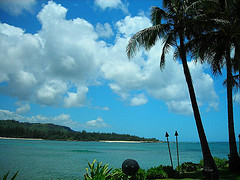 Hawaii has not had an easy ride when it comes to tourism industry and its economy. The tourism-dependant state was already struggling with a budget shortfall close to 1 billion US dollars reported for the past two years years when the earthquake and subsequent tsunami happened in Japan. Hawaii has more damages to add to their free-falling economy: the tsunami caused tens of millions of dollars in damage to homes, businesses and boats in Hawaii, and the Japanese tourists cancelled their trips and tours after the earthquake that devastated the country.
Although state officials are quite aware of the fallout tendency of Japanese tourism after calamities, this is a harsh reminder of how much the island paradise actually depends on tourists.
"We are heavily dependent on Japanese visitors," said State Representative Marcus R. Oshiro, a Democrat from Honolulu and the chairman of the House Finance Committee. "There is no doubt in my mind that at least in the short term, we are going to be severely impacted by the earthquake and tsunami. It may be anywhere from $15 to $20 million in state revenues lost just from that tourist market."
[adsense]
Japanese tourists that make up about 20% of all visitors to Hawaii, were already in shortage: due to the economic downturn the number of Japanese travelers to the small state decreased to 1.2 million people, compared to the peak of 2.2 million in 1996.
While Japan ranks only third in the number of visitors it sends to Hawaii, after the Western and Eastern United States mainland, they have a heavy impact on the state's economy as they are more aggressive spenders then other nations, thus contributing more.
Paul H. Brewbaker, chairman of the State Council on Revenues says that an estimate of the real effect of this tourism decrease will take a least a month to determine.
"Japan is an important market for us. And obviously a cataclysmic event has occurred," he said. "The aftershocks, so to speak, are still unfolding. I've learned from the past that one week is too early, and maybe one month later is enough to calibrate these things."