The first-ever transatlantic biofuel flight has made it into aviation history and the plane powered by Honeywell Green Jet Fuel has landed safely in Paris, France, at Le Bourget Airport. The first aircraft to fly from North America to Europe solely on a mix of Honeywell Green Jet Fuel and petroleum-based jet fuel is the Honeywell-operated Gulfstream G450. This is also the first business jet to use biofuel for a flight.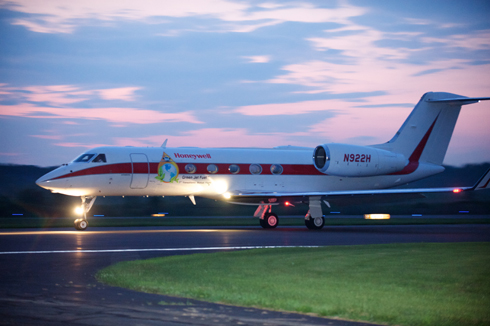 The aircraft took about 7 hours to complete its journey from Morristown, NJ, where it took off at 9 pm on Friday, to Paris. To make this historic moment even more interesting, the biofuel powered jet followed the route of the famous first transatlantic flight by Charles Lindbergh.
What actually powered the jet was equal amounts of traditional fuel and a camelina based biofuel. Camelina is a dedicated energy crop and no food chain competition is involved in its growing and harvesting.
Honeywell's analysis of this first biofuel transatlantic flight showed the Green Jet Fuel helped saved about 5.5 metric tons of net carbon dioxide emissions on a single flight.
"This first biofuel trip across the Atlantic, along with more than a dozen other commercial and military test flights conducted to date, demonstrates that Honeywell Green Jet Fuel more than meets the demanding requirements for air travel," said Jim Rekoske, vice president and general manager of Renewable Energy and Chemicals for Honeywell's UOP. "Now that the initial ASTM International approval is in place, we are one step closer to commercial use that will help the aviation community reduce its carbon footprint and dependence on crude."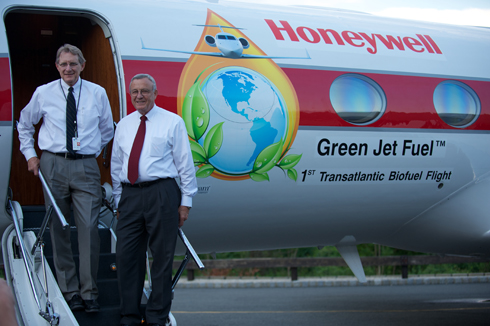 Other then being friendlier to the environment and an alternative for petroleum-based fuels which we all know won't be around forever, Honeywell's Green Jet Fuel also helps cut costs for airlines and operators.
"Reducing both the cost of operations and carbon emissions has never been more imperative. From advanced avionics to sustainable biofuel and energy efficient jet engines, innovations from Honeywell are addressing these needs today," explained Carl Esposito, vice president of strategy and product management for Honeywell Aerospace. "Honeywell's PRIMUS EPIC navigation and safety technologies embedded in Gulfstream's PlaneView cockpit helped the aircraft fly the most fuel efficient and direct route from Morristown."
This is definitely a great moment to experience, especially since goon news come along with it: we have the chance to be kinder to our environment, we won't deplete our oil resources just as soon if all fuels are replaced at least partially with biofuels and we're also looking to a future when we will have an alternative to traditional fuels. Luckily for us, air travel won't become a distant memory when we reach the point of no oil whatsoever on Planet Earth!