The Mayan Riviera is the perfect combination of history, exotic beaches and jungles, high end accommodation, and a vibrant nightlife. No wonder it's such a popular travel destination, regardless of what your favorite type of holiday is! Beach and swimming, diving, the outdoors, and other adventures, the utmost luxury for a relaxing stay, a busy night life dancing around the clubs… anything you can dream of, you can do in this Mexican destination.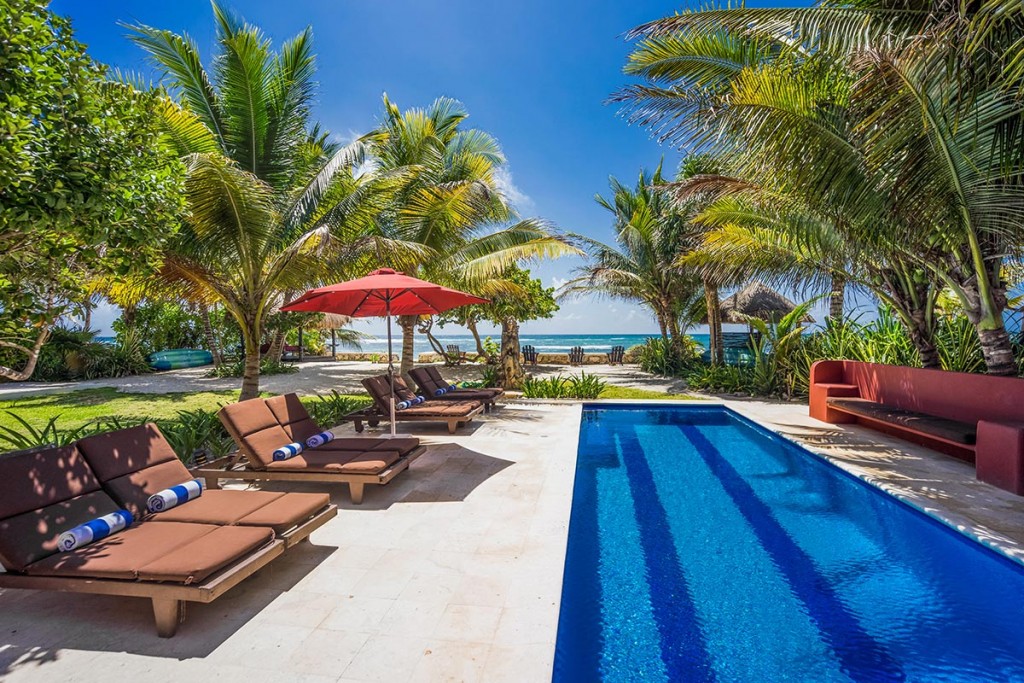 While Mexico is a relatively popular destination for budget travel, some experiences need to be done in style and the Riviera Maya is one of those. We'll walk you through your stylish, top of the line stay, a few activities to keep you entertained, popular attractions to put on your itinerary, and a few restaurants and club to enjoy. To start your adventure, the first item on the list is booking a luxury Riviera Maya villa or vacation rental. Chic and sleek designs, breathtaking views of the Caribbean, relaxing pools to lounge next to, and every high tech amenity you can think of – these features are what will make your vacation perfect. The privacy of your own vacation space will help you unwind and recharge your batteries.
Tourist attractions along the Riviera Maya will take you through a historical journey, from ancient Mayan times to the present. Start with Chichen Itza, Tulum and the Coba Ruins for a first-hand view of Mayan civilization artefacts, then try some of the cenotes for a truly unique diving experience.
For a truly unique experience, swimming with Whale Sharks in Cancun is the way to go. Of course, diving to see sea creatures is best combined with a relaxing Catamaran cruise. Manatees and dolphins are also a great choice if the larger mammals scare you. Or you can stay on dry land and try one of the many horseback riding offers along the Riviera Maya.
If the great outdoors hold your interest, we recommend the Mayan Jungle tours which include snorkeling adventures in lesser-known underground rivers, such as the recently opened Kin-ha. If you want a bit more adrenaline, you can play with snakes and crocodiles at the Croco Cun Interactive Zoo.
To mix your fine dining with a little introduction to Mexican cuisine and Mayan ingredients, take one of the gourmet food tours in Playa del Carmen, or embark on a tequila and tescal tasting tour. If all you want is a night out at a luxury restaurant, try and find one that saves authentic seafood and fish, freshly picked from the Caribbean and seasoned with Mayan ingredients.
Enjoy the rest of your evening with VIP treatment in some of the popular Cancun and Playa del Carmen night clubs and bars. If you can't decide on one, try a VIP tour of all Cancun clubs. CoCo Bongo, Daddy'O, Mandala, La Vaquita, and Palazzo are some of the most popular night spots in the area.
Last but not least, so much sun, adventure, and late nights will take their toll and you'll need to pamper and rejuvenate yourself. Try the local approach to the spa with a Temazcal experience which means an ancient Mayan experience with a real shaman in what would translate as "home of hot stones."