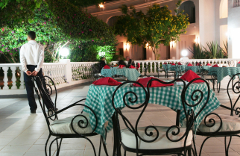 Traveling for business purposes means you don't have so much spare time for leisure activities. But even just a few hours can be put to good use. GO Airport Express wanted to find out what are business travelers' preferred leisure activities. The company queried 200 people, and their top preference was going out for a meal, with 27% of them selecting this option.
16% of the respondents chose taking a tour/participating in a local activity as their preferred leisure activity when traveling for business, while 13% mentioned visiting  friends or working. Other activities selected by the respondents were shopping (almost 9%), catching up on reading (7%), exercise (6%), browsing the Internet (4%), watching TV (3%), going to bars (2%), using the hotel spa facilities and services (less than 2% of the mentions) an, finally, going to a local networking event (less than 1%).
"The top two choices of dining out and taking tours indicate business travelers prefer to spend their free time outside their hotel rooms engaged in social activities," says John McCarthy , president, GO Airport Express. Hotel properties might benefit from making it easy for guests to find and get to venues and attractions they would enjoy."
[adsense]
Travelers nationwide were polled for this survey by GO Airport Express, which provides airport shuttles to and from O'Hare International Airport and  Midway Airports.
If you travel a lot for business purposes, it is only natural to plan your time in order to accommodate as many business activities as possible. Leisure activities are not on top of the list, and, as the results of this poll show, people enjoy a meal out. Getting in touch with friends can be combined with such a meal (enjoying a dinner or lunch together for instance), while other activities are inside ones. Basically people seem to be choosing leisure activities that bring them comfort and relax them, or help them in their work or staying in touch with their business and family.