Your smartphone makes life so much easier, and it can be a lifesaver on your vacation, too. You can find great local deals and cool attractions at your destination, make and track travel plans, and learn some of the local language. One of the best uses for your smartphone while travelling is to document your trip with photos and journal entries — for your own memories and to share with friends. Here are some of the best apps that will help you do just that.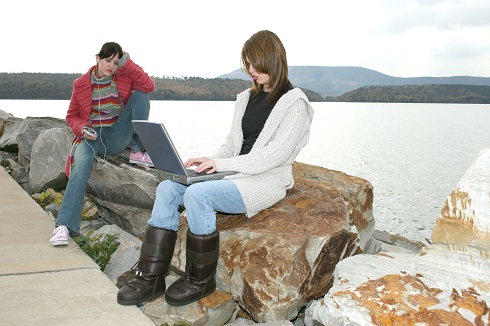 What do you get when you combine "travel" with "blog?" Travelog, of course. Travelog is a new app that helps you document and share your travels with the world. It's similar to Instagram and Twitter, but it's all about travelling. When you're on a trip, you can instantly upload photos, add commentary, write journal entries, share your current location, and more. Your Travelog will have a custom URL of travelog.me/(your Travelog name). Your friends and family can learn about your trip, and it's also a very cool way to discover the travels of other people worldwide.
When you're on a vacation, there is absolutely nothing like sending your family back home a real postcard in the mail. Everyone loves to receive postcards, but with our high-tech and things like Facebook, we often don't send them. The next time you're on a trip, you can send anyone a real, customized postcard in the mail with the Postagram Postcards app. Design your postcard with a photo you've taken, add a message, and with a simple click a postcard will be mailed to anyone, anywhere. The app is free, but it costs just 99 cents to send a postcard to anyone in the U.S. and $1.99 internationally. It's a unique and special way to communicate with loved ones during your travels.
[adsense]
There is always one thing you're guaranteed to bring back from any trip: lots and lots of photographs. Your photos contain precious memories that you want to keep forever, and when there are so many of them they can also be hard to organize. The Trip Albums app helps you store and organize all of your vacation photos. You can create albums for different destinations, add notes and captions to every photo, view slideshows, and share photos with your friends and family on Facebook. It's an easy way to make sure your trip photos are safe and managed.
This is a super cool app that tracks your travels using your phone's GPS. It can be used to record routes like your exercise routine or driving directions, but it's a great app for recording your world travels. When you start a trip (or track), iWander will begin recording details like time, distance in miles, altitude, latitude, and longitude. Throughout your journey, you can add waypoints with photos and descriptions. It will then show your track on a detailed, interactive map so you can see exactly where you've been on the globe and all the cool stops you recorded along the way.


About the author
Jody King is a dedicated mother, freelance writer, and travel fanatic who loves to blog about everything from parenting tips to getting great deals on Bahamas vacation packages.