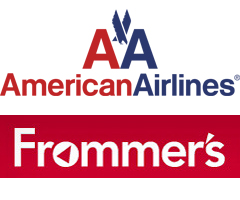 American Airlines has caught on a trend – an airline website is not only about flying, tickets and air travel news. To come to their site, spend time there and then buy the ticket, travelers need to be enticed with more comprehensive travel information. That is why the airline partnered with travel guide provider Frommer's to enrich their AA.com website with travel information and tips for the destinations the AA planes fly to.
Frommer's Unlimited, the B2B business of Frommer's®, will be providing AA.com with extensive travel content for over 170 US-based and international destinations where American and American Eagle currently fly. This partnership aims to keep travelers on AA.com for their travel research and planning, not only for ticket buying. But AA.com is there to sell plane tickets, that is why the travel destination tips and features will be complemented by the latest travel deals.
When researching a destination on AA.com, travelers will not have access to Frommer's exclusive content city overview, upcoming events, and in some select cases, details on popular restaurants, shopping, nightlife and other tourist activities. Deals and other travel information pertaining to a certain destination will also be provided by American Airlines.
"The new content from Frommer's Unlimited — one of the world's leading sources of travel information — will improve the travel planning experience for our customers," said Richard Elieson, American's Managing Director — Interactive Marketing. "Not only will they be able to learn more about their planned destination, but it's our hope they will be inspired to embark on adventures to other exciting places in the future."
American Airlines and Frommer's will most likely have a very successful partnership. What online travel needs to focus on is complete travel packages. Tourists should be encouraged to do their research, planning and booking in one place.
[adsense]
We look forward to a more comprehensive partnership that would offer travel guides, transportation, accommodation, events and tours booking, theater or concert tickets and more. When all that information is aggregated based on a specific destination, proximity and interests, we will have the next big thing in online travel! Of course, such a service should have data from across the globe, and add a social feature where people can rate each tourist attraction and activity, share their experiences and more. Comprehensive online travel 2.0 anyone?