There is no single trip that will allow you to fully explore the Canadians Rockies. I'm not trying to put you off, but unless you have long months to take in everything, you'll probably only get a taste of these glorious mountains, the kind of first sip that will have you coming back for more. Here are a few spots you should visit and some of the things you can do. If any of these places inspires you and you'd like to fit it into a more complex itinerary, we recommend you check out the great multi center holidays available here.
Banff National Park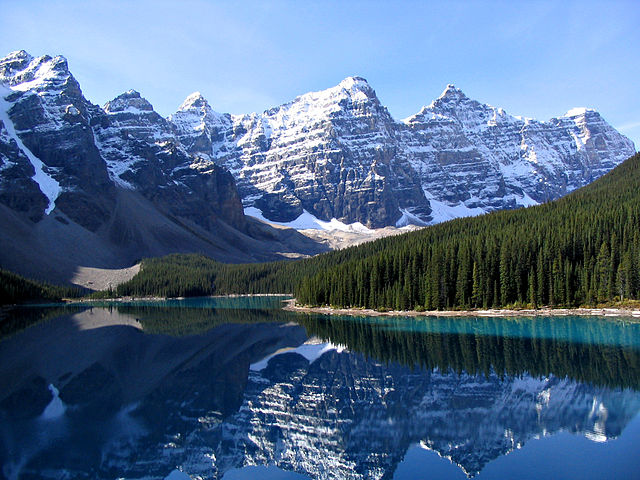 Photo by Gorgo via Wikipedia
No trip to the Canadian Rockies can skip this one part. With nearly seven thousand square kilometers of mountain scenery, it's the perfect spot for any mountain activity you can think of. Camping, mountain biking, skiing and snowboarding, and then a little time to relax in the hot springs. The hot springs are the reason this park was initially created back when this huge expanse of scenic landscapes was only a small hot spring reserve. 
Jasper National Park
Not only is Jasper the largest national park in Canada with over ten thousand square kilometers, it's also the wildest one you'll experience in the Rockies. It's well-known for its dramatic backcountry trail system and one of the only Icefields in the world accessible by road, the Columbia Icefields. Its wild side also makes it a popular winter sports destination, with skiers and snowboarders from across the country and across the globe coming to visit.
Waterton and everything around it
Made popular by the national park with the same name, the beautiful town of Waterton is surrounded by a UNESCO World Heritage Site that's every nature and wildlife's lover dream. Adjoining the Glacier National Park, it enthralls visitors with its mountain peak, rolling prairies, and an impressive variety of fauna and flora.
Yoho National Park
Adrenaline pumping rock walls, just ready for your next climb, and stunning waterfalls are some of the most popular attractions of Yoho National Park. If you decide to take a road trip there, make sure you visit the Spiral Tunnels, the Kicking Horse Pass, Takkakaw Falls, or the Emerald Lake.
Lake Louise is extremely close and quite popular among canoe and kayak lovers. Not to mention the breathtaking beauty of the scenery!
Whistler Village
This is one road trip no true adventure traveler should miss! If you're into zip-lining and bunjee jumping, then you're going to love Whistler. There are several zip-line courses around the Whistler and Blackcomb area to choose from, the most popular of them all being Ziptrek Eagle Eco Tour. With 5 different zip-lines and the impressive 2400ft zip-line with a 30-storey descent, it is totally worth the $140 cost!
Next on your list – bunjee jumping. Bear in mind, this is not exactly for beginners, as Whistler Bunjee is the tallest in British Columbia. It's also perfect no matter when you travel, as it's open all year round.