There are many things that can be said about Canadians in general. They're welcoming, they are polite, they like to party and they sure know their stuff when it comes to organizing and running a good food festival.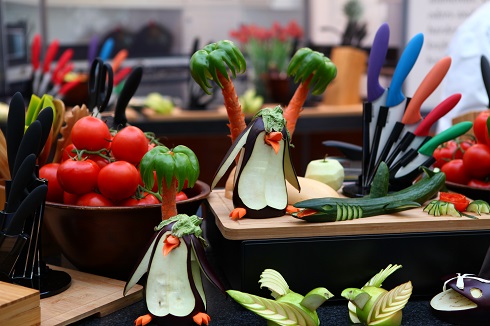 Eat! Vancouver by GoToVan via Flickr
If there's one thing you should do when visiting Canada, make sure you arrive hungry in the midst of one of their renowned food and wine festivals. Keep reading for a little more insight into what are deemed to be five of the best Canadian food festivals to attend.
A Taste of Niagara on the Lake
A Taste of Niagara on the Lake is a much-celebrated food festival that is such a hit with locals and visitors alike that it happens three times a year! It takes place in January, March and April each year and is sprawled out over three days of gastronomic delights. Attendees can sample some fine cheese and wine or enjoy a multi-course gourmet meal that takes them to some of the best restaurants in the area. But be warned – a few days of relaxation at the Marriott Gateway On The Falls Hotel might be in order afterwards as this festival presents the opportunity for some serious overindulgence.
Eat! Vancouver
If the mere thought of eating your way around Vancouver tickles your taste buds, attending this festival should be on your list of things to do. It's a relatively new food festival that takes place in downtown Vancouver and it's already renowned for its ability to bring together some of the most famous star chefs, food companies and cookbook authors in the country. Its popularity is on the increase so you can expect to hear a lot more of the Eat! Vancouver food festival in the future.
Perth Garlic Festival
What always takes place in the month of August in Perth, Ontario, the Perth Garlic Festival is a must-do experience for all garlic lovers. From teaching attendees how to grow and cook their own garlic, the primary aim of this festival is to showcase and endorse Ontario produced garlic in the best light possible. It's also an educational three days as there's lots to be learned in terms of the health benefits of garlic, its optimum climate for growth and its endless uses when it comes to culinary.
Fall Flavors Festival
Running for three days in the month of September on Prince Edward Island, the Fall Flavors Festival is nothing short of a heaven for food lovers. There's no lack of things to do at this food festival and attendees have the option of participating in over 250 excellently organized activities such as harvesting food and enjoying one of the many culinary boot camps. Take my advice and arrive here with an empty stomach and a willingness to try new things and you'll not be disappointed.
Food and wine festivals are becoming increasingly popular and judging by all of the above, Canada is definitely holding its own among the best destinations for food festivals in the world. Other notable Canadian food festivals include the Sun and Salsa Festival, Brighton Applefest and the World Wine and Food Festival.