This post was originally published on Hipmunk's Tailwind blog on December 8th, 2015
The lure of in-flight entertainment systems and bad magazines make it easy to drift into a lazy stupor on airplane trips. For fliers looking to boost their next trip's productivity, here are the best strategies for tackling your to-do list.
The Day Before
Reserve a seat. At check-in, choose a seat option that will contribute to YOUR productivity. Everyone's preference is different: Some travelers prefer an aisle seat so that they can get up and stretch mid-flight, while others go for a window seat where they won't be disturbed by other passengers getting up and down.
Plan on not having Internet access. Yes, some airlines offer in-flight access, but it's unreliable at best. Choose projects that won't require an internet hookup, or invest in a personal hotspot to use in the airport and the gate area for a few extra minutes online.
Download all necessary materials. To maximize productivity, make sure all project-related documents and emails are downloaded to a laptop or tablet so that they can be referenced in-flight. Long flights are a great opportunity to write emails offline and then send them after landing.
Charge devices. Nothing can ruin good intentions quite like running out of laptop battery right after takeoff. Make sure all devices are fully charged. It also never hurts to bring back-up batteries, just in case.
Bring noise-cancelling headphones. Work travelers can insulate themselves from engine noise and crying babies with a good pair of headphones. Whether they're piping in music or just blocking out the sounds of the plane, they'll help with focus and relaxation.
Write your to-do list early. Take 10 minutes to write down and prioritize yourto-do list the day before. Fumbling through priorities while in flight is an easy gateway to procrastination. Plus, checking items off a list is satisfying and will create a feeling of accomplishment on landing.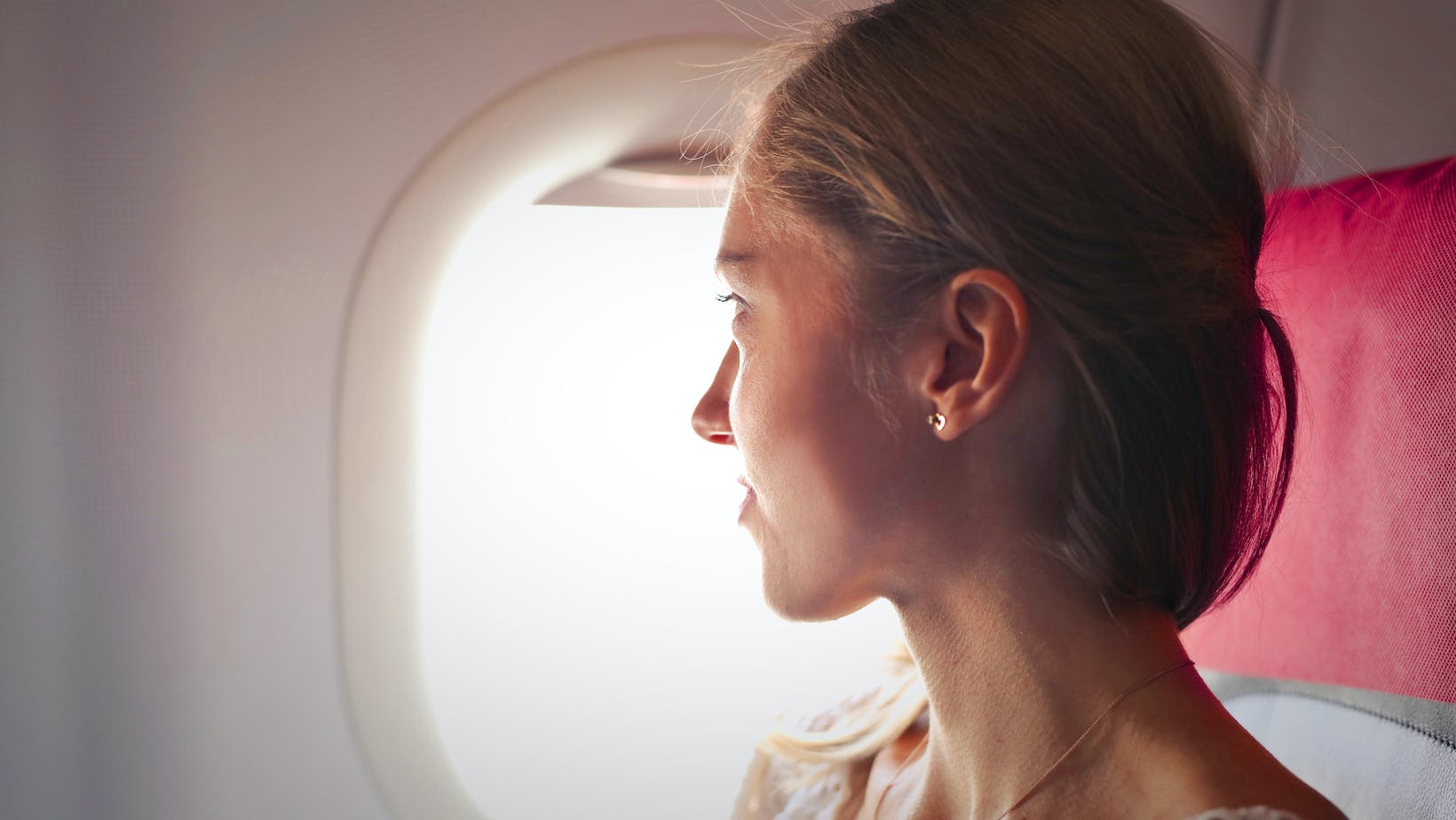 At the Airport
Upgrade. Upgrading to business class comes with two major productivity boosts: more workroom on the flight itself and (on many airlines) access to an airport lounge. The business class cabin will be quieter and more comfortable than economy, and the added room allows travelers to spread out papers and documents at will. And at the airport before boarding or during connections, airport lounges offer luxurious escape from the crowded and noisy gate area.Lounge access often comes with a business class upgrade, but frequent travelers can also use elite status to gain entry. Lucky travelers can relax in the Lufthansa first class lounge in Frankfurt or the Etihad Airways lounge in Abu Dhabi, two of the most luxurious in the world.
Drink smart. Air travel can exacerbate dehydration, which contributes to jet lag and a major drop in productivity. Drink 8 oz of water every hour on flights to stay hydrated, and avoid overindulging in booze. Especially on long haul flights, bringing moisturizer, saline nasal spray, and eye drops will prevent dryness and make the trip more comfortable.
On the Plane
Distribute luggage. To maximize legroom, put as much as possible in the overhead bin when boarding the flight. Remove work essentials and put them in a smaller collapsible bag under the seat so they'll be at hand whenever they're needed.
Divide and conquer. Break a long flight time into chunks to make tasks seem more manageable and to allow for rest. Set a phone timer that will vibrate as a reminder to work for one hour and then take a half hour break, for example. If you're motivated by a schedule and with set break times to look forward to, the flight time will pass quickly and easily.
Take advantage of a new work space. Some travelers may appreciate the lack of distractions that working in the clouds provides. Use the time to finish some busy work out of the noisy office, or rise above the mundane and brainstorm big projects or ideas.
Treat yourself. Whether it's with a favorite sweet treat or an in-flight movie, make sure to carve out a little enjoyment from a work-oriented trip. The goal is to have a flight that's productive, not stressful, and to arrive at the destination calm and ready for the next task.