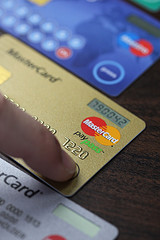 Frequently traveling abroad and using credit cards to pay for most of the expenses is easy and pain-free in theory. If we put aside the once in a while incidents when certain cards just don't work, with no apparent reason, there are still currency conversion fees and other such extras added by card issuing companies and banks for payments abroad.
Those who feel the strongest effects of such additions are business travelers who spend the most time on the road and rely both on personal and business cards to pay for their abroad expenses. Typically, the added costs can reach about 3% or the paid amount, with about 1% charged by Visa, MasterCard and other credit card providers, and another 1.5 to 2% added by banks.
As travelers are choosing their cards based on added fees and commissions – this being a very strong reason so many corporate road warriors use Capitol One cards when abroad – some financial companies and banks are using lower or no commissions as bonuses or loyalty enhancing techniques, but only for their large customers.
Capitol One seems to be winning this battle, as they do not only wave their own percentage:
"It's been a long-standing policy," says Sukhi Sahni, Capital One's spokesperson. "Not only do we not charge a fee of our own, but we don't pass on the 1% Visa or Mastercard charges."
While they are ahead of the benefit race, other banking services providers such as AmericanExpress, Simmons First, TD Bank, and Chase Card selectively pick card types to favor or fees to cut. The policy is the same: the changes apply to a select few.
[adsense]
Even if travelers, business or leisure, can pass the affordability limit of some of the favored cards that add no fees or lower commissions, they are often bound by company preferences for a certain bank or card issuer, travel companies that they are a frequent customer of, or budget limitations that lead them to cheaper travel services.
The customers' protests and class law suits are not helping much in the battle against bank fees and commissions. Soma actually think these financial institutions are just getting more creative when it comes to creating and adding new ones.
"For most consumers, foreign conversion fees aren't getting better," says Greg McBride, senior financial analyst for Bankrate.com. "If anything, they're becoming more prevalent. In particular, we're seeing currency conversion being applied to any transactions taking place in foreign soil regardless of currency. In some instances, they're being charged for transactions in the U.S. with a foreign entity."
Currency conversion fees are also hard to tackle when filling expense reports. They are a hassle business travelers either choose to live with as it is a too big of a time waste to try to circumvent them, or try creative wast to avoid the fees, such as booking all corporate trips through local travel agencies. Do they gain in the end? It of course depends on the price difference between local offers and the original ones from the country of destination.