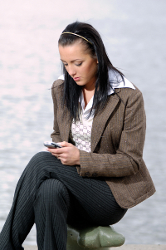 In this day and age where high-speed Internet and mobile devices are part of what makes our days easier, business travel is one of the main segments stressing the need of a more gadget and online driven approach to handling hotel guests. According to a new survey conducted in June 2012, business travelers are big fans of performing quite a lot of pre and post check in transactions via their mobile devices, but they would like hotels to keep their staff as well, to be able to engage into real-life conversations when the situation requires it. 
While Internet connectivity and apps for business travelers are key, switching completely to a virtual hotel-client relationship might really end up in annoyed guests. Hotel employees are still a must, but software provider Smith Micro, the company behind the survey,  showed business travelers would actually like to be able to receive quite a lot of hotel services via their mobile devices. Close to 80% would like to check in and out through their smartphones. Another 75% would like to receive special offers and discounts on their mobile devices, while 68% would use them to purchase guest services or even business services provided by the hotel they are in.
What's equally important is that only 5% of all business travelers are not interested in any mobile device access to hotel services, an extremely low percentage.
As many previous studies and surveys have shown, most travelers, especially in the business segment, use hotel Internet connections, 95% of them according to this latest one.
The general trend is obvious – a lot more of the travel aspects are moving online or to mobile devices. Buying travel services, checking in and out, booking tours and shows, it all becomes fast and easy through a few smartphone screen taps. But while we appreciate the speed and effectiveness of modern gadgets, we still trust those we can see and talk to more when it comes to problem solving or asking questions.
What do you think, will we give up front desk clerks in the future and rely mostly on virtual avatars? Or will we always need to know there's a human being we can turn to at all times when it comes to travel?