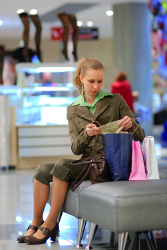 If you want a vacation but haven't decided on where to go or haven't gotten the equipment you need or the right clothes for where you're heading, you're just in time to shop for it on Black Friday. While it's a busy shopping day, you will be able to cash in on the deals everybody is offering off and online. Luckily for you, the Black Friday, Thanksgiving and Cyber Monday deals have already begun and you can leave only part of your shopping for that one special Friday of the year when all stores are taken by storm.
First off, where to go? If you don't know where you're heading, why not choose from destinations across the globe with Gate1 Travel's Black Friday sale. You will save 50 USD if you spend 500, 100 when booking a 1000 USD trip or even more for pricier reservations. It all goes down online of November 24th, so you won't have to fuss much, other then decide where to go after exploring these destinations!
If you've already decided where to go but haven't booked your hotel yet, check out our partner Booking.com! They always have sweet deals and everything goes down online! For example, if you want to explore the skiing season options in Austria, one of Europe's top destinations for skiing and snowboarding,, check out these hot deals!
When traveling, you always have to dress for the occasion. If you're into taking in the crowd and allowing fellow travelers to admire you, why not go for a classy topcoat from London Fog? It's waterproof, it keeps you warm through windy weather, it's classy and it's available through Macy's Black Friday sale.
[adsense]
Our next deal will make all ski and snowboard fans giggle with pleasure! If you're traveling to one of the 150 resorts across North America serviced by Liftopia, you're in luck! The Black Friday Liftopia sale offers discounts to lift ticket packages in Colorado, Utah, New England, California, New York and New Jersey, Northern Rockies, the Southwest and the Midwest, Canada, Alaska and any other destination you can think of!
We travelers love our gadgets, so check out GPS deals on Black Friday, along with camera specials for the big day. Actually, make sure to browse carefully through TheBlackFriday.com, you might be surprised by what you find there!
Happy shopping everyone!